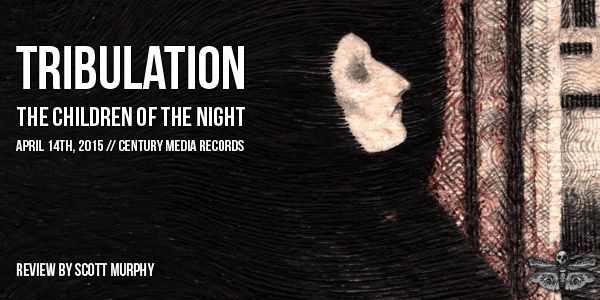 A recent discussion among Heavy Blog's staff about The Children of the Night – the third offering from Swedish occultists Tribulation – was primarily composed of flattering comparisons that displayed the band's preference of nostalgic fusion. An extensive list of references grew in the comments section to include comparisons to Celtic Frost circa To Mega Therion, Ghost playing blackened death metal, Judas Priest and Watain subtly synthesized, Kvelertak toning down their punk influences and Hail Spirit Noir straying from the avant-garde. At least one of these descriptions should whet the palate of any well-versed metal listener, and rightfully so: The Children of the Night is a solid slab of progressive, occult themed metal that capably blends black and death metal with traditional genre elements for a satisfying listen.
Stated in terse terms, Tribulation understands how nostalgia operates. While numerous revivalist bands are content with merely fellating their idols, The Children of the Night treads further, providing listeners with familiar, comfortable ingredients seasoned with the proper amount of Tribulation's signature blend. The reminiscence that Tribulation alludes to rests in metal's infantile stages; one where bands were simply described as playing the genre in their own way rather than being lumped into a subgenre with a handful of designations. Their version of blackened death truly harkens to the genres' roots, eschewing technical flash in favor of punchy percussion and well-written riffs that are sinister due to compositional strength rather than studio flash or excessive virtuosity. Atmospheres of horror and death permeate the album, due to both the presence of bassist/vocalist Johannes Andersson's ghoulish rasps and particularly the well-placed flourishes of piano and organ, which retain the perfect amount of classic aura without falling prey to kitsch. This is particularly true of interlude 'Cauda Pavonis,' as the track's mournful mystique causes the interim moment to transcend into one of the most rewarding musical moments on the album.
Yet, in a sense, this may be the primary – but relatively minuscule – weakness of The Children of the Night. Tribulation may have honed in on an enjoyable sound without technical flaw, but for metal listeners who are familiar with any of the aforementioned names, their approach may not serve a purpose greater than stroking sonic sentimentality with pleasant twist. There are moments where Tribulation crumbles the mold briefly, such as 'The Motherhood of God' channeling The Mantle era Agalloch through traditional rock and metal filters. But as far as the majority of the album's songs, the territory is familiar and established early on, making for a listen that will more likely entertain than invigorate. This is not to say that The Children of the Night is subpar; nary a moment on the album deserves any notable critique. It simply would have benefited Tribulation to have included more adventurous excursions alongside their clear dominion over sounds of yore.
The Children of the Night still stands as a strong testament to metal's foundation despite this grievance. It seems strange to laude a nod to the past as a modern success, but there is no denying that Tribulation have delivered a must-listen album within the album's already impressive 2015 output. What made traditional heavy metal, black metal and death metal exciting new concepts is laid out effortlessly and in a way that feels more repurposed than regurgitated. And while some more intrepid approaches to this style may have enhanced The Children of the Night's success, Tribulation's latest should still be viewed as an accomplishment that is certainly worth experiencing.
https://soundcloud.com/centurymedia/tribulation-in-the-dreams-of-the-dead
Tribulation – The Children of the Night gets…

3.5/5
-SM