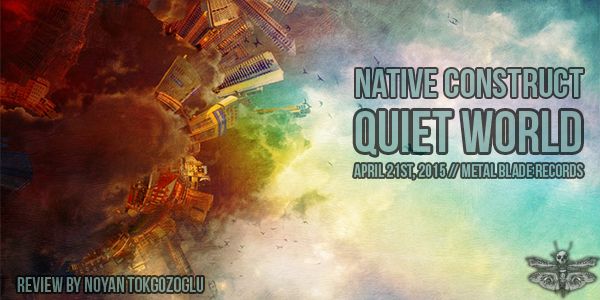 While concept albums are almost a staple of progressive metal, most bands only commit to that idea lyrically and not musically. It used to be more common in the older days of the genre with bands like Dream Theater and Pain of Salvation, but it's admittedly difficult to write music that can be developed over the course of an entire album as a single piece. Enter Native Construct, a group of students from the Berklee College of music (just like Dream Theater). Spearheaded by guitarist Myles Yang, Quiet World is their debut, and it manages to not only have great individual tracks, but those tracks also come together and flow with each other with masterful ease. Spanning many genres, boasting a style of composition both classical and metal, Quiet World is an instant prog metal classic.
Where to begin? The album tells the tale of the Archon and the Silence, inhabitants of the Quiet World. Their tale is told through seven tracks (eight with the Japanese bonus outro track). The instrumentation of the album is extremely diverse, featuring the traditional metal setup of guitars, bass, drums and vocals, but also strings, piano, lo-fi synths, vocoders, horns and more. And unlike a lot of bands who incorporate elements of this nature, they are not accompaniments to the music. The composition takes a lot from the band's classical training and experience in a string quartet and various orchestras in that all the instruments come together in unison. True to their classical influences, the album is like a single piece with several movements and themes/riffs that are carried across and developed. For example, the inhabitants of the quiet world have a phrase in their own language, 'Ca Ra Zu Ni Mu Pa Tu', and that phrase is repeated several times over the course of the album. Notions like that, be it lyrical or musical, add to the authenticity and recognizability of the songs when they are brought back. Riffs are introduced in tracks as a short transition section but then they become verse riffs in another song. The closing track, 'Chromatic Aberration', is an utter masterpiece, lasting twelve minutes and bringing together all the parts from the rest of the album. And there are many, many parts across many genres. There's baroque, classical, neoclassical, funk, samba, bebop, a lot of jazz… there's just too much to quantify. But it never feels wacky or done for the sake of it, the songs just flow deliciously from one tone to another.
While it's possible to rag on and on about the perfection and diversity of the composition, that would be doing a disservice to the individual contributions of the instruments. The drums can easily accompany all genre shifts, deftly imitating the fluency of an experienced jazz drummer then switching to blast beats. Myles's finger-picked 8 string guitar work is also phenomenal, be it when playing big chords, jazzy leads, black metal-esque tremolo picked runs and whatever else the music calls for. There are so many hooks in each song, every moment memorable, and the transitions between them are just as impressive. The band uses tools like counterpoint, syncopation and harmony expertly, taking expected patterns then turning them on their head to create fresh-sounding sections. And overall, one of the many strengths of Quiet World is that it sounds both familiar and new. While the band has moments where they can be likened to the aforementioned masters of the genre, outside influences like Queen, or newer names like Between the Buried and Me, they have a decidedly unique voice. At times it feels like the album is a score to a movie taking place in the setting they invented.
Back to the members of the band, specifically the vocals. They vocals are nothing short of sublime. Singer Robert Edens is something else. A lot of vocalists in newer bands in the genre seem to have a notion of "loud, high pitched voice plus lines that span multiple octaves equals success", but that often leaves a lot to be desired. Specifically, timbre. And that's where Native Construct shine yet again. Edens has so much character to his voice, so much diversity and emotion. Never does he constantly push his voice "to eleven"; he uses subtle tones, influences from various genres and overall manages to be a standout in an album full of standout performances. That might sound like an oxymoron, but considering every instrument is both impressive in its own right and as a part of a big picture, it makes sense. Speaking of, one would think that with such a crowded soundscape, bass would be left behind, but it's not. Even though the album is self-produced (except for the vocals which were produced by Jamie King), the mix is excellent and the impressive bass performance is also clearly audible at all times. Be it accompanying the guitars or other instruments, carving its own line or just slapping funky grooves, the bass is also an important part of the music. The fact that the mix is so solid is key, as anything could have easily been drowned and ruined the elaborate auditory construct (pun intended!) the band have built.
That's basically a lot of words to say "Quiet World is great", and, well, it is. And yet another testament to the band's skill is that while the album is clearly intended to be listened to as a whole, it's great to listen to individual songs as well. With every song having so many influences and stylistic flourishes, it could have been a disjointed mess, but the band is clearly extremely talented and they know what they're doing. Every track on the album is a highlight. That being said, the closer, 'Chromatic Aberration' is perhaps one of the best progressive metal songs ever written. It's even better in context of the whole album — then again that can be said for all of the pieces. Yes, Quiet World is a masterpiece. It both hearkens back to the beginnings of the genre, takes the best from its modern peers, and adds in a level of classical composition and innovation that pushes it way over the top and paves the way for an extremely promising career for Native Construct. This is progressive metal at its finest, with masterful writing, beautiful playing and overall a joy to listen to. With something fresh around every other corner, every moment of listening to Quiet World is a delight, and in the end that's all it boils down to.

Native Construct's Quiet World gets…

5/5
-NT