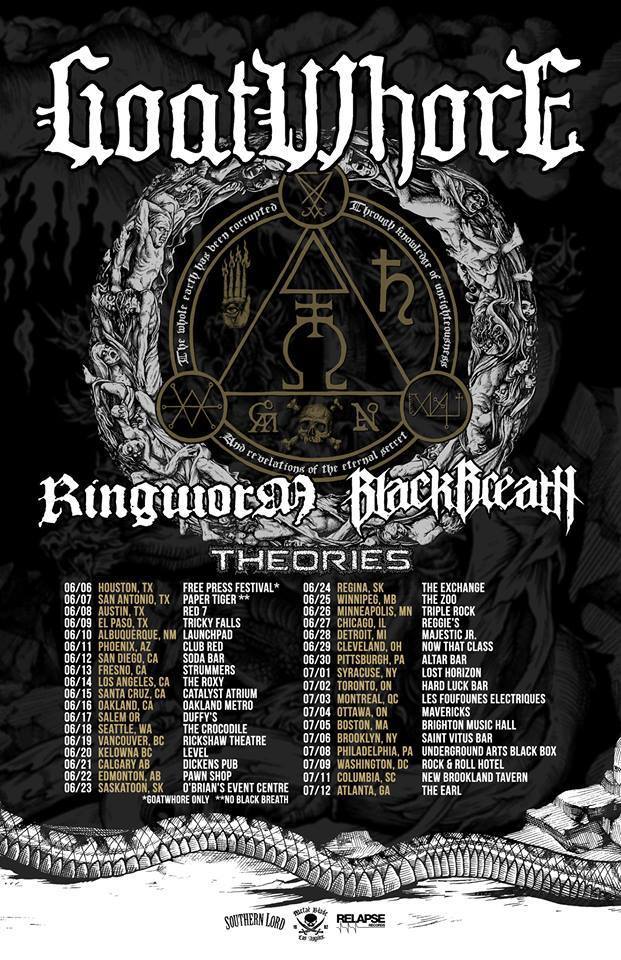 Sometimes it's hard to fathom that New Orleans' black metal thrashers Goatwhore actually have time to sit down and record new material, because they're consistently one of the hardest-touring bands in the entire genre. Even though they did The Summer Slaughter Tour last summer, wrapped up an Australian run and are currently in Europe with Skeletonwitch and Mortals, the band aren't leaving us to lay down another album just yet.  Check out the dates below!
05/08 Hattiesburg, MS @ The Tavern
05/09 Tampa, FL @ Crowbar – Metal for the Military Show
05/10 Miami, FL @ Grand Central
05/22 Fort Worth, TX @ The Rail Club
06/06 Houston, TX@ FreePress Summer Festival 2015
Tour w/ Ringworm, Theories
06/07 San Antonio, TX @ Paper Tiger
Tour w/ Ringworm, Black Breath, Theories
06/08 Austin, TX Inside @ Red 7
06/09 El Paso, TX @ Tricky Falls
06/10 Albuquerque, NM @ Launchpad
06/11 Mesa, AZ @ Club Red
06/12 San Diego, CA @ Soda Bar
06/13 Fresno, CA @ Stummer's
06/14 West Hollywood, CA @ The Roxy Theatre
06/15 Santa Cruz, CA @ The Catalyst Atrium
06/16 Oakland, CA @ Oakland Metro Operahouse
06/17 Salem, OR @ Duffy's Hangar
06/18 Seattle, WA @ The Crocodile
06/19 Vancouver, BC @ The Rickshaw Theatre
06/20 Kelowna, BC @ Level Upstairs
06/21 Calgary, AB @ Dickens Pub
06/22 Edmonton, AB @ The Starlite
06/23 Saskatoon, SK @ O'Brian's Event Centre
06/24 Regina, SK @ The Exchange
06/25 Winnipeg, MB @ The Zoo Cabaret
06/26 Minneapolis, MN @ Triple Rock Social Club
06/27 Chicago, IL @ Reggie's Rock Club
06/28 Detroit, MI @ Majestic Jr.
06/29 Cleveland, OH @ Now That's Class
06/30 Pittsburgh, PA @ The Altar Bar
07/01 Syracuse, NY @ The Lost Horizon
07/02 Toronto, ON @ Hard Luck Bar
07/03 Montreal, QC @ Les Foufounes Electriques
07/04 Ottawa, ON @ Mavericks
07/05 Allston, MA @ Brighton Music Hall
07/06 Brooklyn, NY @ Saint Vitus Bar
07/08 Philadelphia, PA @ Underground Arts: Black Box
07/09 Washington D.C. @ Rock & Roll Hotel
07/11 West Columbia, SC @ New Brookland Tavern
07/12 Atlanta, GA @ The EARL
Wow, two months across the US and Canada is no joke, Especially when support will be coming from hard-hitters like Ringworm, Black Breath, and Theories. With a tour itinerary as lengthy as this one, it's almost guaranteed that this group of rad bands will be somewhere near you this summer. Goatwhore should be busting out plenty of material from their latest album, Constricting Rage of the Merciless, and it's possible that it may be the last time you can catch them in support of what could be their best release to date!
-KB