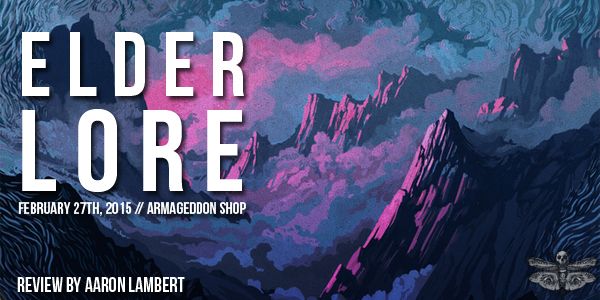 Some of the best music you can feed your ears is that which takes you on a journey. To translate the majesty of sprawling mountains, the serenity of a flowing river or the vastness of a magnificent chasm into a musical composition is something that many musicians strive for, but few are able to achieve. Creating a sonic journey that not only does these natural wonders justice but also stands the test of time is a daunting task, not to mention an ambitious artistic undertaking, but this clearly doesn't intimidate Elder. On the contrary, creating sweeping soundscapes and taking the listener on an epic journey is simply what they do, and they do it damn-near perfectly.
It's been four years since Elder's excellent previous album, Dead Roots Stirring, was released, and if that album marked the beginning of a new sonic journey for these East Coast purveyors of doom, then their new album Lore is the full realization of it. If you were to throw the Sabbathian riffs of Sleep and Electric Wizard, the hypnotic melodies of Windhand and the timeless appeal of Led Zeppelin into a black cauldron of doom, Elder would emerge from the haze. Lore marks a bold new direction for Elder, but one that seems totally natural for them.
A brief noodle on the guitar opens up 'Compendium', which kicks Lore off in a good ol' fashioned, rock n' roll way. However, there's much more to the song than the nice hook that it leads off with. Elder are masters of balancing catchy, straightforward boogies with lush, instrumental passages, and the juxtaposition between the two is the main draw of Lore. Each song is ripe with rich sonic imagery and dynamic performances from all of Elder's members, and they stand strong as individual compositions and within the context of the whole album.
The guitar work on Lore is where the album really shines. Nick DiSalvo is an extremely gifted player, riffing hard one minute and walking up and down the fretboard the next, and his performance is really what drives the music on Lore. His guitar flourishes and ability to work them into full-fledged riffs gives Elder its own sonic identity, not to mention air-guitarists something fun to play along to. Elder truly command the atmospheres of their songs, and they make it very apparent when they want the listener to feel something. The excellent 'Legend' is a prime example of this. Perhaps the most emotive song on the album, it's hard to resist the soft guitar passage that opens the song, and it's even harder to fend off the goosebumps when the song's canyon-sized riffs kick in. Throw Nick DiSalvo's soulful swoon over the top of it, and you've got what is bound to be one of the best songs of the year. 'Deadweight' is another highlight, with its desert rock vibes and hypnotic riffs.
A lot of parts of Lore call to mind the prime bands of European rock n' roll in the '70s; bands like Zeppelin, Yes, and Thin Lizzy. It's almost as if Elder were born in the wrong era, but then again, it's awesome to hear a band pay tribute to these legends of rock so well. There's a little something for everyone on Lore; doom, prog, stoner and the like, but it's all masterfully composed and dynamically arranged into a cohesive and near-flawless package. The album's production is really the only minor flaw of Lore, not because it sounds bad, but because DiSalvo's vocals are a little low in the mix. Even so, this does absolutely nothing to detract from the joy of listening to Lore. There isn't a second of this record that isn't captivating. Elder have only just begun writing their own lore as a band, but with Lore, they have created an album that is, in a word, timeless.
Elder's Lore gets…

4.5/5
-AL