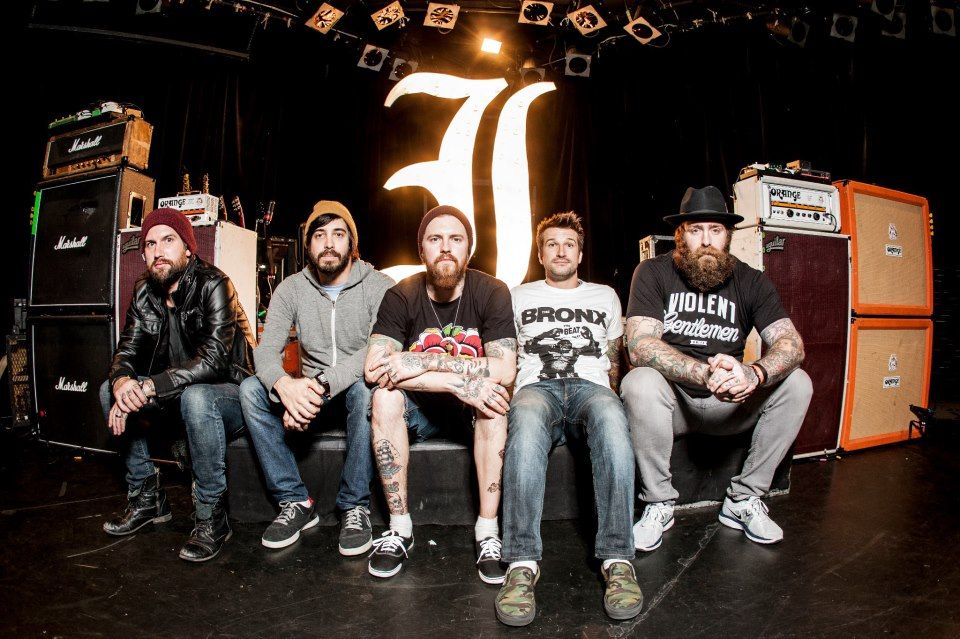 Metalcore titans Every Time I Die have parted ways with drummer Ryan "Legs" Leger (above, center), in a mutual split to allow him more time with his family and children, and announced that the eclectic Daniel Davison, who's played in Norma Jean and Underoath, will join the band to play drums in Ryan's stead.
The band shared Legs' farewell letter via their Facebook page, and reads as follows:
"After 5 years of heavy touring and recording for Every Time I Die I have decided to call it quits.
I would like to thank everyone for all of their love and support over the years, especially my 4 older brothers who have taken care of me and showed me sides of the world I only dreamed about when I was touring and recording in Canada.
Big thanks to all of their friends and family who took me in when Buffalo became my second home.
This will not be the end of my musical endeavors, but for now I will be making up for a lot of lost time with my family.
I offered Daniel Davison the opportunity to become full-time father to my children and after giving it some thought he decided he'd much rather fill the role as ETID's drummer.
Best of luck to Daniel, Keith, Jordan, Mitch, Andy 'Big Man' Williams and all the die hard ETID fans I've had the pleasure of smashing a beer with.
See ya'll at the Buffalo Xmas shows!!!!"
The band recently released From Parts Unknown late last year, the follow up to the excellent Ex Lives, which is personally my favorite album of theirs since Hot Damn!.
Catch Every Time I Die with Daniel on tour this April with The Used, Marmozets, and The Eeries:
04/03 San Diego, CA – House Of Blues
04/04 Tempe, AZ – Tempe Beach Park
04/07 Santa Ana, CA – Observatory
04/08 Santa Ana, CA – Observatory
04/10 Salt Lake City, UT – In The Venue
04/11 Salt Lake City, UT – In The Venue
04/12 Denver, CO – The Fillmore
04/14 Milwaukee, WI – The Rave
04/17 Cincinnati, OH – Bogarts
04/18 Detroit, MI – The Fillmore
04/19 Toronto, ON – Danforth Music Hall
04/21 Sayreville, NJ – Starland Ballroom
04/22 Niagara Falls, NY – Rapids Theatre
04/25 New York, NY – Webster Hall
04/28 Clifton Park, NY – Upstate Concert Hall
04/29 Boston, MA – House Of Blues
05/01 Silver Spring, MD – The Fillmore
05/02 Cleveland, OH – House Of Blues
– CK