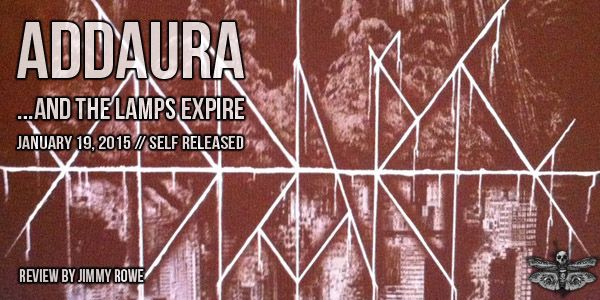 Atmospheric and post-black metal is all the rage these days and while it has shown some signs of slowing down, there are bands still operating under the genre's admittedly all-encompassing umbrella and creating some highly interesting and artful music. Seattle-based experimental act Addaura is one such band that is getting attention lately as the group's latest three-track release …and the lamps expire. is getting quite a bit of love through Bandcamp — at least 150 people paid the minimum $1 price tag, which is a feat in and of itself for a band so relatively unheard of. On first listen, it's abundantly clear why the act is getting so much support.
The group's expansive take on post-black metal utilizes the typical genre tropes of blastbeats and the tremolo picking of lush guitar chords while employing dynamic-changing ethereal vignettes that evoke Isis' cinematic nature. Addaura are unafraid to put to use twinkling pianos and acoustic guitars, as evidenced by the record's opening track 'amid the timult and clamor.' The marriage of the noisey cycling of chord progressions and the use of the more vulnerable clean passages throughout the 10-minute epic makes for more devastating emotive ebb and flow.
After 'amid the timult and clamor' ends in explosive reverie and fading pianos, Addaura drones through a two-minute horror film score in 'chambering things lost' that greatly expands the act's potential musical scope. The distant tension-building musique concrete and dissonant, stabbing crescendos bridge the gap between the album's two "proper" tracks, seamlessly bleeding into 'the sun shines to-day also', which carries on in similar fashion to the opener; haunting piano developing the track's chord progression before giving way to an overwhelming fuzz of guitars. However, instead of sticking to traditional instrumentation, 'the sun shines…' breaks the track down into hypnotic stomp-clap rhythms and later, organ dirges and tom grooves.
Across …and the lamps expire, Addaura establishes themselves as a progressive act, yet they are comparatively tame and relatively traditional when it comes to black metal's outer reaches. On the surface, with bright melodies and dedication to the atmospheric black metal formula, comparisons to Deafheaven are unavoidable. When examining the deeper nuances of Addaura's music, it's easy to find smatterings of the much more bizarre An Autumn For Crippled Children (made all the more clear with the insistence on lowercase letters) or the experimental tendencies of Altar of Plagues. Addaura's separate and individual qualities aren't particularly anything we haven't heard before, but they're arranged in a way that are uniquely Addaura, and in the current post-black metal climate, that's all you can really hope for.
Addaura – …and the lamps expire gets…

3.5/5
– JR