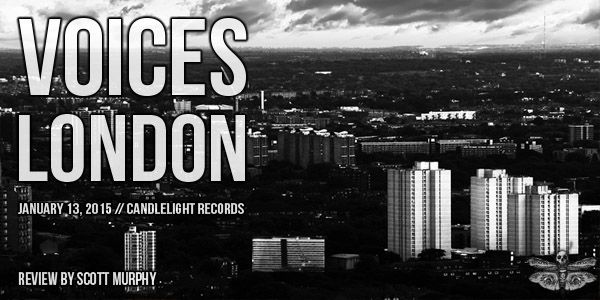 Listeners may have an intrigued cursory glance at the album artwork for London, the sophomore album from Voices (a band risen from the ashes of Akercocke). For an album labeled as blackened death metal, the minimal photograph of England's capital conjures a starkly contrasting vibe. Yet, through the thick, progressive fog which clouds this amalgamation of genres, there is a very "urban" theme that hints at are a larger narrative (also alluded to by a number of spoken word passages). Indeed, throughout Voice's hour-long exhibition, one cannot help but feel a certain simulation in the streets of the Big Smoke.
For one, city life's persistent stream of shifting stimuli permeates the many influences found on the album. Residue from Akercocke is apparent, with the more progressive and blackened tinges conjuring up hints of Altar of Plagues' metallic swansong and the death metal core translating as Incantation, Portal and Ulcerate after thorough baths. Vocally, guitarist/vocalist Peter Benjamin draws keen parallels between Ulver's Kristoffer Rygg, with occasional references to the ghoulish ramblings used by Jamie Stewart of Xiu Xiu fame. Altogether, the album jolts along perpetually, jumping from concept to concept in a musical blur.
Unfortunately, this brings forward the other element of city life that London contains: an overwhelming lack of cohesion. There are some exceptionally creative ideas on this album, especially the eerie atmosphere on 'Megan' created by an urgent guitar riff and a haunting vocal loop of the track's name. However, a majority of the other progressive elements are somewhat forgettable, to the point that they seem to have been drawn from a sound bank of random "by-the-books" progressive passages. 'The Antidote,' for example, trudges along in quasi-creepiness for its intro and conclusion, with the only life of its arduous seven and a half minutes being a mediocre explosion of sound in the midsection.
Length is a problem for other tracks as well and certainly for the album as a whole. Every song on this album is too brief for what its ideas necessitate, with the roughly eight minute runtime of 'Music for the Recently Bereaved' being the longest track length and the only true example of a fully realized track. Each other track ranges decreases in run time, with the second half of the album plummeting down to an average of roughly four minutes apiece for each track. This is particularly frustrating due to the fact that Voices fill more time with underdeveloped progressive passages than more intense bursts of blackened death, which is ultimately the direction that they are most proficient with. The blast of intensity at the start of 'Music for the Recently Bereaved' ends much too quickly, a similar problem for the excellent riff break in the middle of 'Imaginary Sketches of a Poisoned Man.'
While the album as whole could be viewed as a singular shifting entity which forgives these individual track complaints, this does not excuse the lack of development of the majority of the ideas that Voices present. Again, this is ultimately not an attack so much as an expression of frustration, as these ideas are in themselves solid kernels for what could have composed excellent songs. A handful of longer, more detailed tracks would have conveyed a more touristic and inviting view of the city in comparison to the fourteen hodge-podges that, while indicative of urbanity, ultimately exhibit more qualities of the annoyances of city life.
Voices – London gets…

3/5
-SM