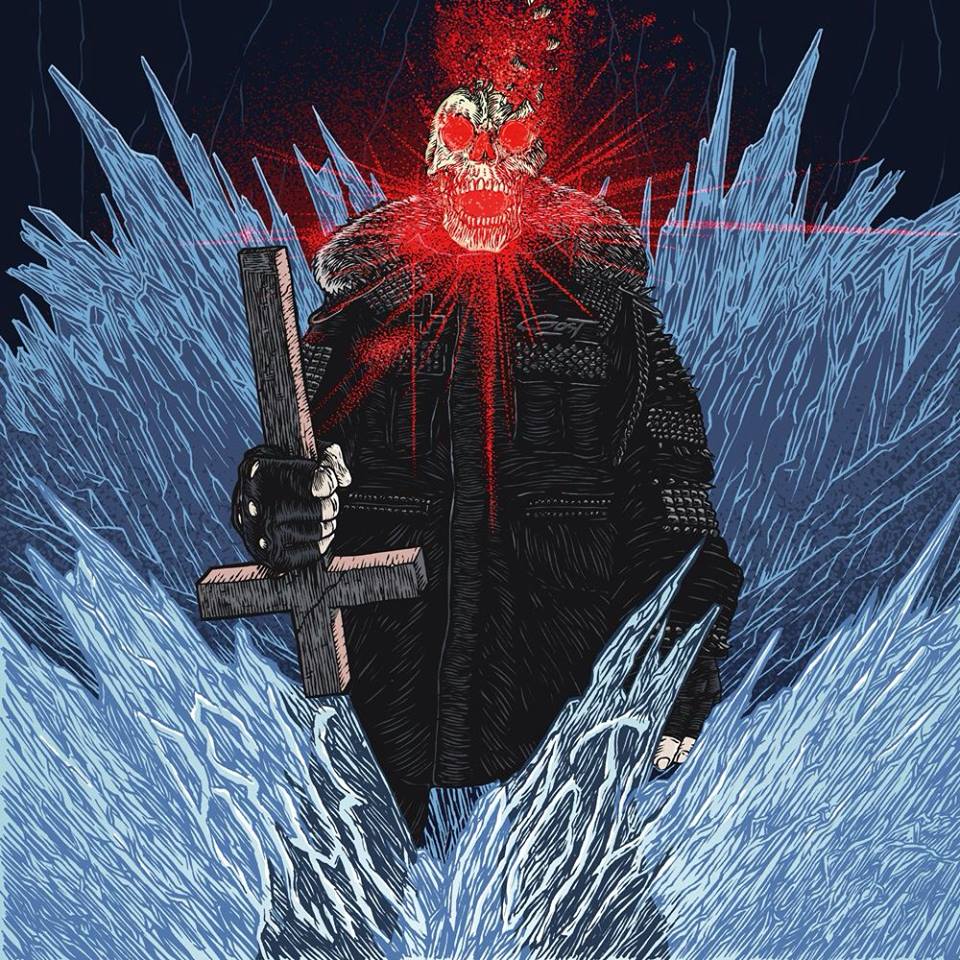 Thanks to Blood Music's increasingly diversified roster of artists signed to the label, many metalheads became accustomed to the sounds of retrofuturistic electronic music thanks to the release of Perturbator's Dangerous Days. Interestingly enough, even though they're an avant garde/progressive extreme metal label at heart and spirit, Dangerous Days quickly became the underground Finnish label's most sought-after and fastest selling releases. Go figure!
In 2015, the label hopes to continue the trend of bait-and-switching metal fans into checking out electronic artists with yet another tongue-in-cheek 80's throwback by way of GosT's upcoming record Behemoth. This week, details emerged about the Michigan-based "slasherwave" act's hotly anticipated record, including the eye-catching artwork above. Get details and a sneak peak at the record after the jump.
At long last, the brilliant cover art [hand-drawn by incredible French art duo Førtifem] is unveiled for slasherwave superstar GosT's debut full length.
Coming quickly on the heels of the retro scene's overlords, GosT's unique blend of retro horror has finally hit full stride in his aggressively beautiful debut album. Slicing bass grooves as sharp-as-a-machete, wonderfully evolving atmospheres, and smooth analog melodies that may even convince the shyest kids to dance.
This is part slasher film, part monster movie, part late-night danceclub desperation – with equal amounts of influence from 1980s horror films, 1990s black metal, and a touch of 2000s club electro – sometimes it allows you to breathe, sometimes it chokes you to death.
Stand ready for "Behemoth."
Pre-order: Early February 2015
Release: Late April 2015
Track list:
1. Beyond
2. Genesee Avenue
3. Night Crawler
4. Master
5. Reign in Hell
6. Tongue
7. Without a Trace
8. Ripper
9. Bathory Bitch
10. Sacrament
11. Behemoth
Get a glimpse into the frenetic world of Behemoth with a stream of the album's second track 'Genesee Avenue' below.
Once again, pre-orders go live next month, and knowing Blood Music, it will feature beautiful packaging and an exhibition fit for your record collection. Keep up with Gost and Blood Music on Facebook for news as it comes in.
– JR