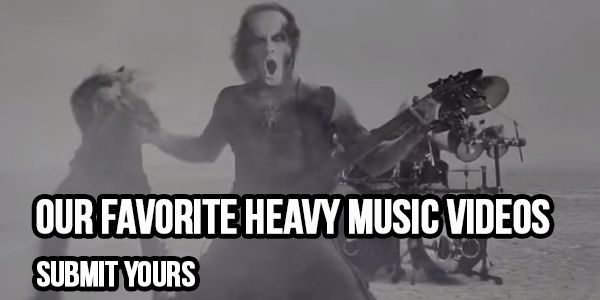 Years after the demise of Headbangers Ball metal bands continue to put out music videos, most destined for a spot on YouTube and maybe some niche cable TV channel. Compare your favorite Heavy Music Video to ours after the jump.
For metalheads of a certain age, "Headbangers Ball" was truly appointment television, the one place in the pre-Internet age where the mainstream culture conceded metal existed. And for every embarrassment like Warrant's "Cherry Pie" there were great bands producing compelling videos. It's where I first discovered acts like Coroner, Shadows Fall, and Corrosion of Conformity
So we got to talking in the Heavy Blog is Heavy Treehouse this week about our all-time favorite Heavy Music Videos. We've put together a short list of our faves and are inviting you to link to yours in comments here and on Facebook.
Heavy Blog is Heavy Staff Members Favorite Heavy Music Videos
Noyan Tokgozoglu – Behemoth – "Ov fire and the void"
---
Brian Shields – Between the Buried and Me – "Selkies: The Endless Obsession (Colors DVD Live)"
Brian says: " I know this isn't a staged old school MTV video but I DGAF."
---
Dan Wieten – DEATH – "Lack of Comprehension"
Dan says: "God I freaked when this premiered "
---
Eden Kupermintz – Soen – "The Words"
Eden says: "I know it's new but it's great."
---
Paul Mark Meisner The Chariot – "David De La Hoz"
---
Scott Murphy – Portal – "Ω Curtain"
---
John Skibeat – Psychostick – "Obey the Beard"
---
That's a small sample from our staff but we're sure you have a favorite heavy video not on our list. Submit links to your choices in comments here or on Facebook.
— BS