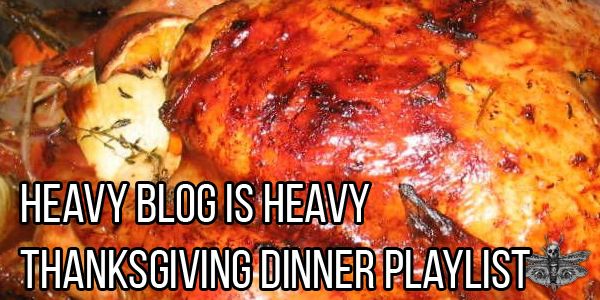 It's Thanksgiving, a time for football, feast, and showing the rich relatives how well you've turned out. Help us put together a playlist for the occasion after the break.
Thanksgiving is one of the most family-centered holidays so hopefully the rich relatives are in town. Now is your chance to impress them with how well you've turned out. At Heavy Blog is Heavy we want to help in that coming together of the generations by assembling a playlist of "Music to Play for the Rich Relatives at Thanksgiving Dinner to Show Them How Well You've Turned Out."
We will post a few gems but we need your help. Post your suggestions for this list in comments or on the HBIH Facebook Page.
Here we go:
Get the rich relatives started with a taste of some Santa Cruz Slam from Parasitic Ejaculation
---
Show your devotion to the family with some Dying Fetus
---
Keeping with the family theme, your playlist needs some Aborted.
---
If you're eating Tofu Turkey, nothing will impress the relatives like just about anything from Cattle Decapitation but this one seems most appropriate for the Thanksgiving holiday.
---
Dinner will begin with everyone saying grace so time the playlist to put on some Cross the Lips of Grace.
---
Remind Grandma of that tragic time in her life with some classic Necrophagist
---
And of course once all of the feast is done, you will need to Vomit the Soul
---
This is obviously just a start. Add your playlist suggestions in comments and on Facebook. And have a Happy Thanksgiving from all of us at Heavy Blog is Heavy.
–BS