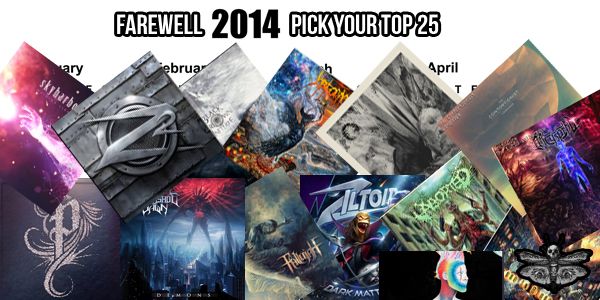 2014 has been an astounding year for metal releases. Choose your top 25 of this year after the break.
It's one of the busiest times of the year inside the Heavy Blog is Heavy tree house as all of our writers, editors, photographers, and assorted metalheads are busy putting together their list of the Best Releases of 2014.
Starting on December 15th, we will be publishing our Top 10 lists, this year with a twist. Each of our contributors is actually putting together a Top 25 list. We will assign a numerical value to each selection then add it all up and come up with a consensus list of the Top Releases of 2014.
But why should we have all of the fun? Starting right now, we're inviting you to use the form below to submit your Top 25 list for the year. Then we will use our same system to come up with a consensus list of how you, our Heavy Blog is Heavy readers, judge the top new music of this great year.
When we publish our staff consensus list, we will also post the Reader list so you can look at them side by side. Nothing is off-limits. Full albums or EP's are fair game, the record just has to have come out in this calendar year.
So start making your list, checking it 666 times, and then hit the submit button.
Vote for Your Top 25 Metal (or Any Other) Releases of 2014.
Click Here to Fill Out the Form
You're also welcome to post your lists in comments or on Facebook but only lists submitted through the form count towards our Final Reader's List.
–BS