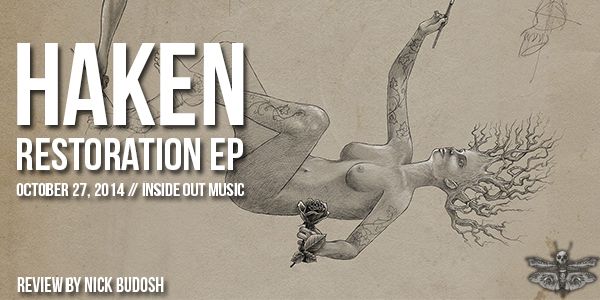 It is 2008.  In London, a demo entitled Enter the 5th Dimension debuts from a relatively-unknown progressive metal/rock band called Haken.  The demo set the stage of what to expect from Haken for years and years to come: heavily down-tuned guitars, multi-genre tangents, and masterful, truly-progressive, songwriting.  Flash forward 6 years and Haken is now a big player in the progressive metal/rock world with 3 full-length studio albums, a new EP, an evolved sound, and even some new members.  Restoration is a brilliant effort by these Earthlings to go back to their original demo and shed some of their new and 'Darkest Light' on the tracks that 'Crystallized' them as a progressive metal powerhouse.
Restoration begins with 'Darkest Light'.  Most of the musical content is drawn from 'Blind', the opening track of the original demo.  While this track is nearly half the length of the original track, it is much more focused and structured.  'Darkest Light' sets itself up as heaviest track on the album.  All of the instruments, layers, and vocals mesh together seamlessly to form a cohesive wall of sheer progressive metal power.  In contrast to the heaviness, this track has some of the most memorable vocal lines on the album.  The vocals on the choruses and verses are powerful and are well-supported by the instrumentalists of the band.  'Darkest Light' is a powerful and appropriate start to this EP.
The next track, 'Earthlings', is much more mellow and relaxed than 'Darkest Light'.  Delicate vocal lines and ambient instruments paint a vibrant soundscape while the bass guitar leads the track through to the end.  Haken has always showcased its love for layers of harmonies and this track is no exception.  With most of the instruments playing an ambient role, it is easy to focus in on and appreciate all of the subtle nuances and layers in the vocals.  While 'Earthlings' is in fact very mellow and bare-bones, it does not fall into the trap of being monotonous and meandering.  It is a nice contrast to the opening track and gives the listener a moment to prepare for the onslaught of sound that is 'Crystallized'.
'Crystallized' closes off the EP by taking sections from many of the tracks of the demo and splicing them together.  This leads to a sound that is all-encompassing of what Haken has done in their career.  There are down-tuned heavy riffs, ripping solos, multi-genre tangents, tightly-knit vocal harmonies, and even A Capella vocals.  Not to sound redundant, but this track Crystallizes and manifests the essence of what Haken is and what they have become. Haken pushes forward while providing a listening experience that any of their fans or fans of prog in general could appreciate.
When artists try to rehash old material it can sometimes end in disaster.  Fans get upset and writhe at the music that has been "defiled."  Restoration does not defile the original demo that brought Haken to existence.  The band took great care to preserve their original sound while improving upon it with their new, evolved sound.  With their Restoration project complete, Haken is better than ever and ready to dominate the progressive rock and metal.


Haken's Restoration gets…

4/5
-NB