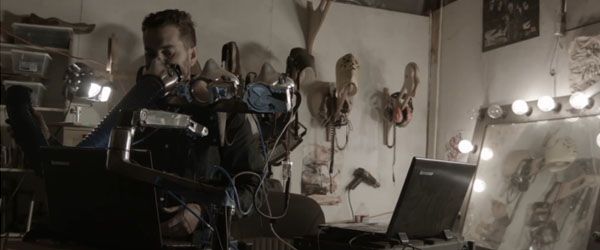 Author & Punisher sits at the top of the most bewildering and unique live shows I have ever seen. Without prior knowledge of the one-man industrial doom/drone act, I witnessed Tristan Shone pound and scream away at his home-made mechanical instrumental setup during the de-facto A Life Once Lost farewell tour. I was so blown away and impressed by his performance that I conducted an impromptu interview with Shone after the end of the show. Author & Punisher have been firmly on my radar ever since, and evidently I'm not the only one captivated by Shone's artistry; after touring together through 2013 and 2014, Phil Anselmo will reportedly produce and release the upcoming A&P record through his very own label, Housecore Records.
In a story ran by San Diego City Beat, Shone broke the news of Anselmo's involvement as well as described the direction of the new record:
Shone also says listeners can expect a more direct and intense album this time around.
"It's heavy," he says. "A lot of the stuff is really fast. I'm not going to say it's grindcore, but it's not as doomy.
"There's nothing soft on this one," he continues. "Everything's live. There's some looping, but I'll do it live. I get frustrated when I can't reproduce something live—it really kills the vibe. It's not that I don't like those songs; I just hate not being able to play them."
There's one other thing that Shone says the album won't be: long.
"I've got about eight or nine new songs," he says. "I didn't want the album to be longer than 40 minutes. I want it to fit nicely on vinyl."
Last year's Women and Children was a nasty, vicious record, but changed up the A&P formula by breaking into "softer" piano-centric tracks reminiscent of Nine Inch Nails. It worked in context against all the industrial doom-drone tones in creating a hauntingly creepy experience, but it will be cool to hear Shone pound out faster and even heavier tracks.
More info when it comes in, but in the meantime, get acquainted with Author & Punisher below:
– JR