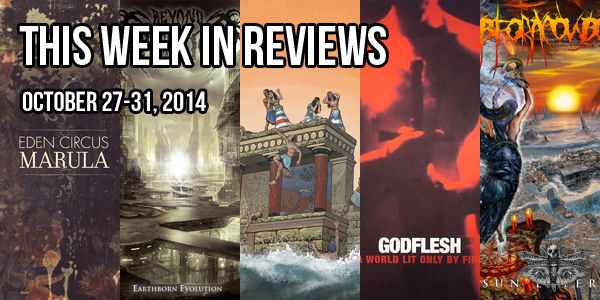 Two perfect scores, a 3/5, 3.5/4, and a 4/5, a better than average outcome in This Week in Reviews after the jump.
You might think Eden Kupermintz would give Eden Circus a better than even review but alas Marula earns only a 3.5/5.
"At the basis of this release lies an extremely interesting and potent mix between dark progressive metal and alternative, in a style that very much reminds one of the recent wave of such bands from Australia. Names like Karnivool and Caligula's Horse spring to mind immediately upon first listening to the album. To those unfamiliar with the style, it mixes heavier riffs that slightly hint towards metalcore while overlaying melancholic vocals on top of them. The instruments are also bound to quieter, more progressive passages that remind one of Tool."
Unfortunately, Eden says, the middle of the record gets lost in a "formless mass of Tool-like beats and riffs."  And yet there's redemption in the end  with two very intriguing songs.
"To put it bluntly, they're fantastic. 'Her Lovely Hands Upon the Black Earth' is a close runner up for best track on the album and 'Playing You' is a perfect closer to the album. These two tracks, with their more interesting and varied structure, lead us to the final thought this album leaves you with. This band is going places. They have potential, they have interesting ideas and they can do great things."
Beyond Creation – Earthborn Evolution
The new record from Beyond Creation is pushing its way onto a lot of Album of the Year contender lists and Ahmed Hasan's 5/5 review will do nothing to slow that trend.
"Earthborn Evolution consists of the absolute best elements of tech death taken to the next level through the band's progressive inclinations; melodic and crushing, with clever hooks left and right that still manage to be mind-numbingly heavy at the end of the day. Beyond Creation had teased four whole tracks prior to this album's release, but listening to Earthborn Evolution all the way through in order is something else entirely. It is cohesive, it is heavy, and it is absolutely masterful."
Hasan also finds beauty in the songwriting on this record.
"Of particular note is how well the songs have been structured – they build upon themselves impressively, and not a single moment feels wasted or extraneous throughout the record. This is tech death that is memorable from first note to last. Each successive heavy sequence brings with it a powerful sense of sheer size and presence, but with an added layer of finesse and top-notch musicianship on top."
Eden Kupermintz can find only 3/5 stars for post-rock veterans Giant Squid with Minons.
"It's an album that contains its moments but sadly falls short of its predecessors, namely the masterful Metridium Fields, one of the best albums in the genre. The first immediately obvious thing upon listening to this album is its heavy reliance on strings. This is no surprise, as string parts are a well established tool within the genre and it's not a bad thing either; the strings create some of the most beautiful moments on this album like the touching 'The Pearl and the Pantheon' or the massively catchy riffs of 'Mycenaens'.
However, in many parts of the album, like the center-piece 'Sixty Foot Waves', the interaction between the rest of the instruments and the strings simply accomplishes nothing. Instead of moving us, it ties the progression of the verse and chorus to the strings, holding it back from accomplishing its full musical impact."
Eden does say there are solid parts of this records but "…Giant Squid have produced far superior music in their long career. At the end of the day, it's quite possible that this album will be remembered as a side note, a non too enticing phrase in the verse that is Giant Squid's career. It's not necessarily bad, it simply lacks some of the cohesion and strength that characterized their previous albums."
Godflesh – A World Lit Only By Fire
Scott Murphy offers 4/5 horns for the reunion record from Godflesh.
Scott says A World Lit Only By Fire is much more than just an exercize in nostalgia.
"(Justin K.) Broadrick and (G.C.) Green have crafted a project that not only sounds like a much more appropriate follow up to Streetcleaner than Pure, but simultaneously proves that the duo's make-up sex was immeasurably more intense and filthy than fans and critics could have ever anticipated. Old-school Godflesh fans wishing for Streetcleaner Part Two have just received a tattered invitation soaked in gun powder, gasoline and misanthropy."
Still Scott says this is not in keeping with some of the band's more groundbreaking work.
"Without question, each of the album's tracks demonstrates Godflesh at their most visceral and invigorating. However, fans hoping for Broadrick and Green to re-visit the experimentations of their past, such as their previous incorporation of electronic and hip-hop influenced beats, may be disappointed."
JFAC is one of those bands that's been all-things to all people, making the transition from Deathcore to straight up Death Metal to now on Sun Eater, moving in the prog direction, all in Spencer Snitl's 5/5 review to positive effect.
"Upon an initial listening of the album, jaws will hit the floor. The soaring guitars, drawn out over some incredibly well-placed bass lines, will enthrall the listener in an almost hypnotic sense. The album's two opening tracks sound nothing like the band of the past. Gone are the crushing, blistering opening tracks everyone is accustomed to hearing, or even wanting, and in its place are two tracks that serve no other role but to create a mood. The band slows it down to paint a more complete picture, setting up the rest of the album in the progress. These songs have a statement to make: they're here, they're heavy, and if it isn't fast then too damn bad."
Spencer says Job for a Cowboy isn't a band hiding from anything, including its Deathcore roots.
"This album is a Frankenstein in terms of influences, with touches of Gorguts, Gojira, Obscura, and even some flourishes of Spawn Of Possession. This album perfectly encapsulates what a band should do in the span of their career: find a sound, and then discover fun new ways to make it interesting time and time again."
So we have two perfect releases in Beyond Creation and Job for a Cowboy, plenty for you to explore in your quest for compelling metal to filter between your ears. More great reviews coming in the week ahead.
-BS