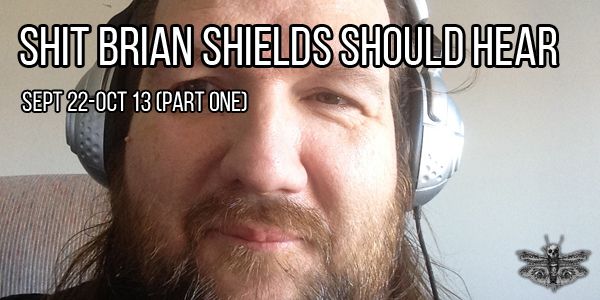 One of the great things about living right now, in what I call the Golden Age of Metal, is all of the great music being made just about everywhere. We'll sample some of the shit (some more later today) I should hear after the jump.
There's so much sick music out there that it's hard to keep up and what's more hard to keep track. That's why I set up the Facebook Page "Shit Brian Shields Should Hear" so people could leave recommendations and I won't lose track of them.
Think of this like pressing random on a music player whose contents you don't know. You might think one thing is great, that the next is literally shit. We're all over the map here in terms of sub-genres and talent levels and professionalism but that's half the fun. It's not necessarily new but it may be new to you and the hope here is that you find a real gem and get some new musicians to support.
We had 22 entries for this weeks so I will do two posts of eleven each.
Here's some Shit Brian Shields Should Hear
---
Brandon Colwel recommends tech death from Russia: Arhideus
---
Jenny Gruder says Shroud Eater is one of Miami's Best
---
Chaboy Anthony says I should hear Under a Serpent Song
---
Dubero Marlon recommends This Will Be No More from Aruba
---
Scott Barber recommends Trees on Mars featuring the legendary Plini
---
Jim Majuri does vocal covers. Check out his latest work
---
This one's a gem for sure, pro-shot video and audio by Washed Up Media of Conquering Dystopia
---
Jeff Greene (the drumming machine) from the legendary Western Massacre says he just saw Gigan recently and that it's shit I should hear
---
Reece Curtis says I should check out Labyrinth
---
Jack James Willits of Circle Spectre Haunting recommends this as "Satanic English Death Metal, sir"
---
Blake Humphries says The Broken Result is "shit I should hear."
Part Two in a couple of hours.
-BS