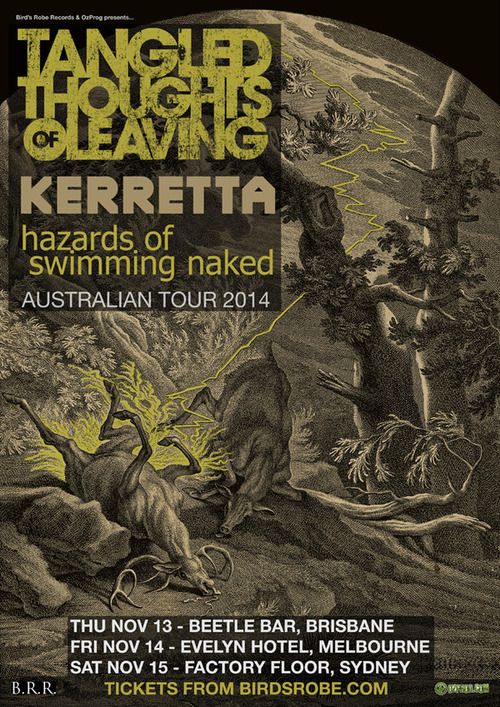 Of the many and vast bands who have come about in the past few years and are taking instrumental metal in fascinating directions, there are very few that top Australia's Tangled Thoughts of Leaving in my book. Their debut full-length, 2011's Deaden the Fields, was easily among my favorite releases of the year for its brilliant interplay of jazz fusion, noise and electronic elements, and sprawling post-metal compositions. It's fair to say that many of us here have been greatly anticipating news of a follow-up, so it's with great excitement that we finally have some information to share!
Via the band's website and Facebook, they have announced that they will release the first single from their sophomore album, of which they have not released the name, in November. The single is called 'Downbeat.' The band describes it as "an 18 [and] a half minute track focusing on the noisy and heavier aspects of our sound." This would make this the longest track in TToL's discography to date (the incredible 'Landmarks' off of DtF was an impressive 17 1/2 minutes), except for the fact that the single will be accompanied by the non-album B-side 'Demise,' which reportedly clocks in at 19 1/2 minutes. This means that the band will be releasing a 38-minute single. Allow that to sink in for a moment.
Details on the full-length are scant beyond that currently, but the band has written that it will be released in early 2015, dashing any hopes I had of a last-minute sleeper 2014 AOTY from them. The band will also be playing a few dates on the east coast of Australia in November for those of you fortunate enough to be able to see them in person. They'll be playing with Keretta and hazards of swimming naked, and the dates are listed below.
Thu Nov 13 @ Beetle Bar, Brisbane QLD
Fri Nov 14 @ Evelyn Hotel, Melbourne VIC
Sat Nov 15 @ Factory Floor, Sydney NSW w/Serious Beak
Feel free to wildly fuel speculation about any yet to be known details and what the album will sound like in the comments, and while you do so have a look at some of the great behind-the-scenes clips the band has posted during the recording process of album #2.
-NC