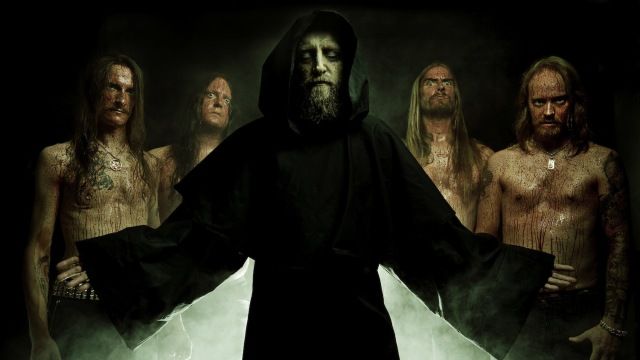 Ever since Opeth's Mikael Akerfeldt announced his departure from Swedish death metal outfit Bloodbath (featuring members of Katatonia), we've been waiting with bated breath for news of his successor. Finally, the long-awaited and oft-teased announcement has finally been made, and Bloodbath have tapped Paradise Lost's Nick Holmes as a totally out of left field pick for frontman going forward.
The fact that the band have been able to sign him on and then write, record, and announce their new album Grand Morbid Funeral without a single leak of information is quite the feat this day in age! It's safe to say that everyone was surprised by the announcement, due to the fact that Paradise Lost hasn't been a death metal band for quite some time.
Rest easy though, because for Grand Morbid Funeral, Holmes will be performing death growls throughout. I mean, why would they go through the trouble of parting ways with Akerfeldt in his "I'm so bored with metal" phase only to go needlessly soft? Bloodbath have a lot to prove on their new record, and I'm sure it will be great.
On the announcement, the band had to say:
"Ever since I got into Lost Paradise back in 1990," says Jonas Renkse, "Nick Holmes has been one of my favourite growling vocalists out there. He was always audible and articulate but still deep and definitely morbid. It is a great pleasure to work with him some 25 years later after I was introduced to his thunderous roar!"
Adds Anders 'Blakkheim' Nyström: "Little did I expect to be working with the voice behind the death metal classic Lost Paradise, or the genre-defining Gothic and yet here we are decades later, fulfilling another death metal dream. With his sinister and ominous vocal delivery, it's an absolute pleasure to make Old Nick the bell-ringer in Bloodbath's grand morbid funeral!"
Grand Morbid Funeral will be out November 17th via Peaceville Records. Expect pre-order packages and new music shortly.
– JR