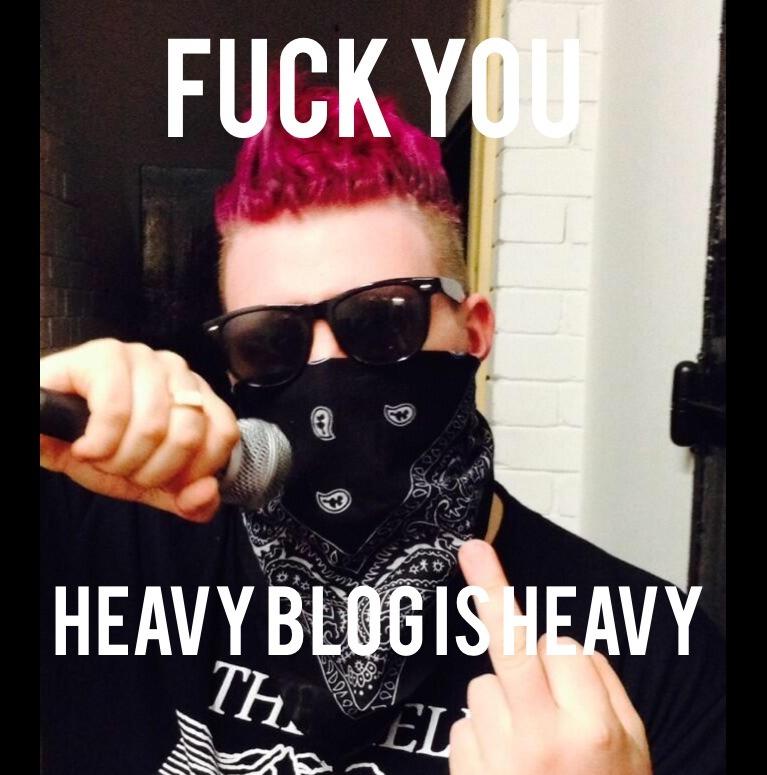 SINCE THEIR INCEPTION, UK'S ENIGMATIC THE HELL HAVE DEFENDED HARDCORE AND CAPSLOCK ALIKE, UNAPOLOGETICALLY SLINGING IGNORANT HATEMOSH AND SKEWERING THE ENTIRETY OF METAL CULTURE ALONG THE WAY. IN A SCENE THAT OFTEN TAKES ITSELF TOO SERIOUSLY, THE HELL'S CELEBRATED LIVE SHOW SEES THE UNIT PERFORMING IN BANDANNAS AND SUNGLASSES WHILE CHUGGING TWO-STRINGED GUITARS AND SCREAMING ABOUT DICKS. INFAMOUS THE HELL FRONTMAN "NAILS" TOOK THE TIME TO CHAT WITH RESIDENT MEME AND PHOTO EXPERT MACLYN BEAN ABOUT CAPSLOCK, DICKS, AND OTHER VERY IMPORTANT THINGS IN WHAT MAY VERY WELL BE THE BEST THING THIS WEBSITE HAS EVER DONE. READ THE ENTIRETY OF THEIR CHAT BELOW.

HEY MAN, WHAT'S UP?
HEY. I'M JUST SITTING AROUND SWEATING. YOU?
I'M ALSO SWEATING. IT'S HOT AS FUCK.
OKAY I HAVE A FEW QUESTIONS FOR YOU.

OK, THE ANSWER IS YES. THE NEW SLIPKNOT BASSIST AND DRUMMER ARE  BOTH FORMER MEMBERS OF THE HELL.
OKAY THAT IS VERY IMPORTANT
FIRST QUESTION: WHY CAPS LOCK?
DAVID DRAIMAN IS OUR DAD AND THIS IS HOW WE WERE BROUGHT UP TO TYPE. ALSO OUR MUM IS COURTNEY LOVE, SO THAT'S WHY WE WEAR BANDANAS
REGARDING THE BANDANNAS, HAVE YOU GUYS CONSIDERED CHANGING THE COLOR OF YOUR BANDANNAS EVERY ALBUM TO GIVE SLIPKNOT A RUN FOR THEIR MONEY?
YES, WE BRIEFLY CONSIDERED THAT, BUT CHANGING EVERY ALBUM IS BORING. WE JUST CHANGE WHEN WE FEEL LIKE IT. WE RECENTLY MOVED TO GOLD BANDANAS AND THEY'RE GOOD BUT QUITE RESTRICTING AND DIFFICULT TO BREATHE THROUGH.
LOL OKAY
WHO, OUT OF ALL THE DICKS, IS THE BIGGEST DICK?
ANDY DICK
NO NO
MOBY DICK
HE'S FUCKING HUGE
OH SHIT
DO YOU GUYS BELIEVE THAT YOU'RE BRINGING BACK MUSIC THAT IS ACTUALLY FUN TO LISTEN TO?
NO WE'RE JUST AS BORING AND SERIOUS AS THE REST OF THE METAL SCENE, PEOPLE JUST DON'T TAKE US SERIOUSLY. IT'S VERY FRUSTRATING. WE ARE THE TRUEST OF TRUE. NOTHING FUN ABOUT IT.
HMM
ANOTHER QUESTION:  WHAT ARE SOME OF YOUR MOST INFLUENTIAL ALBUMS?
NAILS: I THINK "YOU'RE LISTENING TO THE HELL" AND "GROOVEHAMMER" ARE PROBABLY OUR MOST INFLUENTIAL ALBUMS. I MEAN YOU LISTEN TO FAR BEYOND DRIVEN AND YOU CAN JUST HEAR HOW VINNIE PAUL JUST COMPLETELY CATS JACKHAMMER'S FOOTWORK. IT'S COOL THOUGH COZ THOSE GUYS ARE LIKE LITTLE BROTHERS TO US.
HAHAHHAHA
WHAT IS YOUR FAVORITE TYPE OF PIZZA?
THE $5.55 7/11 PIZZAS YOU GUYS HAVE OVER HERE. WOW.
WOAH
IF YOU COULD DEEP FRY ANYTHING, WHAT WOULD IT BE?
UMMM… I'M GONNA HAVE TO SAY A CAN OF PBR. WE HAVE ALREADY PRETTY MUCH FRIEND EVERYTHING ELSE THAT EVER EXISTED. INCLUDING MOBY DICK.
AND I'M NOT JUST SAYING THAT BECAUSE IT'S THE FIRST THING I SAW.
OK OK
IF YOU COULD BE ANY MEME, WHAT WOULD YOU BE?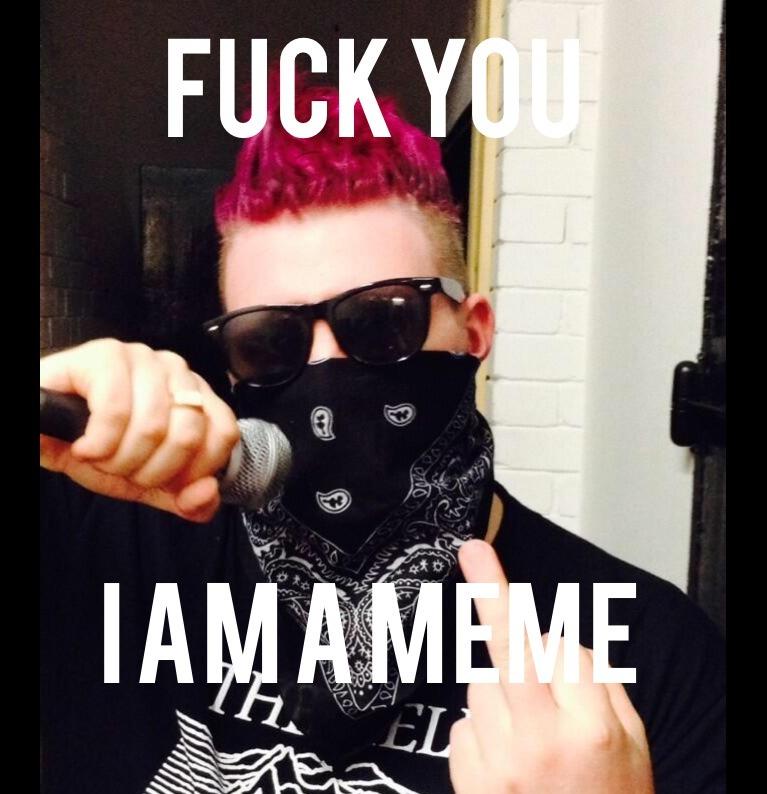 EXCELLENT MEME MY FRIEND
ANOTHER QUESTION: WHAT ARE SOME OF THE MOST DIFFICULT THINGS YOU HAVE FACED WHILE IN THE MUSIC BUSINESS ?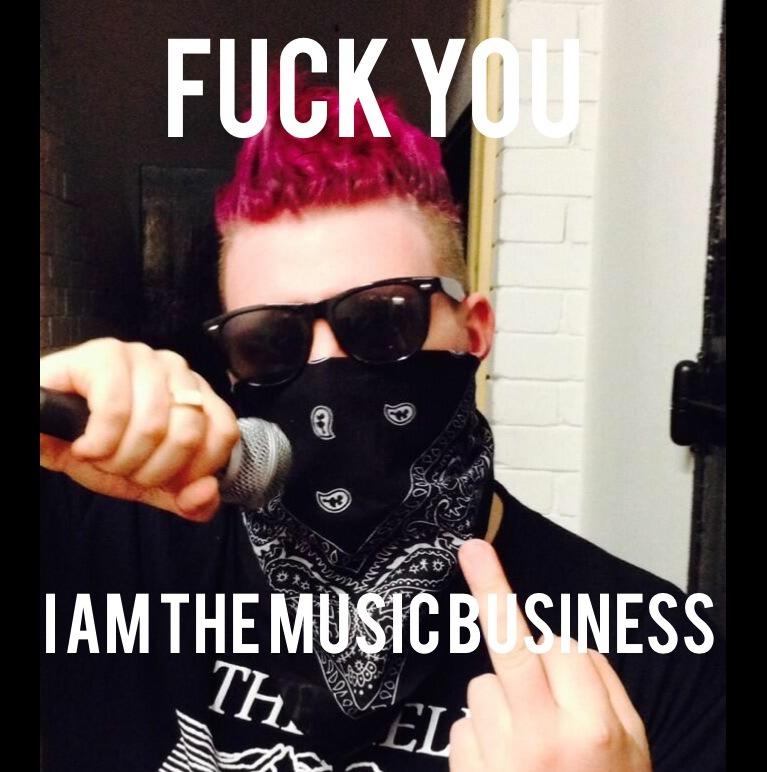 GOOD
WHAT DO YOU THINK ABOUT "ENTOMBEDCORE" AND HM-2 PEDALS BEING MORE WIDELY USED?
HM-2 IS THE SOUND RIGHT? ALL FOUR KNOBS UP TO FULL? I THOUGHT HM-2 WAS A GENRE OF MUSIC AT ONE POINT. I THINK IT'S GREAT THAT BANDS CAN BUY ONE SHITTY BOSS PEDAL AND INCREASE THEIR CREDIBILITY TENFOLD. NOT FOR ME THOUGH.
EXCELLENT ANSWER
WOULD YOU RATHER FIGHT A HORSE SIZED DUCK OR 100 DUCK SIZED HORSES?
I'D FIGHT THEM ALL AND WIN BECAUSE I AM EXCEPTIONALLY TOUGH AND THATS WHY THEY CALL ME NAILS.
HELL YEAH
WHAT DO YOU THINK ABOUT THE BAND "NAILS" ?
THE OFFICIAL LINE IS THAT THEY ARE SHIT AND I HATE THEM, BUT ACTUALLY THEY ARE ONE OF MY FAVOURITE HEAVY BANDS AT THE MOMENT. SO YEAH THEY ARE SHIT AND I HATE THEM.
ANOTHER GREAT ANSWER
UNSILENT FUCKING DEATH
WHAT DO YOU LIKE PLAYING MORE?  SMALL CLUBS OR FESTIVALS?
iNTERESTING YOU SHOULD ASK THAT BECAUSE WE ACTUALLY HATE PLAYING SHOWS BECAUSE EVERYONE IS ALWAYS MOSHING AND SHOUTING AND IT'S LOUD AND DANGEROUS AND FUN AND WE CAN'T BE DEALING WITH THAT. SO NEITHER.
NO FUN, NOT EVER
NOT EVEN ONCE
WHEN ARE YOU DICKS GOING TO TOUR THE USA?
IN 2015 WE ARE GOING TO BE DICKING ALL OVER THE USA. BETWEEN NOW AND THEN JUST LISTEN TO GROOVEHAMMER, THEN WHEN WE'RE OVER ON THE HONDA MONSTER ROCKSTAR CRAYHEM TOUR BROUGHT TO YOU BY BUD LIGHT AND KROQ, YOU WILL KNOW ALL THE WORDS.
HELL YEAH
DO YOU LIKE EGGS?  AND IF SO, HOW DO YOU LIKE THEM PREPARED?
I DON'T LIKE ANYTHING, SO… INCINERATED.
OKAY
IF YOU WERE AN ACTION FIGURE, AND COULD COME WITH ONE ACCESSORY, WHAT WOULD IT BE, AND WHY?
A BUTTON ON MY CHEST THAT YOU COULD PRESS AND IT WOULD BE A RECORDING OF ME SAYING "HEY DUDE I LOVE YOUR BAND" REALLY SARCASTICALLY, AT A FREQUENCY ONLY FRANKIE PALMERI CAN HEAR.
LOL
WOULD YOU ALL EVER TOUR WITH "THE EMMURES" OR "THE ACACIA STRAINS"
FOR SURE. I LOVE AMERICAN INDIE POP. I DON'T JUST LIKE HEAVY MUSIC. HAVING SAID THAT THOUGH I DON'T THINK EMMURE WOULD BE HAVING ANY OF IT, BECAUSE THEY MADE THE MISTAKE OF TAKING US SUPER SERIOUSLY WHEN WE TALKED SHIT ABOUT THEM. WE ARE BETTER THAN THEM THOUGH. IT'S SCIENTIFIC FACT.
RIGHT ON
WHAT ARE SOME OF YOUR FAVORITE INDIE BANDS?
MY FAVOURITE INDIE BANDS ARE PROBABLY THE CONVERGES, THE CAVE-INS, NIC CAGE AND THE BAD SEEDS, AND CLOUD NOTHINGS.
ARE THERE ANY AMERICAN CITIES YOU ARE PARTICULARLY EXCITED TO PLAY IN?
WILMINGTON, DELAWARE.
PENSACOLA, FLORIDA.
TRENTON, NEW JERSEY.
GREAT CHOICES. DID YOU COPY PASTE THOSE CITIES FROM THE TOUR ITINERARY
NO. THEY ARE JUST PLACES THAT I HAVE BEEN TO AND THEREFORE THE ONLY PLACES I ACTUALLY KNOW.
OKAY GREAT
HOW DO YOU PRONOUNCE THE WORD "MEME"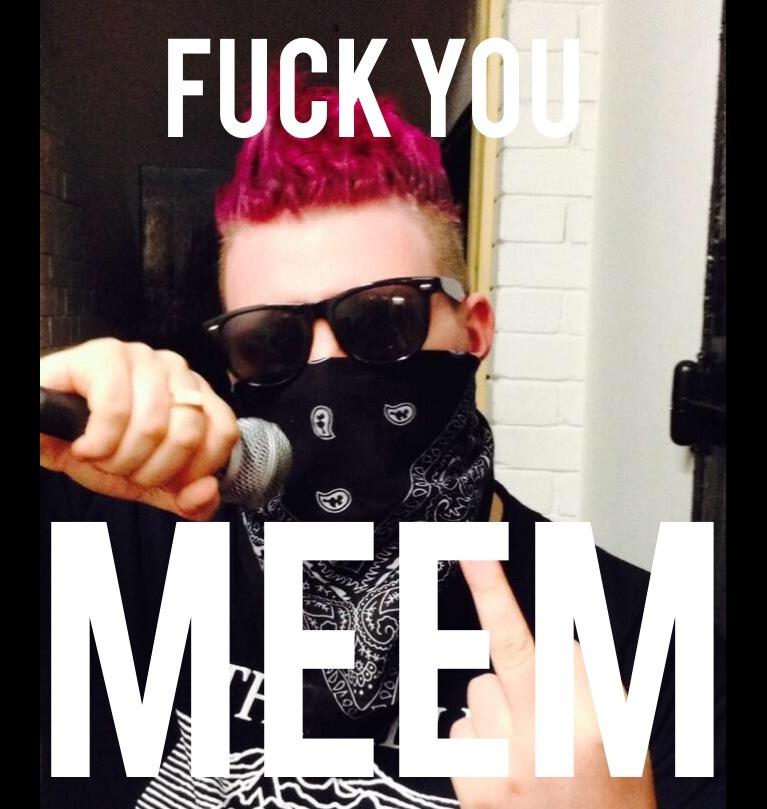 BEAUTIFUL
WHY HAVEN'T YOU GUYS COVERED LIMP BIZKIT'S "ROLLIN" YET?
BECAUSE IT'S SHIT
FAIR ENOUGH
WHAT DO YOU GUYS THINK ABOUT TUMBLR AND "SOFT GRUNGE" ?
I THINK IT'S SHIT. I MEAN I DON'T KNOW MUCH ABOUT EITHER OF THOSE THINGS, BUT I THINK THEY'RE BOTH SHIT.
YOU ARE CORRECT, THEY ARE BOTH SHIT.
ANOTHER QUESTION: WHAT ARE SOME OF YOUR FAVORITE BANDS FROM THE UK?
YOU KNOW HOW PEOPLE ARE LIKE "OH THIS BAND SUCKS, BUT THEY'RE REALLY NICE GUYS"? WELL ARCHITECTS ARE REALLY FUCKING GOOD AND TOTAL DICKHEADS. SO ARCHITECTS.
HELL YEAH, I JUST SAW THEM PLAY HERE IN MAY
WHAT DO YOU THINK ABOUT "DJENT"
I THINK IT SHOULD DJUST DJIE A PAINFUL DJEATH
I MEAN DJESUS
GOOD
DJESUS CHRIST
DJOG ON
WHAT HAVE PROSTHETIC DONE FOR YOU THAT OTHER LABELS HAVE NOT DONE IN THE PAST?
BOUGHT ME CHIPOTLE.
RIGHT ON
WHAT KIND OF BURRITO DID YOU GET?
I DON'T REALLY KNOW I THINK IT WAS LIKE CHEESE, HAM AND EGG
IN A BAGEL
OH FUCK
THAT'S ADVANCED
BURRITO LEVEL: PRO
SICK
WHAT ARE YOUR FAVORITE FRUITS?  DO YOU LIKE BANANAS?
I DON'T REALLY LIKE FRUIT, OR HOT DRINKS. JACKHAMMER LOVES FRESH FRUIT AND VEG THOUGH. HE EATS TEN THOUSAND FRUITS AND VEG A WEEK.
HE SLEEPS ON A BED MADE OF TOFU.
IS JACKHAMMER VEGETARIAN OR SIMPLY AN OMNIVORE?
HE WAS RAISED BY STEGOSAURI.
WHOA, COOL
HE'S NOT VEGETARIAN HE IS A HERBIVORE.
WHAT DO YOU THINK IS GOING TO HAPPEN IN THE NEW HUNGER GAMES MOVIE?
I THINK THEY'RE GOING TO HAVE MORE CLOSE UPS OF THAT HEIL MICROPHONE. I ALSO THINK J-LAW IS GOING TO MARRY R-PATTZ AND RI-RI WILL DUET WITH JAY-Z
WOAH VERY INTERESTING
WHAT IS THE WEIRDEST BAND YOU HAVE EVER SEEN AT A FESTIVAL?
ISSUES. THEY'RE LIKE SISQO BUT METAL AND THAT SHOULD BE AWFUL BUT I LOVE IT.
RIGHT ON
THEY GET A LOT OF HATE, BUT A LOT OF PEOPLE I THOUGHT WOULD HATE THEM LOVE THEM
WEIRD
THEY ARE DOING SOMETHING COOL. THE TECHNICAL STUFF IS SUBTLE AND WELL EXECUTED, THE VOCALS ARE RIDICULOUSLY OVER THE TOP, AND THEY'RE UNAPOLOGETICALLY THEMSELVES. IT'S GOOD.
IT'S ALSO SHIT AND I HATE THEM THOUGH.
SO THEY'RE KINDA LIKE YOU GUYS EXCEPT WITH WEIRD KEYBOARDS AND STUFF LIKE THAT AND A DJ
I DON'T KNOW IF THERE'S ANYTHING SUBTLE ABOUT US. WE COULD DO WITH A DJ THOUGH.
YOU GUYS ARE REALLY STRAIGHTFORWARD
AND DICKS
WE ARE DICKS. WE LOVE DICKS.
THE DICKS
OKAY LET'S VIDEO CALL, SHALL WE?
I ACTUALLY CAN'T BECAUSE MY MICROPHONE IS BROKEN. I SAT ON MY IPAD IN ARTIST CATERING AT LEEDS FESTIVAL. I AM AFRAID I AM GOING TO HAVE TO LEAVE IN A MINUTE TO GO AND DRINK COCKTAILS WITH BEAUTIFUL WOMEN BY A SWIMMING POOL.
WELL THAT'S OKAY
RIP IN PEACE IPAD
I AM DEFINITELY NOT GOING TO BUY A 7/11 TAQUITO FOR BREAKFAST
I AM GOING TO DRINK COCKTAILS WITH BEAUTIFUL WOMEN BY A SWIMMING POOL
I RECOMMEND THE BUFFALO CHICKEN ROLLER
GOOD LUCK WITH YOUR BEAUTIFUL WOMEN!
THANK YOU FOR CHATTING WITH ME AND HEAVY BLOG IS HEAVY
OH MY GOD I HAD THAT AND IT WAS THE BEST
BUFFALO CHICKEN ROLLER 4 LYF
HELL YEAH
THANKS FOR HAVING ME MR BEAN
YOU'RE WELCOME NAILS
PROPS ON MAINTAINING THE CAPS LOCK AS WELL
OF COURSE MATE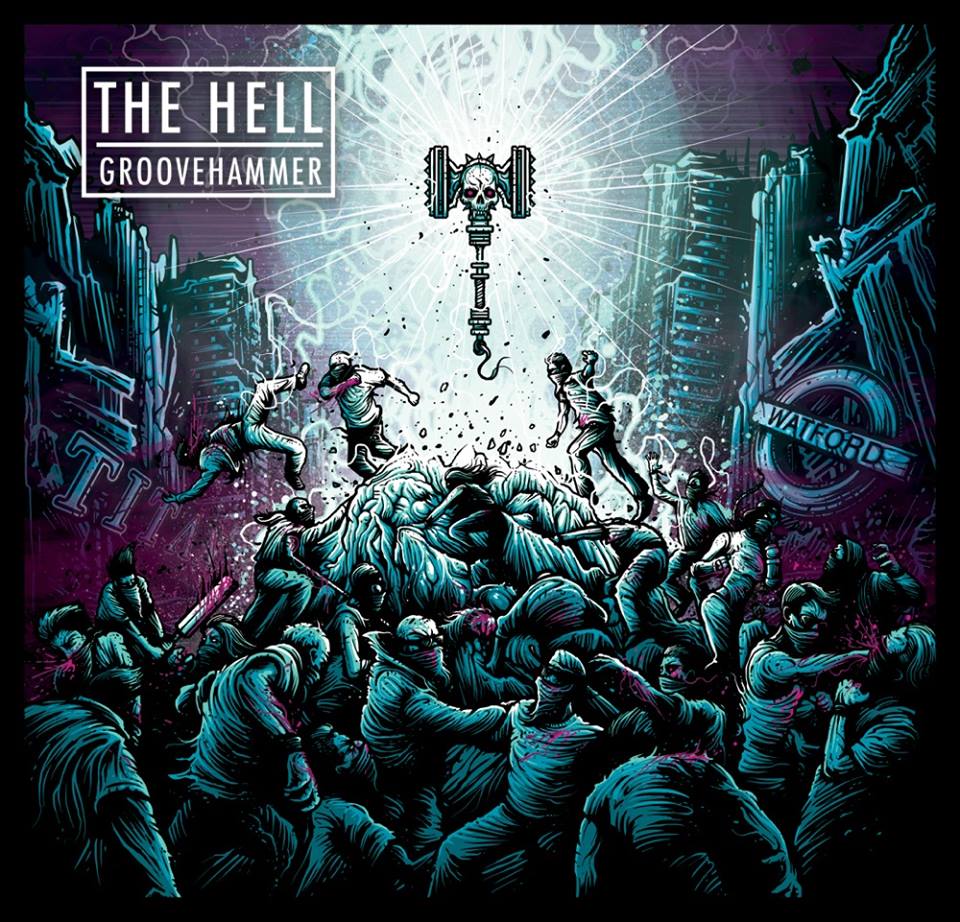 THAT'S IT FOR THIS TIME. MAKE SURE TO CHECK OUT THIS LINK TO BUY THE HELL'S LATEST ALBUM, GROOVEHAMMER. OR DON'T, IT'S NOT LIKE THEY PAY US ROYALTIES.
-MB