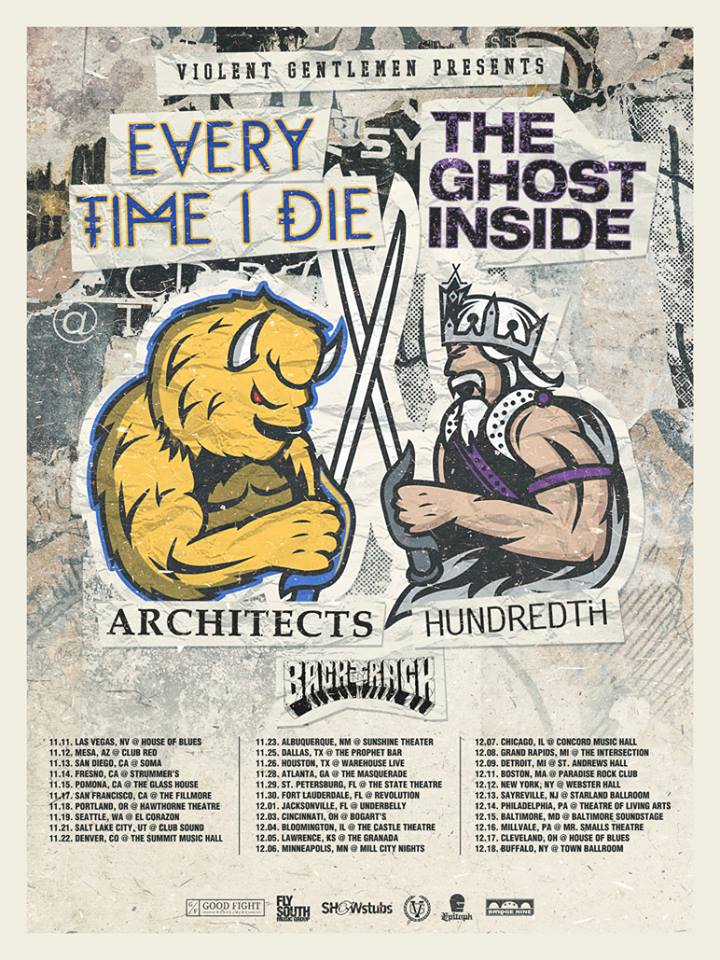 Everyones favorite hipster looking hardcore mob Every Time I Die are heading out on an extensive West and East coast tour of the good 'ole USA. They are bringing with them their friends in melodic hardcore act The Ghost Inside, UK metal megastars Architects as well as Hundredth and Backtrack. There will be plenty of you griping about the lack of Mid West dates I'm sure but I'm not from the States so I don't even know where that is. Complain somewhere else and get the full list of dates after the jump people.
This years offering from Every Time I Die was quite frankly exactly what we needed from the band. Ex Lives was good but From Parts Unknown is just jam packed with refreshingly memorable classics, many of which you would imagine the band will be playing on this tour. The Ghost Inside have just teased new material with the first track from their mysterious upcoming record and it jams. If you aren't already aware who Architects are then you should probably take a second to reexamine your life up to this point. The British act have simply blown up in the last few years and cannot be missed. Slap on some more melodic hardcore in Backtrack and Hundredth and there is a little bit of everything for those with modern hardcore intentions.
Full list of dates are below. Don't be a flake. Go to the show.
11/11 Las Vegas, NV House of Blues
11/12 Mesa, AZ Club Red
11/13 San Diego, CA SOMA
11/14 Fresno, CA Strummer's
11/15 Pomona, CA The Glass House
11/17 San Francisco, CA The Fillmore
11/18 Portland, OR Hawthorne Theatre
11/19 Seattle, WA El Corazon
11/21 Salt Lake City, UT Club Sound @ In The Venue
11/22 Denver, CO The Summit Music Hall
11/23 Albuquerque, NM Sunshine Theater
11/25 Dallas, TX The Prophet Bar
11/26 Houston, TX Warehouse Live
11/28 Atlanta, GA The Masquerade
11/29 St. Petersburg, FL The State Theatre
11/30 Fort Lauderdale, FL Revolution
12/1 Jacksonville, FL Underbelly
12/3 Cincinnati, OH Bogart's
12/4 Bloomington, IL The Castle Theatre
12/5 Lawrence, KS The Granada
12/6 Minneapolis, MN Mill City Nights
12/7 Chicago, IL Concord Music Hall
12/8 Grand Rapids, MI The Intersection
12/9 Detroit, MI St. Andrews Hall
12/11 Boston, MA Paradise Rock Club
12/12 New York, NY Webster Hall
12/13 Sayreville, NJ Starland Ballroom
12/14 Philadelphia, PA Theatre of Living Arts
12/15 Baltimore, MD Baltimore Soundstage
12/16 Millvale, PA Mr. Smalls Theatre
12/17 Cleveland, OH House of Blues
12/18 Buffalo, NY Town Ballroom
-MM