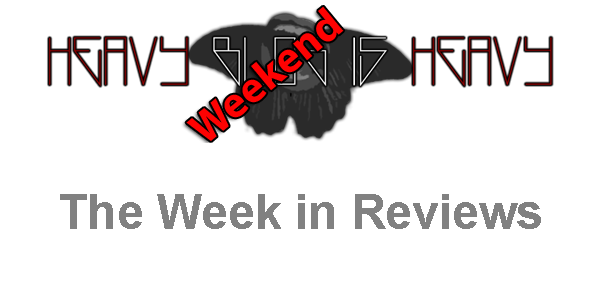 It was a short holiday week at Heavy Blog but still we managed to serve up three very positive reviews for some interesting bands.  The records you don't want to miss after the jump.
Here is the Heavy Blog is Heavy "Week in Reviews"
Wolves Like Us – Black Soul Choir
Eden Kupermitz got us started off with his 4/5 review of the new record Black Soul Choir by Norwegians Wolves Like Us, released earlier this year on Prosthetic. Eden describes this band as a "unique meeting point between hardcore, alternative rock and metal." Eden says Black Soul Choir is a big step up for the band from the previous release Late Love, which he says is much darker and grittier.
Eden says the record starts out reminiscent of mainstream Grunge bands like Alice in Chains and Nirvana before becoming decidedly less accessible.
"As the album progresses however, the trappings of grunge are fast left behind, as the band sinks deeper into the depression and apathy that is at the base of their effort. Tracks like 'Dig With Your Hands' or 'We Were Blood' utilize a similar structure to the tracks above but substitute the high energy bridges and choruses for more drawn out passages that justify the post-metal we referred to in the beginning of this review. These pieces hark back to their first release, channeling heavier influences and slightly moving away from hardcore. It's interesting to note at this point that the catchy riffs do not disappear all-together but rather coincide with the more expansive parts, reminding one of a slightly less stoner version of Floor."
Black Crown Initiate – The Wreckage of Stars
Next up Noyan Tokgozoglu gives 4.5/5 to the highly anticipated in the Prog/Tech Death world new record from Black Crown Initiate. "The Wreckage of Stars" does not disappoint with Noyan calling it "an album full of great riffs, memorable lines and heaviness contrasted with calm.:
"At times, the album feels like a perfect mix of Opeth's Deliverance and The Contortionist's Exoplanet, two albums that are great at balancing harsh and mellow textures. The production being great doesn't hurt either – all the instruments are clear and crisp without sounding overly processed and expressionless."
This is "an insanely solid debut album" that is "one of the most noteworthy debut albums in a while."
The Wreckage of Stars is out September 30th on E-One Music.
Finally, Spencer Snitil offers a perfect 5/5 for the newly released record Primitive and Deadly by Earth, a record he finds to be "more than what it seems."
What really sets this record apart from previous Earth releases, Spencer says, is the well-thought out use of vocals.
"Primitive And Deadly takes the beautifully haunting vocals of Mark Lanegan and the modern voodoo soul from Rabia Shaheen Qazi and turns them into something more beautiful than a person could imagine. The chilling raspiness of Qazi's vocals laid on top of the album's single 'From The Zodiacal Light' turns the song from classic Earth into new Earth, what many will soon realize is a sort of spiritual rebirth, in a sense. This rebirth allows Earth to go beyond the drone and beyond the doom and delve into vocals, weaving them into a song and learning how to properly turn it from a voice into an instrument."
Primitive and Deadly from Earth was released Tuesday on Southern Lord Records.
We already have some great reviews scheduled for the week ahead. And let us know what you thought of these records in comments.