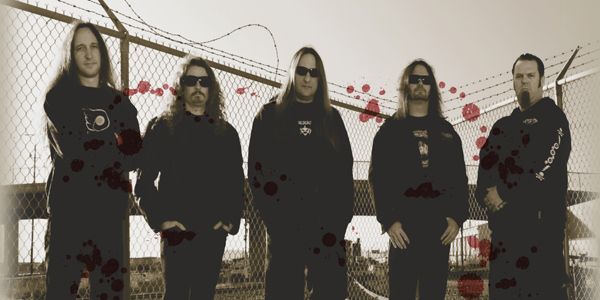 Watch which metal lyrics you post on Facebook or you could find yourself behind bars. Don't believe it? Then ask 31-year old James Evans of Kentucky who just spent eight days locked up for posting Exodus lyrics as his status last month. The unbelievable details after the jump.
Student bodies lying dead in the halls
A blood splattered treatise of hate
Class dismissed is my hypothesis
Gun fire ends the debate
All I ever wanted was a little affection
But no one ever gave it to me
My hate primer's the result of my rejection
You'll die for it, and I'll die for thee
The halls of learning now a shooting range
My final exam with a gun
Killing everyone who ever thought me strange
My bloody dissertation has begun
Pomp and circumstance replaced by bullet wounds
The smell of gunpowder on the air
Murder is the nightmare of this afternoon
My malevolence, your cross to bear
All because of my despair
The police say these words from the Exodus song "Class Dismissed (A Hate Primer)" are the same thing as Evans threatening to shoot up a school. He says he was just posting lyrics from one of his favorite bands.
Members of Exodus, writing on their web site, say the whole thing is fucked up.
"The band EXODUS does not promote or condone terrorists, threats or bullying," the band writes. "That being said, the band is somewhat baffled by the fact that this man being charged for what seems against his first amendment rights of Freedom of Speech."
Lead guitarist Gary Holt says some members of the band are parents and so understand the sensitivity some feel about campus violence. But still…
"The idea that an individual in this great country of ours could be arrested for simply posting lyrics to a song is something I never believed could happen in a free society," Holt adds. "James Evans was simply posting lyrics to a band he likes on Facebook, and he was locked up for it. The song 'Class Dismissed (A Hate Primer)' was written as a view through the eyes of a madman and in no way endorses that kind of fucked up behavior. It was the Virginia Tech massacre perpetrated by Seung-Hui Cho that was the subject and inspiration to write the song, one in which we put the brakes on playing it live after the Sandy Hook shooting, as we did not want to seem insensitive."
Evans is now free but is required to undergo a mental evaluation and the case could be re-opened in six months, if as most rational people would assume, he doesn't go shoot up a school between now and then.
Will this man's story make you think twice about posting lyrics from your favorite slam band to your Facebook wall? Let us know in comments.
-BS