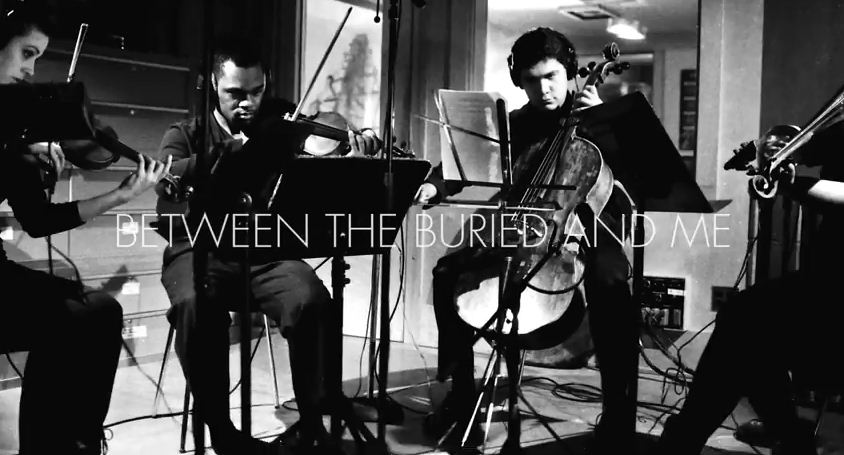 Lost in the shitstorm that followed my most recent interview with Between the Buried and Me's Paul Waggoner earlier this summer, the band's co-founder and lead guitarist gave us a preview of what to expect from the band's upcoming DVD of Parallax II: Future Sequence. "We wanted to do something different where it was more stripped down, just us in a room jamming," Paul told me back in June. "That was sort of what we were going for. So it was just us playing the new record straight through." Now in a newly released trailer for the release vocalist and keyboardist Tommy Rogers also focuses on the intimacy of this DVD. Check out more details after the jump!
"Nowadays with the Internet, you can pretty much watch any of our shows anytime, anyday," Rogers says on the trailer. "You know we wanted to give the bands something that made them feel a little closer to us, made it almost feel like they were at practice with us." Recorded at Kernersville, NC's Fidelitorium, literally just minutes from the homes of some of the BTBammers, the DVD aims for a fundamentally different audience experience than what fans got in BTBAM's recent headlining tours playing the record all the way through.
"With the live setting, we kind of beefed up our show this time around to where we had a crazy programmed light show and video stuff," bassist Dan Briggs recalls. "I think there was something about wanting to do the opposite of that." Speaking of "beefed up", BTBAM drummer Blake "Beef" Richardson picks up on that theme. "To me really it's a very studio album. We've always been fans of DVD's where it's just the band, you know. You don't have any other distractions. It's just like if you want to watch drums, there's drums. If you want to watch the guitar player, there's the guitar player."
While this DVD is more stripped down than the live experience, there are plenty of extras. "We had auxiliary musicians come in, like for example our first drummer Will Goodyear came in and did some percussion stuff," Paul told me back in June. "We had a string quartet play some parts. So wherever we could we had real musicians play some of the auxiliary instrumentation that you hear on the album. We had people come in and play the stuff. So it's pretty cool."
This Blu-Ray/DVD is the final note in the Parallax II cycle as Tommy notes in the trailer. Future Sequence: Live At will be in stores everywhere on September 30th.
"I don't have anything more to say. The story is over. Goodbye to everything."
Pre-orders are currently available via Metal Blade Records.
-BS