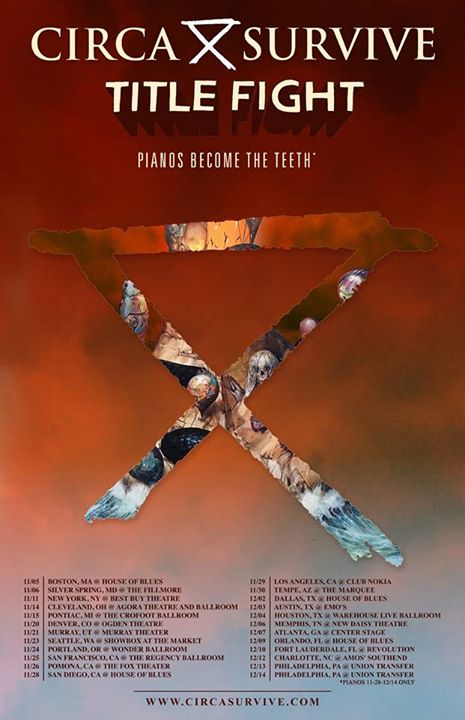 Circa Survive just recently shook up the music world by signing to well-known (mostly) metal label Sumerian Records. While this came as a shock to most, it certainly generated tons of hype, and promises from the band to release a new album in the near future. With that being said, the band have announce their first tour as part of the Sumerian roster, and are taking Title Fight and Pianos Become The Teeth along for the ride. Check the dates after the jump!
11/05 Boston, MA @ House of Blues
11/06 Silver Spring, MD @ The Fillmore
11/11 New York, NY @ Best Buy Theatre
11/14 Cleveland, OH @ Agora Theatre and Ballroom
11/15 Pontiac, MI @ The Crofoot Ballroom
11/20 Denver, CO @ Ogden Theatre
11/21 Murray, UT @ Murray Theater
11/23 Seattle, WA @ Showbox At The Market
11/24 Portland, OR @ Wonder Ballroom
11/25 San Francisco, CA @ The Regency Ballroom
11/26 Pomona, CA @ The Fox Theater
11/28 San Diego, CA @ House of Blues
11/29 Los Angeles, CA @ Club Nokia
11/30 Tempe, AZ @ The Marquee
12/02 Dallas, TX @ House Of Blues
12/03 Austin, TX @ Emo's
12/04 Houston, TX @ Warehouse Live Ballroom
12/06 Memphis, TN @ New Daisy Theatre
12/07 Atlanta, GA @ Center Stage
12/09 Orlando, FL @ House of Blues
12/10 Fort Lauderdale, FL @ Revolution
12/12 Charlotte, NC @ Amos' SouthEnd
12/13 Philadelphia, PA @ Union Transfer
12/14 Philadelphia, PA @ Union Transfer
*PIANOS (11/28-12/14)
I am extremely excited for this tour. I love Pianos and Circa equally, and have never seen either live, so this will enable me to kill two birds with one stone. Also, in case you missed it, Circa Survive are reissuing Violent Waves with a special deluxe edition with an entire live set on a bonus DVD. So be sure to preorder that here!
-SS