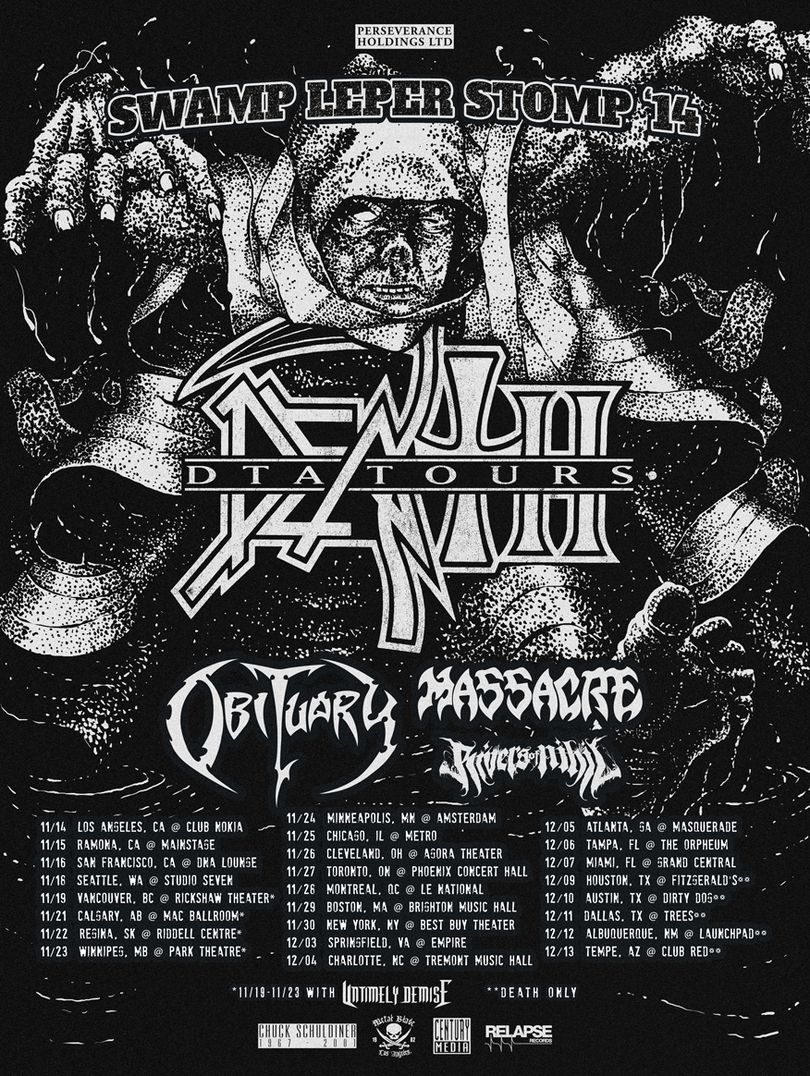 Death tribute group Death to All — which features a revolving door of legendary musicians involved in the Death discography in some form or fashion — have announced their latest trek and lineup. Sean Reinert (Cynic; drums),  Steve DiGiorgio (every band ever; bass), Bobby Koelble (guitar) , and Max Phelps (Cynic; guitar, vocals) will be hitting the road this November with supporting acts Obituary, Massacre, and Rivers of Nihil for the Swamp Leper Stomp '14 Tour. Get dates below.
Nov 14 Los Angeles, CA Club Nokia
Nov 15 Ramona, CA Ramona Mainstage
Nov 16 San Francisco, CA DNA Lounge
Nov 18 Seattle, WA Studio Seven
Nov 19 Vancouver, BC The Rickshaw Theatre w/ Untimely Demise
Nov 21 Calgary, AB MacEwan Ballroom w/ Untimely Demise
Nov 22 Regina, SK Riddell Centre w/ Untimely Demise
Nov 23 Winnipeg, MB Park Theatre w/ Untimely Demise
Nov 24 St. Paul, MN Amsterdam Bar & Hall w/ Untimely Demise
Nov 25 Chicago, IL Metro
Nov 26 Cleveland, OH Agora Theatre and Ballroom
Nov 27 Toronto, ON The Opera House
Nov 28 Montreal, QC Club Soda
Nov 29 Allston, MA Brighton Music Hall
Nov 30 New York, NY Best Buy Theatre
Dec 03 North Springfield, VA Empire
Dec 04 Charlotte, NC Tremont Music Hall
Dec 05 Atlanta, GA The Masquerade
Dec 06 Tampa, FL Orpheum
Dec 07 Miami, FL Grand Central
Dec 09 Houston, TX Fitzgerald's**
Dec 10 Austin, TX Dirty Dog**
Dec 11 Dallas, TX Trees**
Dec 12 Albuquerque, NM Launchpad**
Dec 13 Tempe, AZ Club Red**
** = Death (DTA Tours only)
The press release doesn't outright mention it and I know it's not wise to make assumptions, but given the title and admat artwork for this tour, I think it's a pretty safe bet that Death To All will be focusing on material from Leprosy, which was recently re-released by Relapse Records. Of course, that remains to be seen.
Make it out if you can!
– JR