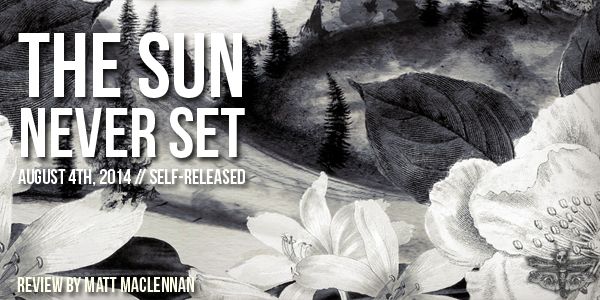 Britain has for a long time been the spiritual home for reflective, melancholic post-metal. With The Mire releasing one of the albums of the year already, and Devil Sold His Soul maintaining their stance as genre kingpins, there is scarce room for a new pretender. While The Sun Never Set take pointers from and share musical techniques with these bands, they have come out of the womb fighting, brandishing a debut EP that has stacks of ambiance and aggression. Without veering too far from the path before them, this is what many have to come to expect from post metal today but at least The Sun Never Set are doing it right.
The familiar quiet to loud and back again dynamics are present here, taking center stage alongside post metal staples like endless tom rolls and guitar delay that seems to slow down time and space, until the next delay lick comes in. The vocals are modeled exactly after later Devil Sold His Soul and The Mire and this works, the opening tracks vocals in particular could have been lifted from Devil Sold His Souls' Blessed & Cursed album. A sugary, clean cut voice would just not suit itself here, neither a guttural death growl. They do however feel quite one dimensional and become part of the furniture of guitars and synths with percussion and smart guitar licks taking prominence.  A little variety in the delivery would go a long way in giving each song a little more identity. The pace of the five tracks is also fairly uniform which on another day with another band could leave the listener slipping in and out of attention. Thankfully there is just enough going on here musically to keep one focused.
There is a keen attention to groove and melody in 'Over Our Fallen Empire' that screams of influences from further afield. Multiple layers of guitar harmonies and low register riffs combine to become an altogether new product in the post metal aisle. 'One Drop Of Blood And We'll All See Red' careens from the emotive heights of clean, strummed chords and a bopping little drumbeat into a synchronized pummeling of cymbals and vocal chords that sound majestic. Whether or not this sound can be pulled off in a live setting can only be left to the imagination just now. The band definitely come together in the heavier parts of all of the tracks here, with the quieter, brooding sections ticking along at an all too familiar rate.
There is definitely room for improvement across several areas of this up and coming bands repertoire. Fortunately for both the creators and the consumers, these gentlemen are at just the start of their career. It wouldn't be a stretch to expect great things from a band that combine the safety of the lulls and mellows of post metal with the hammer and dirge of down tuned groove. The Sun Never Set have yet to see over the horizon with their debut EP, but daybreak is fast approaching for these talented young guys. Keep your eyes here.
The Sun Never Set's The Sun Never Set gets…

3/5
-MM