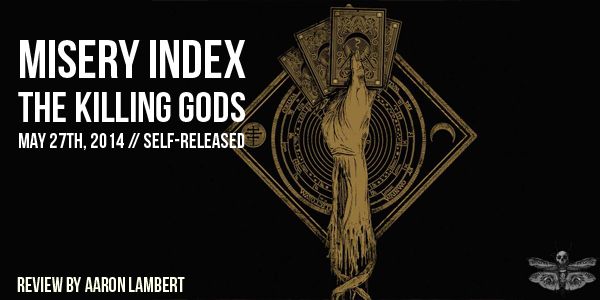 Death Metal has become an increasingly versatile genre in the years since its inception. What began as a savage, carnal subgenre of metal has spawned countless different subgenres of its own, and these days it seems that if you're going to start a death metal band, the norm these days is to be as progressive and technically complex as possible, and with the aid of digital production, it doesn't even have to be humanly possible. With the trends surrounding modern death metal, it's easily forgotten that death metal originally began in the late 1980s as nothing more than a primal instinct by metal musicians to create the fastest and most extreme music possible. That's why bands like Misery Index exist. Sure, they're still highly technical and they draw from a primordial pool influences which include grind, hardcore, d-beat and crust, but Misery Index are a living, breathing history book on death metal, and their latest album The Killing Gods is is a Ph.D master course in what modern death metal should be.
Misery Index have really never released a dud in their 13 year career as a band, but The Killing Gods is an entirely different animal from anything they've ever done before. This becomes immediately evident throughout the first 15 and a half minutes of the album, which consists a five-part suite entitled "Faust". Easily the most ambitious composition Misery Index have ever written, the band begins the suite with "Urfaust", an instrumental that serves as the melodic theme for the "Faust" suite, which then leads into the punishing "The Calling". "The Oath", a quiet guitar-driven instrumental, separates "The Calling" and "Conjuring the Cull", which is when things really start to pick up. Guitarists Mark Kloeppel and Darin Morris lock into a mean, neck-snapping groove, which carries the song back into the "Urfaust" theme. The final piece of the "Faust" suite, "The Harrowing", is a no holds barred death metal assault that features frenzied drumming and more savage riffing. And to think, that only covers the first five tracks of the album. There's plenty more where that came from.
Simply put, The Killing Gods is the most fully realized and dynamic album Misery Index have ever put out. There's a reason it's been four years since the last Misery Index album. The band took their time finely crafting and honing every note of The Killing Gods, and it shows through the quality of the album as a whole. The staples of everything that makes death metal so great are all on display in spades throughout The Killing Gods, whether it be the monolithic grooves, razor sharp shredding or inhuman blasts. Speaking of blasts, let's talk about Adam Jarvis for a second. Jarvis doesn't need any computerized trickery to make his drums sound good; the man plays his instrument like a god, and The Killing Gods is easily his best drum performance to date. A bonus is the fact that the drums sound amazing in the production, thanks to the imitable Scott Hull of Pig Destroyer. Misery Index have always had a punk mentality when it comes to their lyrics, and it's no different this time around. Bassist/ band founder Jason Netherton is an academic who recently published an oral history on death metal, and The Killing Gods features insightful and thought-provoking lyrics written mainly by him which serve as commentary addressing sociopolitical aspects of society and the current screwed-up state of the world we live in.
The Killing Gods is as close to death metal perfection as it gets; in other words, it's all killer and no filler. The riffs are vicious, the drumming is completely over the top and the composition and arrangements are tighter than they've ever been. It's impossible to listen to this album without getting some form of whiplash. Misery Index have once again proven that they are among the cream of the crop when it comes to good ol' fashioned death metal, free of any and all unnecessary nomenclatures, and The Killing Gods is destined to sit atop many a year end lists. If you know what's good for you, drop everything and go buy this album now. An instant classic.
Misery Index – The Killing Gods Gets…


5/5
-AL