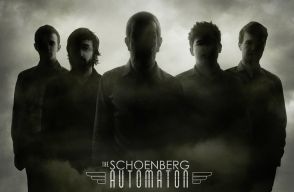 Australian technical death metal band, The Schoenberg Automaton have unveiled plans for a new album, set to be released late 2014. Apus, the follow up to their debut album Vela, is being produced, mixed and mastered by Shane Frisby (The Ghost Inside, Revocation, Bury Your Dead). The band have opted to raise money for their upcoming release via a crowd-funding project through Pozible:
"All five members of The Schoenberg Automaton have already laid down a substantial deposit towards the album using our own personal funds. The $10,000 figure that we are asking for is a partial contribution to help us reach the larger total costs for getting this album recorded and ready for you guys to hear, in the way that we truly want it to be heard. Your funds will go directly to band, for the band. And we appreciate and will utilize every penny we receive.
Budget
Recording Costs: $10,000
Studio Hire: $3000
Mixing and Mastering: $6000
Artwork: $2000
Merchandise and CD production: $2000
Total cost: $23,000
We've enlisted US Producer Shane Frisby as our audio champion for APUS. (Shane's portfolio includes Bury Your Dead, The Ghost Inside, Corpus Christi etc) .
Shane will be flying over to record and produce us in 2 studios located in our home, Queensland, Australia. Upon completion, he will be flying back to his studio, "The Brick HitHouse" to mix and master the album. Ty Dunitz, the cover designer of Vela and the man behind GlitchRitual.com, will again be lending his skills to the project.  Ty is an incredible talent and this time we are working with him from the beginning. We are hoping to raise approximately half the funds needed to make this album and with your support, we can create something incredible."
Crowd funding is an interesting and somewhat ballsy move to make as an artist as there's no way to tell how successful a campaign will be. There is also a negative stigma that follows the concept of crowd funding; the argument that bands shouldn't look to their fans for financial support. However, this doesn't make a whole lot of sense when you think about how much potential revenue is drained from bands due to internet piracy, especially in metal. Having personally heard some unreleased TSA material, I have no doubt Apus will be as groundbreaking as the band have made out.
In case you need any reminder of how amazing these guys are, here's 'Ultimatewhirringendmachine.'