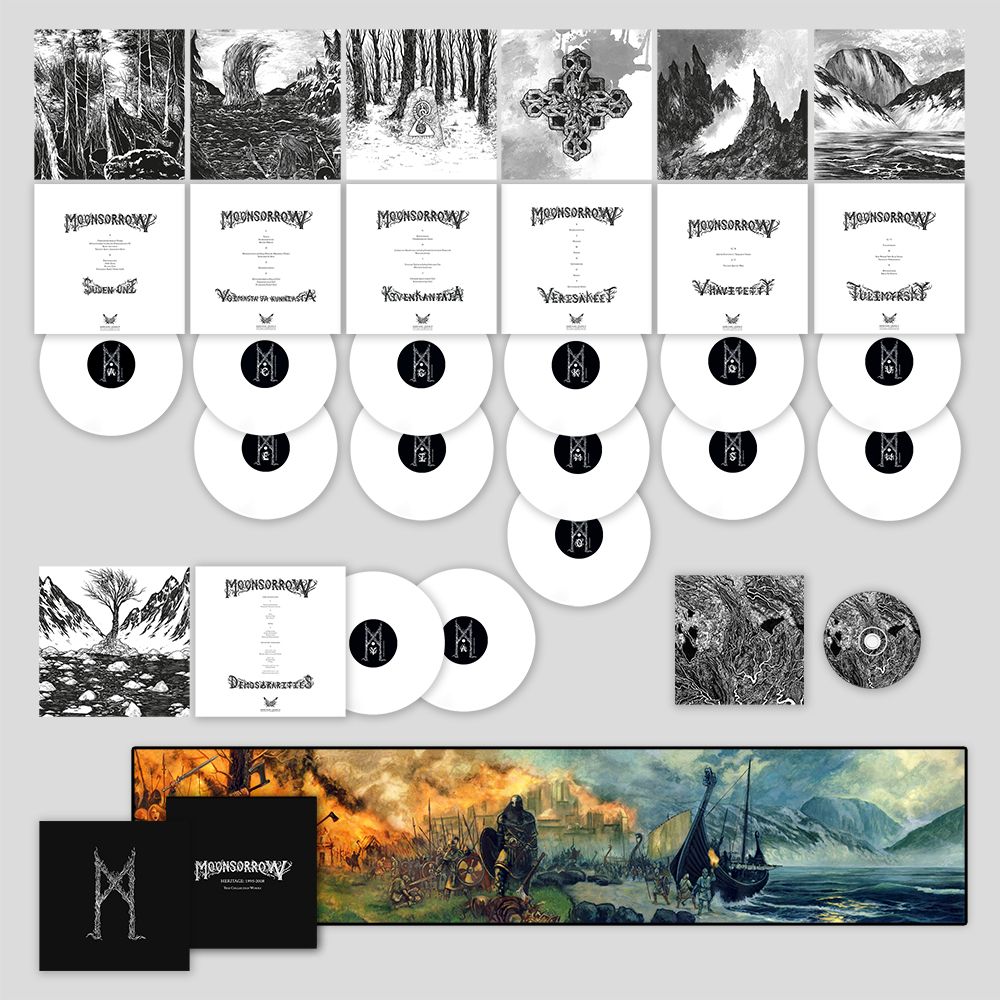 Over the last few days, our favorite label of the moment Blood Music have been unveiling the mockups of the different versions of their ambitious Moonsorrow 14LP collection, the largest metal vinyl boxset in history. On Wednesday, Metal Injection showed off the Die Hard edition, while Invisible Oranges showcased the Splatter edition —- version on Thursday. We're proud to provide a further look into Blood Music's Moonsorrow collection in the form off the limited 100 copy White Edition!
Here's what you'll be able to find in the White Edition of Heritage: 1995-2008 – The Collected Works:
• All recorded works by Moonsorrow from their inception in 1995 until the year 2008.
• All works specifically remastered for vinyl by Troy Glessner (Devin Townsend Project).
• Twenty-five pieces of new artwork by Rainbath Visual (Deafheaven, Moss) and Nucleart Design (Impaled Nazarene, Setherial), in addition to the original artwork and photographs for all albums.
• Layouts by Travis Smith (Strapping Young Lad, Katatonia, Opeth).
• 14-LPs – the largest metal box set of all-time, containing nearly 8 hours of music on heavyweight 200-gram audiophile virgin vinyl LPs.
• 21 live, demo, unreleased, and rare bonus tracks.
• The first time nearly all of this material has been pressed on vinyl.
• "Suden Uni" (2001) LP in heavyweight gatefold jacket with heavyweight printed insert.
• "Voimasta Ja Kunniasta" (2001) 2xLP in heavyweight triple gatefold jacket.
• "Kivenkantaja" (2003) 2xLP in heavyweight triple gatefold jacket.
• "Verisäkeet" (2005) 3xLP in heavyweight triple gatefold jacket.
• "V: Hävitetty" (2007) 2xLP in heavyweight triple gatefold jacket.
• "Tulimyrsky" (2008) 2xLP in heavyweight triple gatefold jacket.
• "Demos & Rarities" (1995-1999) 2xLP in heavyweight gatefold jacket.
• "Ravaged Road" (2014) feature length – 45 minute – tour documentary DVD, created by the band specifically for the set.
• "Tulimyrsky" ultra-wide, panoramic poster – 1400mm x 285mm (55 in. x 11 in.) – the widest possible print in the entire country. [EXCLUSIVE TO DIE HARD, SPLATTER, AND WHITE EDITIONS ONLY]
• Every single record pressed on white vinyl, matching the dominant background color of the set.
• 2-piece, custom-cut, heavyweight box, specially designed and shaped for this set.
Price: 300 EUR + Shipping
[special 325 USD + Shipping for USA/Canada only]
In addition to the previously unveiled Die Hard and Splatter editions, a "Die Soft" edition will be made available to those looking for the bare bones collection in (presumably) standard black vinyl.
Pre-orders will begin May 28th, 2014 with a release planned for late August. Be sure to keep in touch with Blood Music on Facebook so you don't miss this opportunity.
– JR