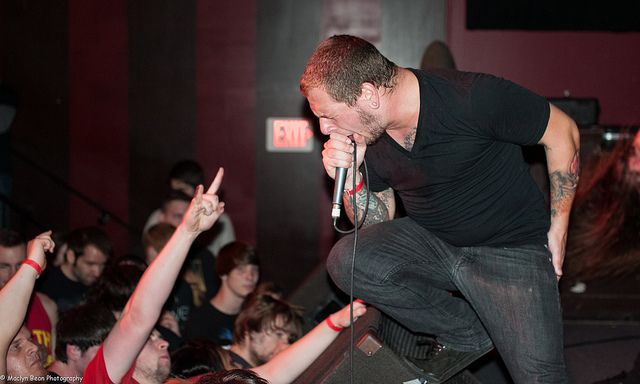 This weekend, Within The Ruins had to cancel some tour dates due to some reported "health issues," including their performance at Eat Your Heart Out Fest in Poughkeepsie, NY. The band has since elaborated, saying that the cancellations were made because band frontman Tim Goergen was hospitalized in Massachusetts with heart and liver complications.
Yesterday morning Tim checked into a hospital here in Western Mass for a second time since our tour began four days ago. We will unfortunately not be performing at today's Eat Your Heart Out Fest, as we are waiting for clarity on Tim's condition and release. Tim informed us a few weeks before leaving for tour that he was experiencing chest and stomach pains. After his first doctor visit he was advised to "take it easy" if he did do the tour. At this point all we know is that he is experiencing heart/liver complications, will not be released today, but is stable.
Heart and liver complications are no laughing matter, so our hearts are with Tim and we hope for a full recovery. It's good to hear he's stable and doing fine, and hopefully this is a one time occurrence.
Word on the street has it that Within the Ruins will be releasing a new album this year. Keep up with the band on Facebook for more on Tim's health and their new album as it comes in.
– JR