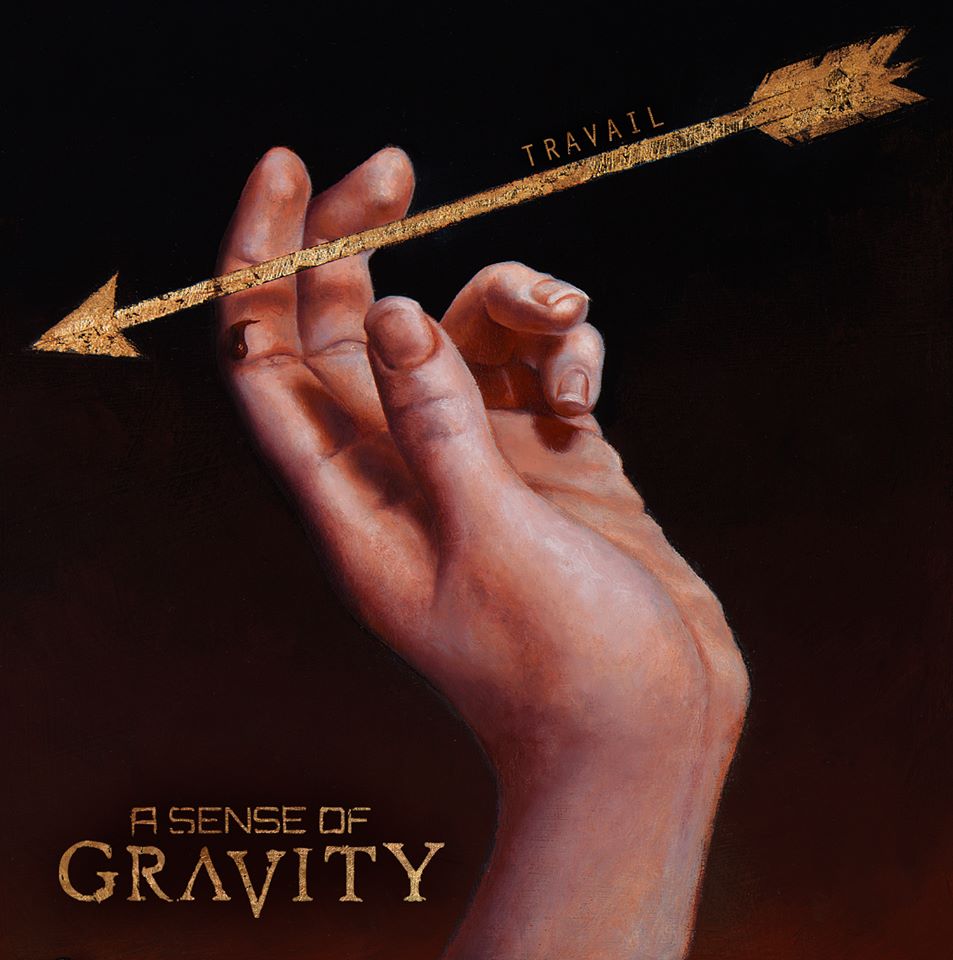 A Sense of Gravity
Travail
01. Wraith
02. Stormborn
03. Breakthrough
04. Answers Lost
05. Trichotillomania
06. Harbinger
07. Above the Horizon
08. Ration Reality
09. Weaving Memories
10. Spectre
[2/21/2014]
[Self Release]
Sometimes, you need to chase down your own name. Innovators become bogged down in their own sound, eventually becoming iterations of themselves. Sometimes, a fresh new voice is needed to break the patterns that former radicals have grown comfortable with. This is what A Sense of Gravity bring to the table. Their clean-slate name allows them to bring progressive metal something it has craved for years: organic, dynamic sound that simply flows from place to place. Travail sounds like a living thing: birthed in one sitting and obedient to its own internal laws and patterns.
This is achieved through the singular musicianship skills of the band. Drawing power from a flurry of styles, sounds and tools, they blend myriad accents into a cohesive cacophony. Taking the now-stock formula of Between the Buried and Me and the host of bands that grew in their wake, they inject it with new life; mellotrons live alongside high pitched cleans more akin to Dream Theater or Iced Earth; flesh-flaying shreds play before heart touching solos, punches before puckering.  All threads interweave seamlessly into an integral, beautiful tapestry. At each point, one is left with the distinct feeling that all parts, all lines or voices, are natural, deep-seated in their place within the greater whole. This impressive cohesion is what makes this album great. One leg firmly rooted in accepted practice and well-tried ideas, it nevertheless dares to explore beyond the borders of its own genre.
Travail does not in any way sacrifice scope or breadth in order to achieve this. Ranging from the heavy growls of opening track 'Wraith' through the infectious speed and towering vocals of 'Stormborn', the album's beginning is well executed, modern, progressive metal. However, uniqueness is quickly introduced via the 80s-tinged synths of 'Answers Lost' and the amazingly epic mellotron solo of 'Trichotillomania', a track that wouldn't be out of place on a Rush B-side. Returning to its more contemporary core, the second half of the album is littered with shreds, breakdowns and a captivating mix of growls and cleans. At no moment does the album relent: whenever a lull is even hinted at, A Sense of Gravity throw in an impossibly enticing change. This can be heard on the Meshuggah-driven track 'Ration Reality', blending break-neck riff work into the delicately moving guitar and piano duo of 'Weaving Memories'.
We would be remiss if we didn't shine a special light on the keyboard work in this album. The keyboard is a tool whose name has become nearly synonymous with the progressive genre. However, few players wield it as skillfully as Brandon Morris does on this album. His hosts of sounds complement all other parts of the work, lending flesh, flare or depth, as needed. The epitome of this can be found in the closing track, 'Spectre'. Running from sweet sounds along the leads to spacey vibes that live above the guitars, they transcend the track into a masterpiece. Whether accompanying brutal growls or lengthy guitar solos, Morris is a proficient and masterful player.
Ultimately, when Travail ends, we are left with an amazing impression of the journey that's been made. Ending on a single, fading note of the piano, A Sense of Gravity seem to blaze into the distance. In their wake, one is left with a marvelous feeling of completeness. These men know exactly what they want to say and how to say it. Remiss of nothing, whole in a deep sense, Travail is a monumental album, an exploration that is sure to be remembered and played over and over again in years to come.


A Sense of Gravity's Travail gets…

5/5
-EK