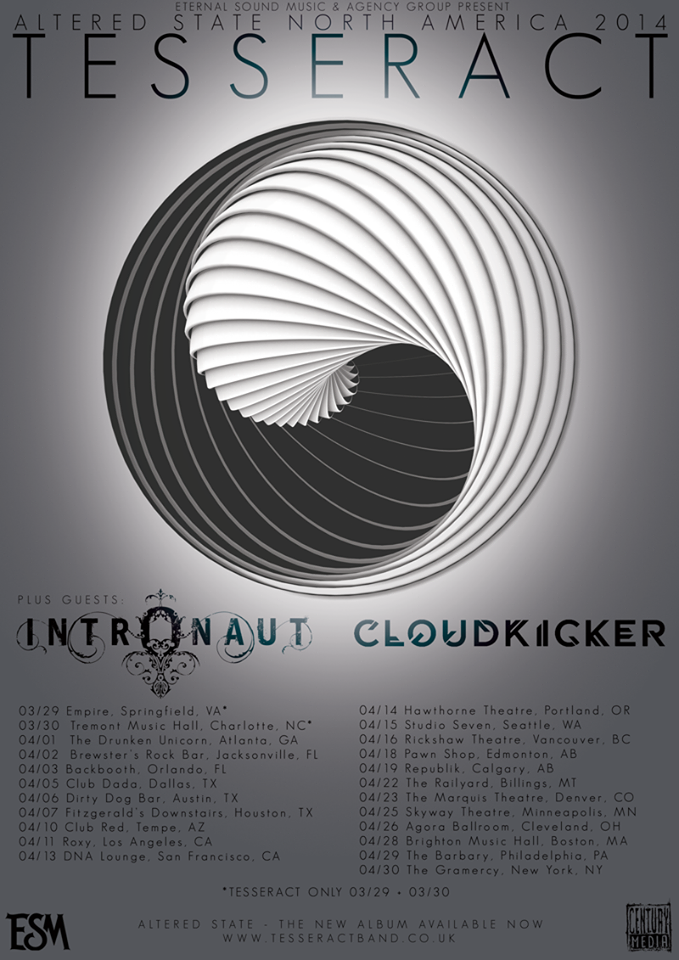 So in case you haven't heard, everyone's favorite independent instrumental artist Ben Sharp (aka Cloudkicker) is hitting the road for the first time on tour where he'll be supporting Tesseract and Intronaut, the latter of which will be pulling double duty the entire time as his backing band. There has been a lot of curiosity surrounding his change of heart from his former "I don't think I'll be doing that" mentality that Sharp has expressed before.
Fortunately, he's decided to address the issue and update us on what lead him to hook up with Intronaut and hit the road for the first time ever via Cloudkicker's Blog:
I have been in contact with Intronaut since right after Beacons came out. They played a show in Columbus in late 2010 and after [being blown away by] the set I hunted down their bassist, Joe, and offered him a Trader-Joe's-bag full of CDs and LPs and said something to the effect of "you guys might like this." According to them, they were so taken by my complete lack of trying to get them to do something for me that they gave the album an honest listen and actually liked it a whole lot. We've been in touch since then.
It was either Sacha or Dave or both who floated the idea of using Intronaut as Cloudkicker's band. I thought it was a nice gesture but didn't really take it seriously since I figured there wouldn't be any way to make a live show happen given the distance between us and my work schedule that has me traveling 3-4 days a week. Fast forward to this past fall when they came through Columbus again and we spent the evening discussing what the realities of a tour like that would be. It was definitely a fun topic to discuss, but moreover I was impressed by their genuine excitement to maybe, one day, have the opportunity to do this. And the fact that they are musicians of such caliber and professionalism made it obvious that there would be no problems handling the music and translating it to a live show with minimal time in the same room rehearsing it, so long as I provided them with appropriate materials with which to prepare.
That night I wrote an email to my company's HR department asking for the month of April (after Intronaut's tour with Between the Buried and Me) off as a leave of absence. I framed it as an opportunity to expand a side business that provides our household with a measurable percentage of our yearly income…which it is, in a way. I told the guys that I would keep them posted, but I was almost certain that my request would be denied. It took about three weeks to get a response, and to my astonishment and the astonishment of many of my co-workers I now had April 1 to April 30 totally free. Ye gods!
You can read the rest of Ben's blog entry at this location. Ben doesn't address the possibility of future tours, so let's assume this is a very rare occurrence and make a road trip to one of the nearest dates below:
4/1 Atlanta, GA @ The Drunken Unicorn
4/2 Jacksonville, FL @ Roc Bar
4/3 Orlando, FL @ Backbooth
4/5 Dallas, TX @ Club Dada
4/6 Austin, TX @ Dirty Dog
4/7 Houston, TX @ Fitzgerald's
4/10 Tempe, AZ @ Club Red
4/11 West Hollywood, CA @ The Roxy
4/13 San Francisco, CA @ DNA Lounge
4/14 Portland, OR @ Hawthorne Theatre
4/15 Seattle, WA @ Studio 7
4/16 Vancouver, BC @ Rickshaw Theatre
4/18 Edmonton, AB @ Pawn Shop
4/19 Calgary, AB @ Republik
4/22 Billings, MT @ The Railyard
4/23 Denver, CO @ The Marquis Theatre
4/25 Minneapolis, MN @ Skyway Theater
4/26 Cleveland, OH @ Agora Ballroom
4/27 Poughkeepsie, NY @ The Chance
4/28 Boston, MA @ Brighton Music Hall
4/29 Philadelphia, PA @ The Barbary
4/30 New York, NY @ Gramercy Theatre
I'm driving a good 6 hours to catch the tour in Cleveland, OH. There's no way I'm missing out on this.
– JR