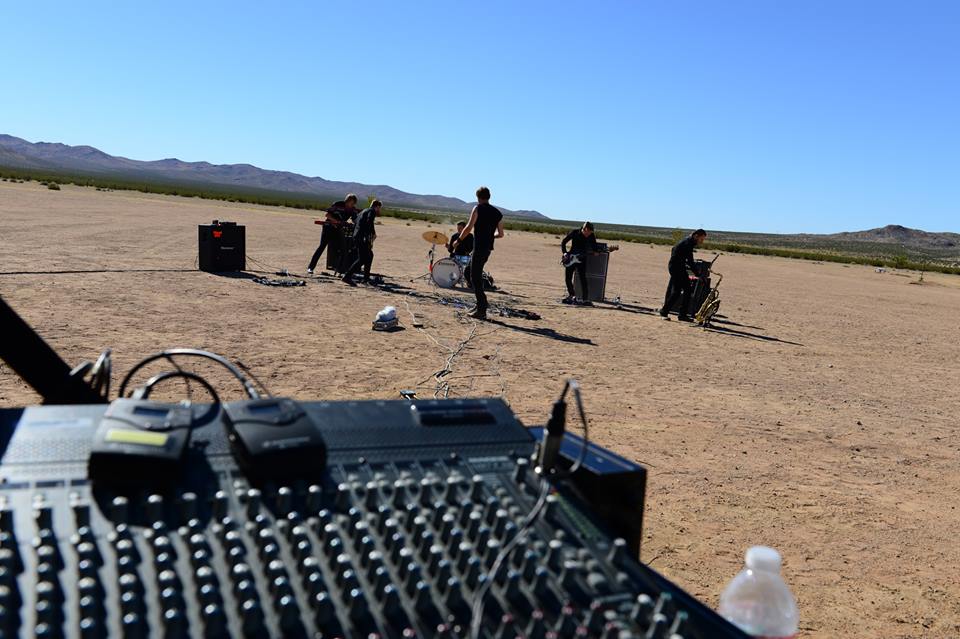 Never missing an opportunity to do something super cool, Norwegian industrial jazz fusion artists SHINING set up shop in various locations on tour to record unedited one-take live performances of songs from their latest record One One One. It's been a while since the release of the first video in the series, a rendition of 'I Won't Forget' performed at a demolition site in Oslo, Norway. The second entry in their Live On Location series takes place in The Mojave Desert in California, where they performed the track 'The One Inside.' You can watch the video below.
From the press release:
SHINING's "Live On Location" videos are filmed with a bare minimum of gear (one camera, a few mics, etc.), with the goal of capturing unique moments where musicians conquer their surroundings to showcase their musicianship over the use of technology. Having previously filmed in leftover rubble of the demolition site of their old studio in Oslo, Norway, this time the band headed to the blazing hot Mojave Desert of California.
SHINING frontman Jørgen Munkeby explained: "We've always thought that some of our best shows have come from venues and festivals where things were totally out of control. It's when the local crew tells you that you don't need a DI on guitar, when the venue doesn't have enough XLR cables, when the monitor guy refuses to turn any more knobs and when your amp breaks down in the first song – it's in times like these that you often play your best gigs! The bout against your surroundings brings out the fighter in you, hell-bent on proving that the equipment does not get to decide. We wanted to put ourselves in these situations and film it, believing that this would add an extra edge to the performance that might be missing in many of today's music videos. It's a big kick when you manage to pull off something like this. We rolled into the location we had only seen on pictures, set up our equipment, got most of the equipment to work and started playing. The local motorhome club was surprised but supportive, and we even got free burgers at the local Slash-X bar!"
It's hard telling how many videos they recorded or how many they plan to record, but it would be neat if we got an entire album's worth of videos of the band performing in special locations around the world as they tour. I'm certainly looking forward to more from SHINING, and hopefully they return to America as soon as possible!
– JR