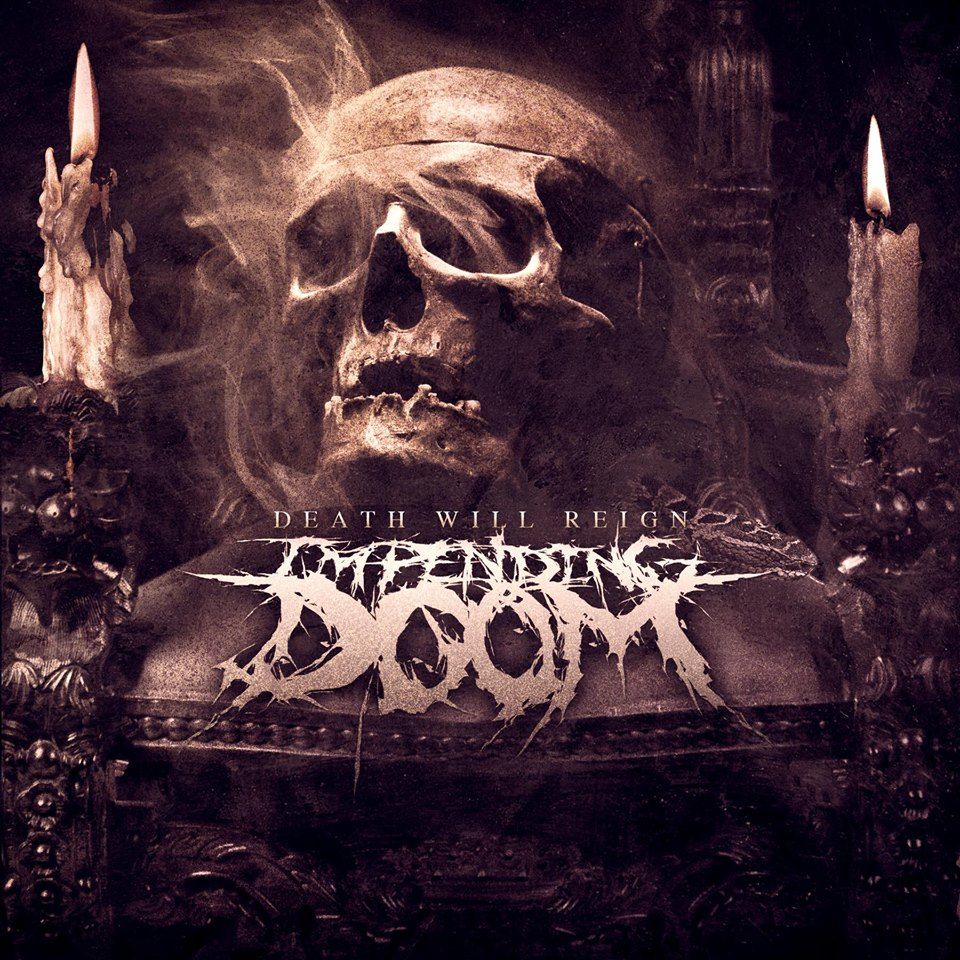 Impending Doom
Death Will Reign
01. Ravenous Disease
02. Death Will Reign
03. Beyond the Grave
04. My Own Maker
05. Doomsday
06. Rip, Tear, and Burn
07. Hellhole
08. My Blood
09. Endless
10. Live or Die
11. The Great Divine
[11/05/13]
[eOne Entertainment]
Many a metal fan would look upon the abundance of deathcore bands as a sign of a healthy scene, while others will gradually let go of their hopes of ever finding a challenger for The Ills of Modern Man with every surfacing mediocre release. So in comes California's Impending Doom with a straightforward style of playing and an unrelenting pace. Their execution of the seemingly simple deathcore formula is mixed with a youthful energy and passion for the subject matter at hand; the Christian religion that is. Yes, Impending Doom is another religiously themed something-core band and those seem to be everywhere these days.
Aside from whatever unnoticeable lyrical content that vocalist maybe belching out, the music behind him is however worthy of note. Impending Doom's fifth studio album Death Will Reign is a slightly more rounded effort than last year's Baptized In Filth which was generously loaded with confusing breakdowns. On Death Will Reign, the emphasis on technicality and the frequent changing of riffs is much stronger, which plays very well in the album's favor. The opening track 'Ravenous Disease' sets the standard with four very powerful and energetic minutes which is then followed by the title track with its commanding vocal delivery.
The promising start created by this duet of tracks wasn't really sustained throughout the span of Death Will Reign. 'My Own Maker' is one example of a certain lack of potency that just weighs the album down at some points. It's a very straightforward track with a sweet and smooth chug-n-blast kind of main riff but then comes a breakdown that just drags on and on. Other cuts like 'Hellhole', the brief 'Doomsday' and 'Rip, Tear, Burn' are rather forgettable and don't really add much to make the album any more exciting. 'My Blood' is another track that's quite heavy on the breakdowns but the drumming gets really good whenever the breakdowns stop; maybe there's a key here.
Death Will Reign is obviously more mature than its predecessor. The excessive use of breakdowns was mostly averted this time around and that opened up some space for more instrumental variations. The drums breathe more freely in open segments like on the aforementioned 'My Blood' while the maturity of 'Beyond the Grave' has allowed the bass guitar to include some nice fills after that above-average breakdown. Given a little more than a year between albums, Impending Doom can come up with a much more rounded effort that pushes them a few steps above the hordes of mediocre deathcore. Death Will Reign is a decent attempt at stepping away from the pack but unfortunately, it's not strong enough to do so.
Impending Doom – Death Will Reign gets…

2.5/5
– AN