Hello wax fiends, it's been a minute. The economy is in shambles and it's not uncommon for single LPs to go for upwards of $50, so perhaps we've not been consuming as much as we have in the past. But the serotonin boost isn't going to buy itself, and the FOMO persists as always. These columns may be infrequent, but nevertheless, we're throwing our money away. With Christmas (and therefore, Black Friday) around the corner, we're likely to ramp up this holiday season.
Speaking of Black Friday, Record Store Day's Black Friday celebration is this week (at time of posting), and as is typical of late, it seems mostly filler; I mean, are there 2000 people dying for a copy of Buckcherry's "Time Bomb"? I probably won't be participating this year, but I've got my fingers crossed that Walmart does their $15 vinyl sale again this year.
But that's for later. For now, we appreciate what we've already got, and that's new records from The Armed, AFI, Baroness, Chamber, The Sawtooth Grin, Psycho-Frame, Static Dress, and Tomb Mold. Check our our latest Heavy Buys below, and aside from the Wax Vessels, you can actually buy most of these yourself!
-Jimmy Rowe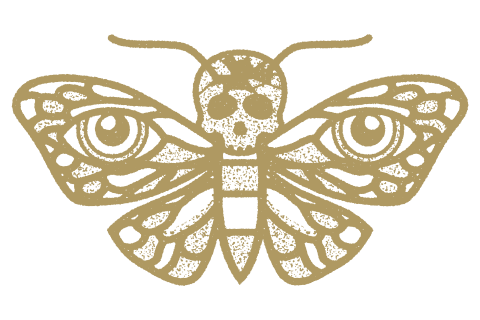 The Armed - Perfect Saviors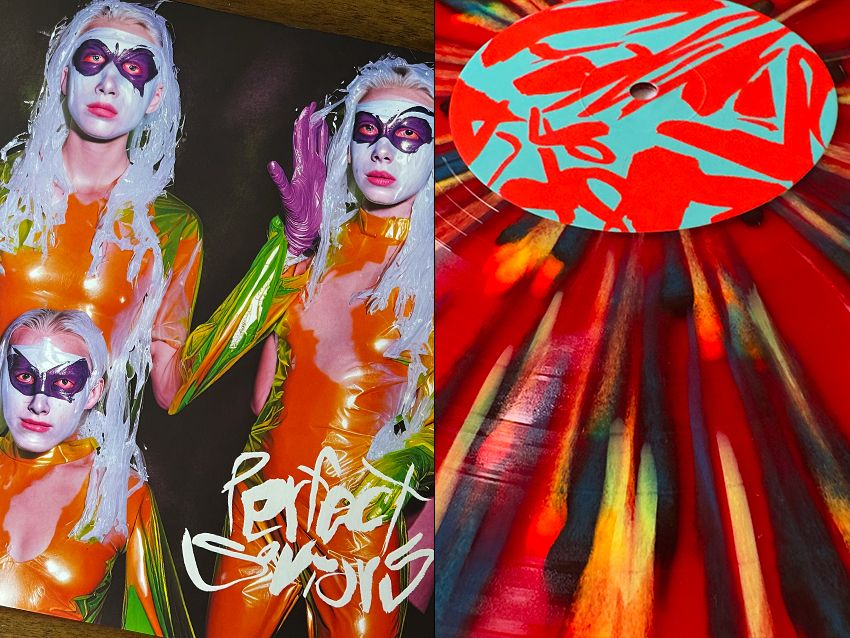 Red w/ Yellow & Blue Splatter
Sargent House
Of course a band as adventurous and creative as The Armed are paying attention to every excruciating detail. From intriguing album promotions like cryptic web games, major-label level advertising in metropolitan areas, and music videos featuring the likes of fellow Detroiter Iggy Pop, it's no surprise their LP packaging is given similar attention and care. Their latest, Perfect Saviors, continues their impressive track record. It's a marvel in every sense, and it's got the visuals to boot. Let's dive in.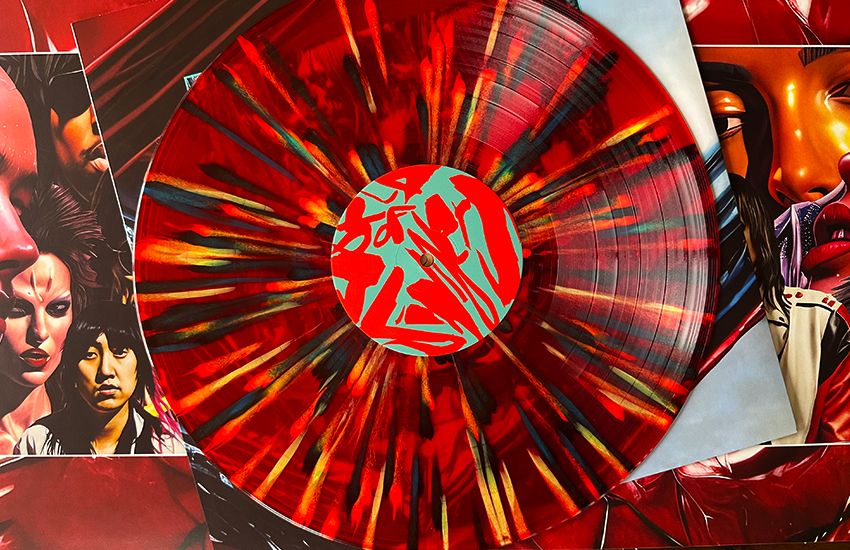 The contradictory nature of Perfect Saviors resonates strongly musically, but the visuals push this idea even further. It's an undisputedly modern work, a result of the furthest fringes of extreme music magically reconciling the notion that something so fucking noisy, abrasive, and unapproachable can actually become catchy and anthemic. It's oxymoronic visually, too, taking this in-vogue "DIY" era of AI art we're living in and, ironically, using it to create the very things we know they have access to: smokin' hot bods, Iggy Pop, and sometimes both at the same time. ;-)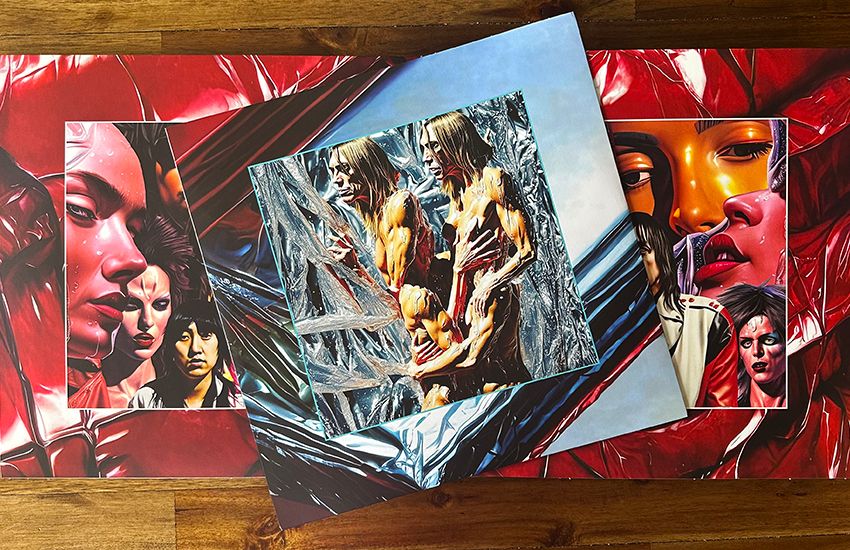 The matte-finish jacket features the standard cover photo of a trio of figures wearing some outfits that look painted and plastic-y, merging human-as-art and human-as-artist. It's even appropriately adorned with a spot-gloss print of the album title in the corner …for extra wetness. This liquidy thread continues on into the gatefold, inner sleeve, and lyric booklets where the moist imagery continues, but this time with glistening AI-generated manifestations that bring to mind the disgusting practical effects of 1989 horror flick, Society. Yet here, the beauty of the physical human form is mutated into Picasso-like abstractions, becoming both timeless fine art and kitschy digital ephemera, a harmonious fit for Perfect Saviors' avant-noise pop.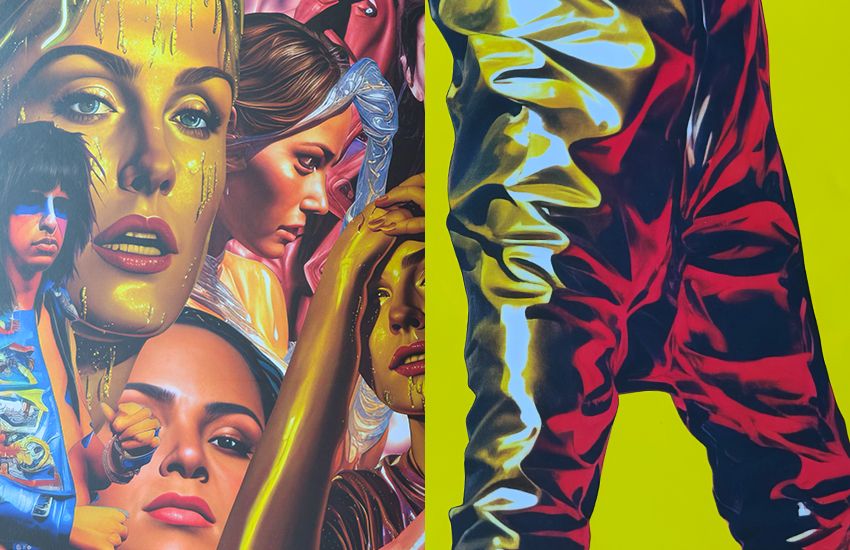 The lyric booklets are also given ample attention and really well done. I like how each side has its own booklet, one for "Only God Is Good" (side A) and "World of Sinners" (side B), though I think this could be a touch better with some kind of color or shape identifier here, too. Instead, I've regularly found myself flipping open each book to the first page (sometimes a challenge given how there's no obvious up/down or front/back) to figure out what booklet I need. I understand this is functionally nitpicky, but it does look great. I also like the touch of the inky/wet handwritten lyrics here. This is always a good look, in my opinion, and I can't help but notice whoever handled the layout — or by the miraculous hand of the lyrics scribe — the lyrics perfectly fill each page with a justified alignment. They can be a bit tough to read at times, but I dig that the aesthetics carry through to every level of this package.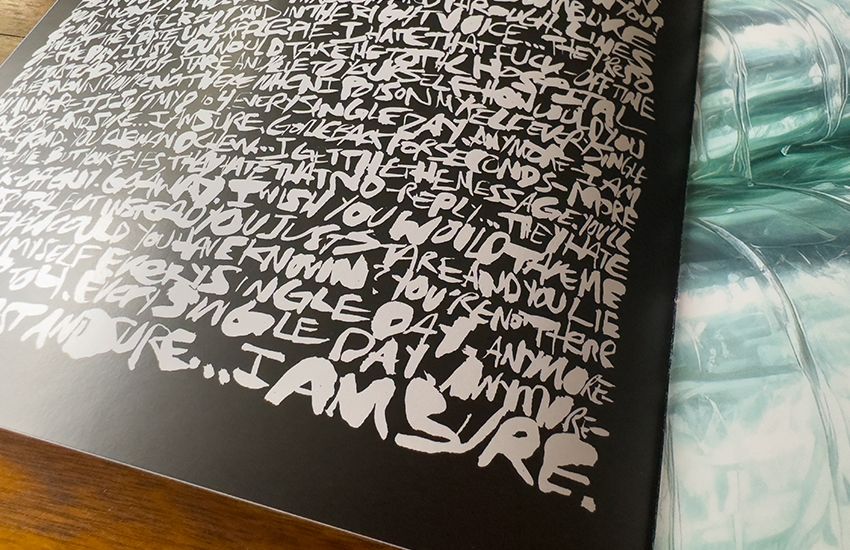 The wax itself is quality and sounds wonderful. Prior to listening, I had some concerns about the bass-heavy moments (specifically the intro to "Patient Mind"), but those were totally unfounded and Perfect Saviors is nothing short of a brilliant listen throughout. Visually, the splatter effect looks really nice, too. There are some really cool contrasts and merges happening between the translucent red and opaque splats — the blue gets black and the yellow gets orange — that vibe with the "drip" found everywhere else. I wish the aforementioned labels were a little more distinguished visually (they can be easily mistaken using the same two colors and wet script) or at least included some small indicators for side and speed, but if you're spinning this as regularly as I have been, you'll just figure it out.
PURCHASE: Available for purchase via Hello Merch | Discogs
-Jordan Jerabek
---
AFI - Sing The Sorrow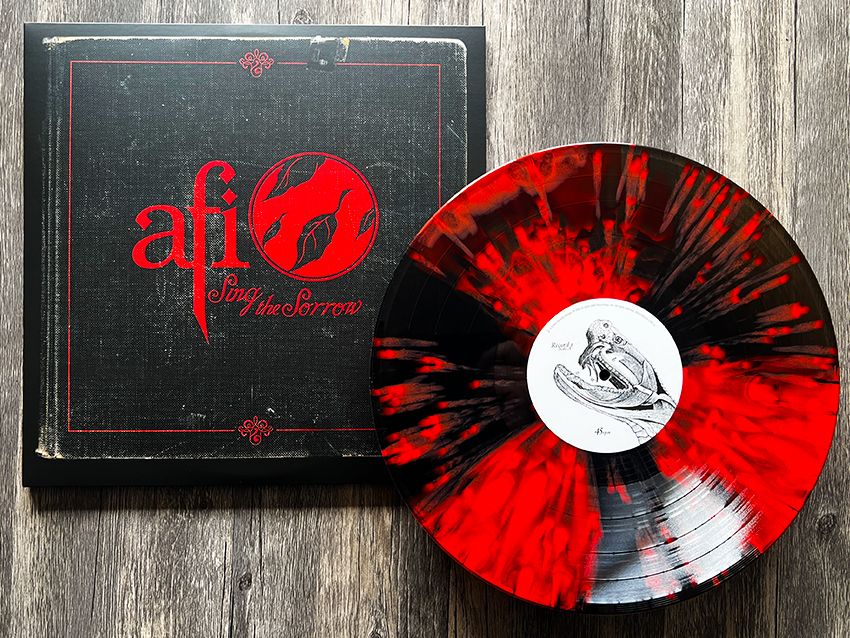 Black/Red Pinwheel with Splatter [RSD Essentials]
Geffen / Universal
Earlier this year, I allowed myself to impulsively purchase a bootleg copy of AFI's wildly popular record Sing The Sorrow when the opportunity arose. At that point, the album had been out of press since the early 2000's and the original record label Dreamworks Records was defunct, so I thought I'd simply never own it otherwise. The pressing was a disappointment in its quality because it crammed too much music onto a single LP, but I was happy to just own it. Then, shortly after, the band announced a long-awaited repress. Comically bad timing, I thought.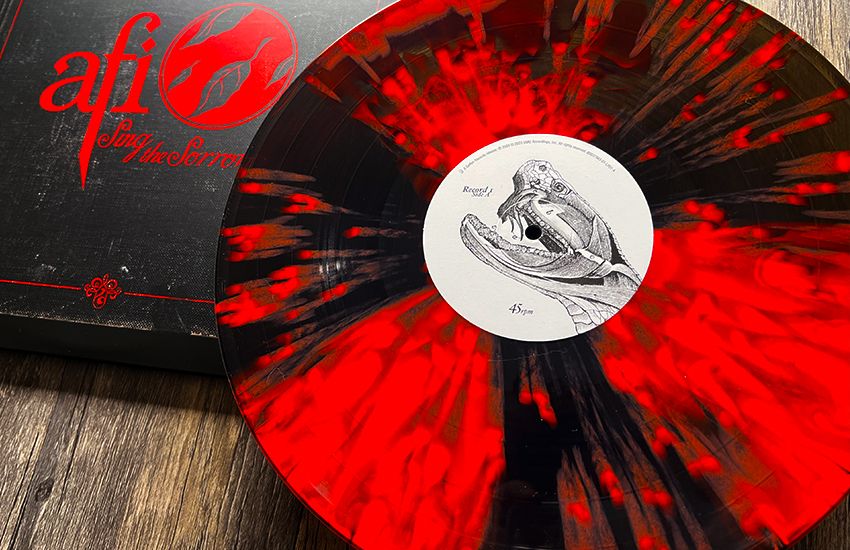 So $50 and a few months later, Sing The Sorrow's official repress is here, and I'm disappointed yet again. Not only is the price of this thing pushing the limits of acceptability for a release that's not super limited in any way, but the quality of the pressing leaves much to be desired. There's so much surface noise on this record, especially on my side A, that even after a deep cleaning, it's occasionally unlistenable. There's a scuff on my copy right during the bridge in "The Leaving Song Pt II", which is pretty frustrating.
It's a real shame; the variant is very nice looking, and the exceedingly thick gatefold is a nice touch, but the cracking and popping that persists even through deep cleanings. I was excited that this was a 2xLP pressed at 45 RPM, but these discs were tight inside the printed inner sleeves and were a real pain to get out and had an insane amount of static. The most serious collectors I know swap out these for antistatic sleeves, but I can't shake the feeling that the packaging contributed to these issues.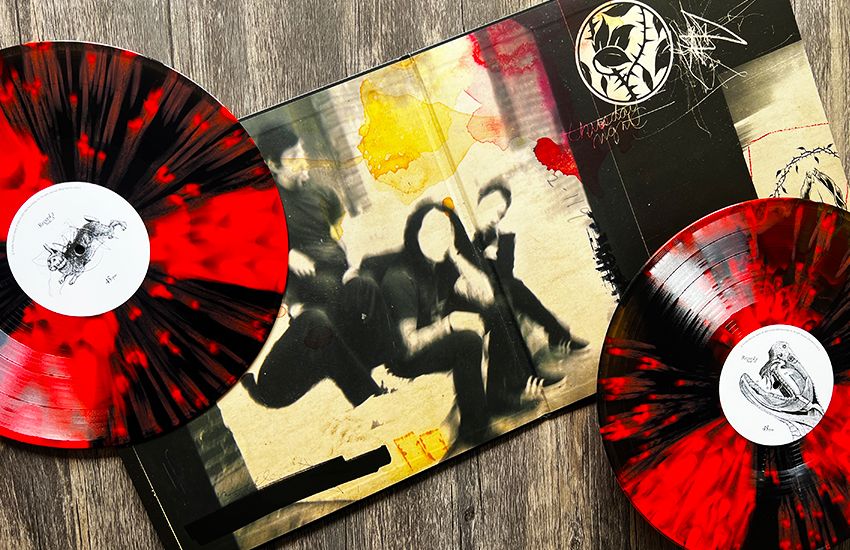 It's hard to say whether I prefer this copy or the unofficial pressing, and this should have been an easy bar to clear. I've been mulling over pulling the trigger on a Decemberunderground bootleg or waiting on a potential future repress, but if it's like this, I might not be worth the wait. As always, your mileage may vary on these widely-pressed runs, but I'm hoping Decemberunderground is done a bit better than this.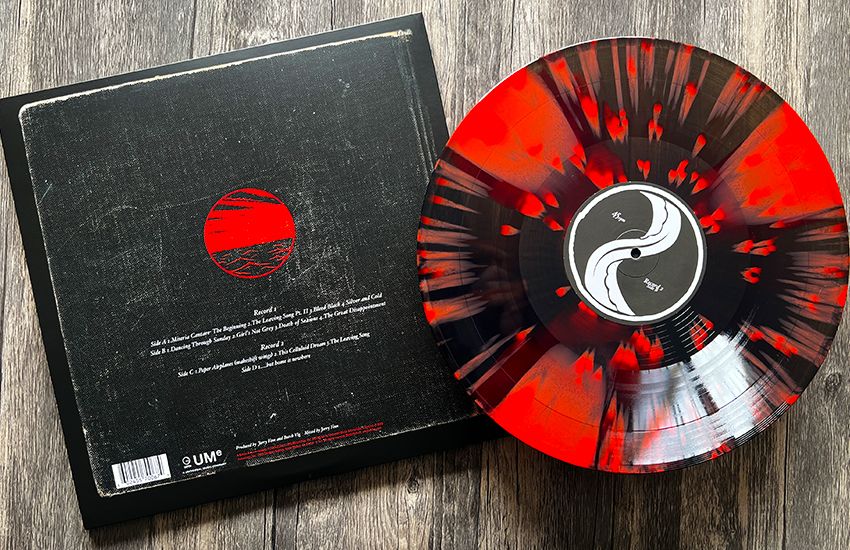 PURCHASE: Ask your local record store! | Turntable Lab | Discogs
-JR
---
Baroness - Stone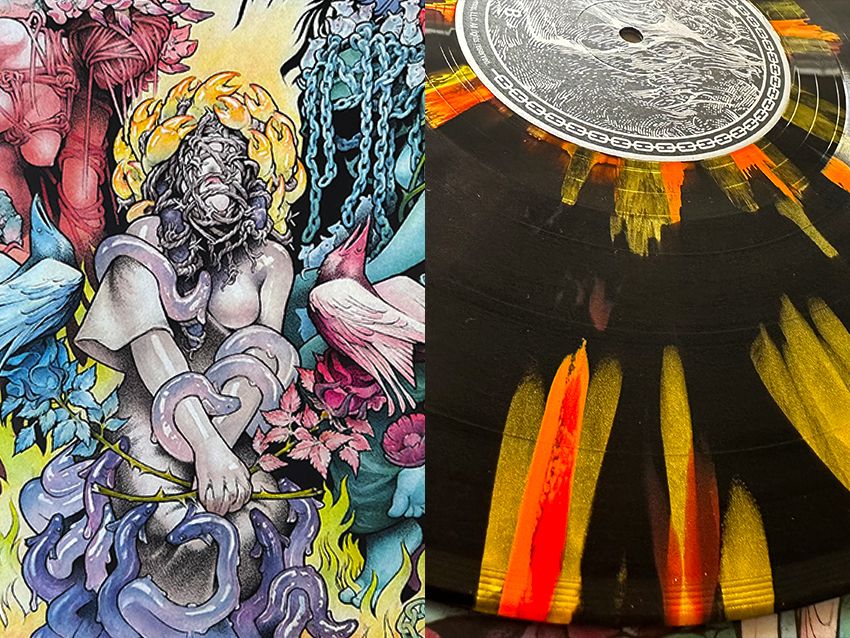 Black with Red, Orange, & Gold Splatter [Limited to 500]
Abraxan Hymns
I've been collecting Baroness records for a while now, and they never disappoint. The huge format of John Dyer Baizley's wonderful cover art and the supplementary art found throughout is always so well put together, and with a true unifying vision. Stone is no exception. While not as impressive as the deluxe 2xLP Yellow & Green hardcover book, there's a lot to like about this release. Being their first album outside of their color-themed series, I expected a few breaks in the "format," but it was nice to see the overall attention to detail and quality I've come to know them for is well intact.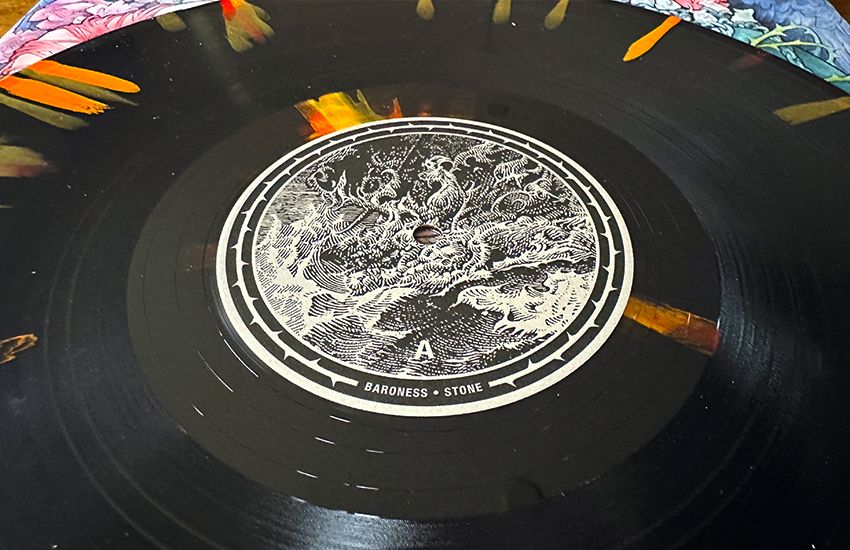 If you missed all the pre-release buzz, vinyl presales for Stone via Baroness' webstore were all limited to 500, each named after a track on the record. Featured here is the "Embers" press, which I was fortunate enough to nab after my initial two choices had already sold out. These suckers went like hotcakes, but it's totally justified because they did a superb job with this release. The color/style selection for most of these variants is really great and (well, to my eyes) unique, and the autographed inner sleeves are a super cool touch. The wax looks great and sounds good, too; the only "noise" I can detect is the standard "oh shit the needle hit a different color wax" type of thing that happens with any multi-colored variants. It's definitely not enough to bother me, but your mileage may vary, especially if you're one of those people who's spent the last few years griping about their production.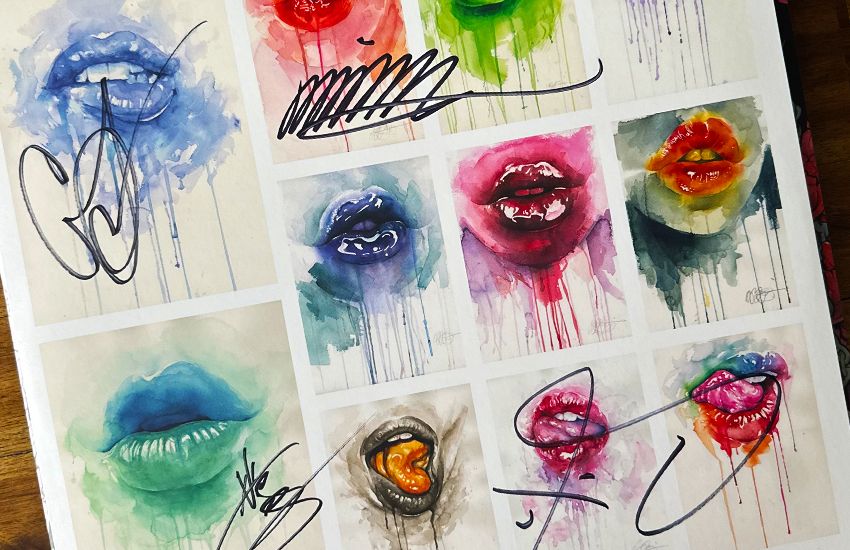 The wax conveys the "Embers" imagery well with metallic gold, orange, and red streaks flashing across an opaque black. I've seen my share of silver and gold records with a metallic fleck to 'em, but I haven't come across a splatter that gets 'em to sparkle quite like this. Big fan of the concept and execution here. The record labels feature subtle-yet-obvious "A" and "B" indicators on designs pulled from the back cover as well as design elements like chains, thorns, and flames found elsewhere in the album art. Sequencing is my only rub here, the back cover implies side A wraps up with "The Dirge" (which would totally make sense as it closes a thematic trio), but for some reason "Anodyne" snuck its way onto side A, instead of opening B.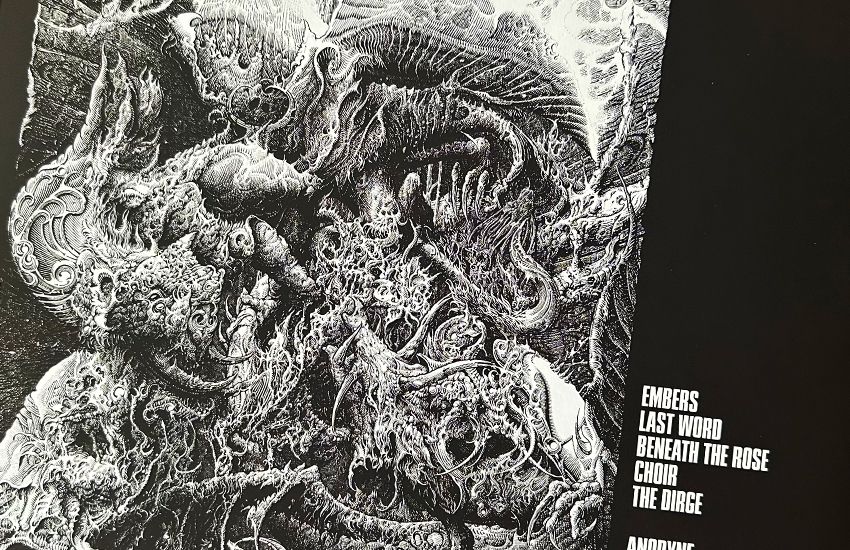 Elsewhere, the paper stuff is good. The jacket is a solid weight, better than many other new presses I've landed lately. It just wouldn't be a Baroness record without a fat spine (5mm) for a single LP, which is cool visually, but I also kinda hate it for shelf-preservation reasons. The lyric booklet (at two pages, I suppose it's just a sheet) has a single fold and features four "halo" designs that nod to the cover art and tie in nicely with the black-flooded pockets and monochromatic designs elsewhere. It looks cool, the lyrics are easily legible, and it even has its own fancy pocket which is a nice alternative to getting smashed trying to cram the vinyl back into the jacket. The minimalist interior of the gatefold features two black-and-white JDB pieces in a Polaroid-type layout, while the back cover has an absolutely insane white-on-black spot gloss artwork from Surya Mahdiana (elements from this carry over onto the labels, sans-gloss). I'm sure this is a name we'll see more often in the metal world as time goes on because this is that fucking gnarly and the dude is also doing some killer poster work, but as far as I can tell this is their first commission for album art.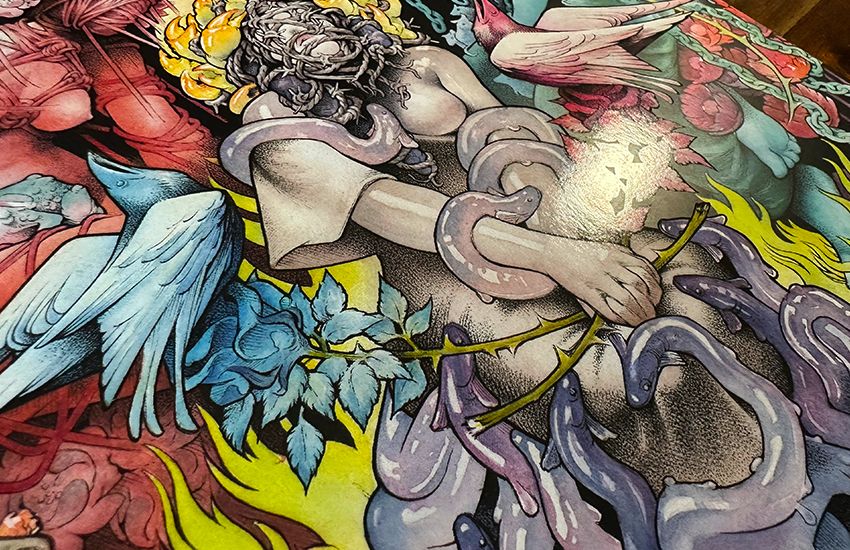 As Baroness records go, the cover is where it's at. The spot gloss on the cover's central figure adds depth and really maximizes the visual freedom of the color-agnostic approach on this go. Compared to the monochromatic covers, Stone is almost sensory overload with all of the colors and features packed into it, but it does add a sense of discovery as you'll find these features littered throughout the package. The colorful skulls and mouths on the inner sleeve further add to the intrigue and darker tone of the record, as well as reinforcing that new polychromatic look. At a time when a lot of places are going on the cheap, it's nice to see that Baroness are still going all-out on their vinyl releases.
PURCHASE: Sold out, except black | Discogs
-JJ
---
Chamber - A Love To Kill For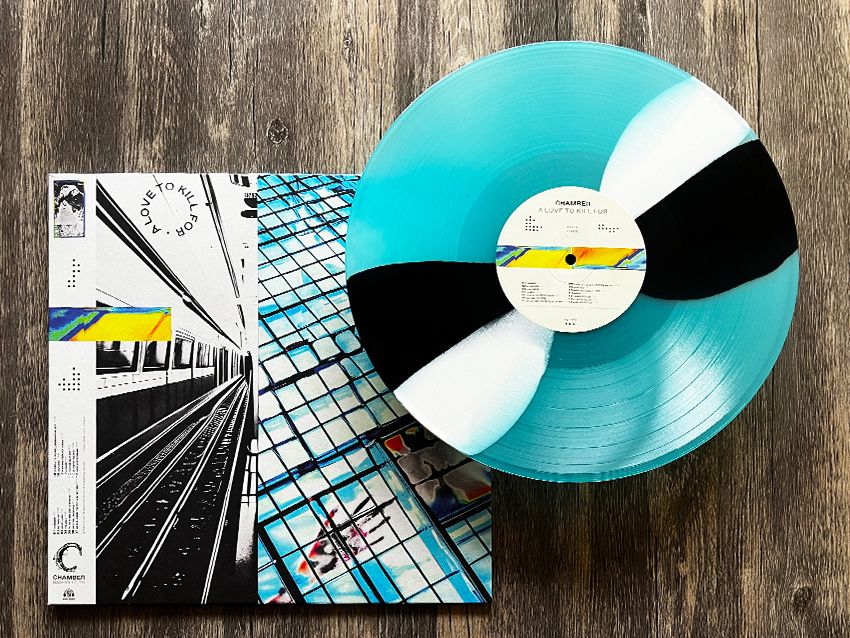 Indie Exclusive Electric Blue with White & Black Twist [Limited to 300]
Pure Noise Records
Nashville, TN's mathcore outfit Chamber are one of my favorite discoveries of 2023, and their new album A Love To Kill For is on my Album of the Year shortlist, and is a likely shoe-in for mathcore's best. It's an explosive and riffy affair that gets better with every revolution. As these things usually go, I knew I wanted it on vinyl, so I went to the label's webstore to see the options. The variants available online were nice, but the notice of an indie exclusive caught my eye. Sight unseen, I assumed the "twist" variant was one similar to the Gospel record I purchased last year and loved so much. I went to my local record store and inquired, and to my surprise, they were able to order it from the distributor. Take it from me, if you have a legitimate record store near you, they can probably get this. If my small town record store, which is in an annex of a guitar store, can get these niche indie exclusives, yours can to.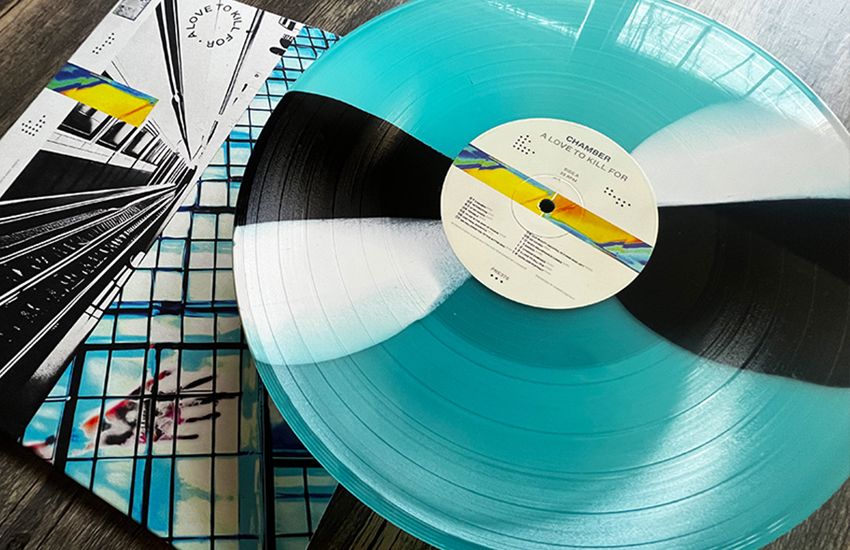 Fortunately, this variant is exactly what I hoped it would be. It's simply stunning. The thick stock on the jacket is also fantastic; it's no gatefold, but I love a matte vinyl jacket that feels like cardstock instead of a plasticine glossy coating. It's a textural thing that works better with the artwork and layout. Included is a two-sided insert with lyrics, liner notes, and photos.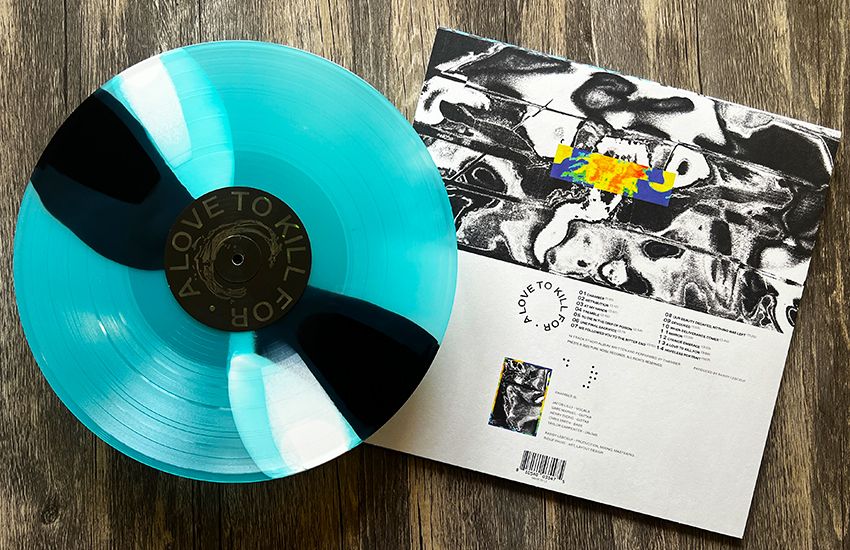 The record plays flawlessly as well after a basic surface cleaning. The production and mastering is heavy on the low end, and those records tend to sound better anyway, but even the rare ambient passage comes through without pops or clicks. Very pleased with this album. Mathcore fans get in on this if you haven't already, and if you can, go to your local record store and see if they can order this specific variant for you. I'm sure they'd love to help!
PURCHASE: Ask your local record store. Other variants available at Pure Noise | Discogs
-JR
---
The Sawtooth Grin - Good.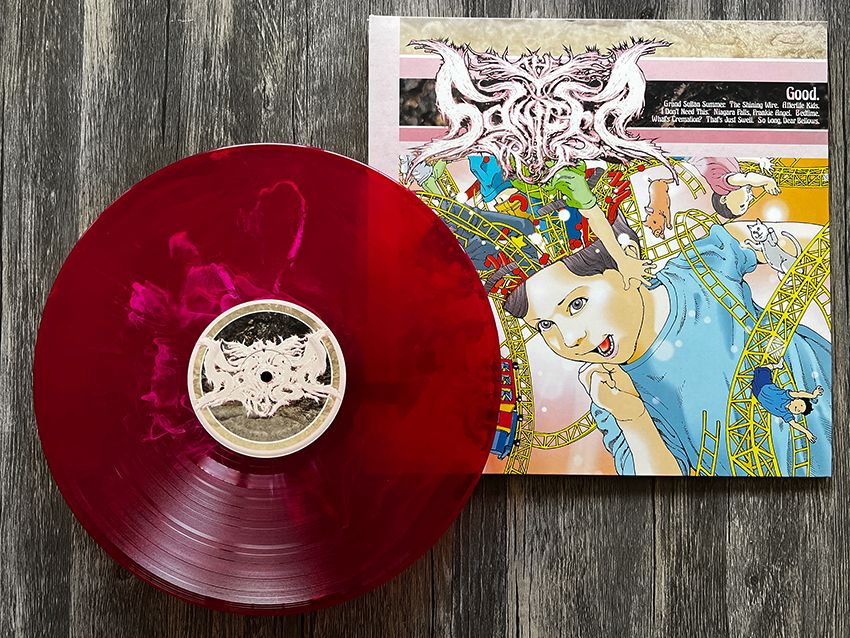 What's Creation [Unlimited Open Preorder Variant]
Wax Vessel
I have a complicated relationship with Wax Vessel. I'm banned from their Facebook page for railing against their tight "NO REPRESSES EVER, SORRY YOU DIDN'T GET ONE" policy so I have to manually check in from time to time on Instagram in order to get word on drops. While I respect label dude's side hustle and the hard boundary he sets for himself and his family to not take on more than he can chew with these releases, I disagree with the artificial scarcity and the hard NO on giving these albums a second pass when demand allows. Dude doesn't want to give up his day job and probably didn't expect Wax Vessel to become the monster it became. I respect him for his tactics, I just wish the reality were different. That being said, it's not going to stop me from trying to grab some of these albums, and in typical Wax Vessel fashion, I wash out nearly every time.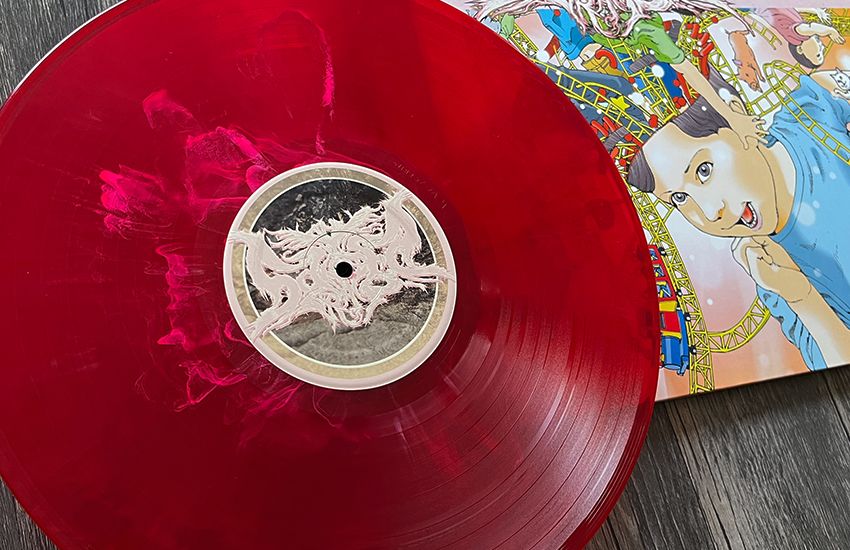 And credit where credit's due, Wax Vessel has begun experimenting with unlimited pre-order windows on some of their more pressing releases, and I couldn't be more excited. I don't mean to be disrespectful to the other acts hosted by the label when I say that the reunion LP for 2000's mathcore legends The Sawtooth Grin was the label's biggest get yet, but apparently they thought the same as well; Good. became the first Wax Vessel release to get an unlimited pre-order window that we've started seeing other labels like Silent Pendulum participate in, giving everyone a chance to get in on the ground floor of this hotly anticipated record. Praise the lord, I got one after missing (of course) the more limited varieties.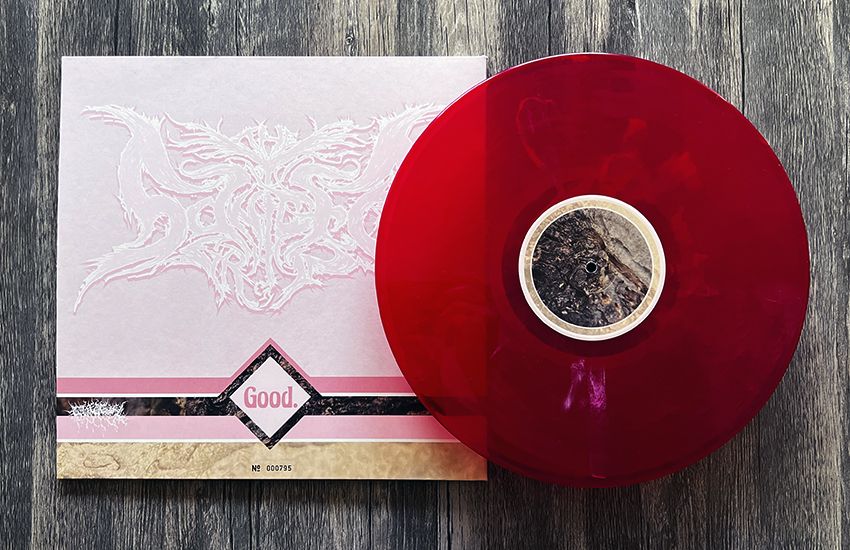 Even for being the "cheap" and abundantly pressed variant, Wax Vessel's build quality remains top notch. This 20-minute LP is single-sided - fair enough! - with a variant that's just sort of fine, but again, these were never going to be the wacky experimental variants that the label and pressing plant are known for. Honestly, I would have been happy with standard black. The play quality is absolutely perfect on the disc. No complaints.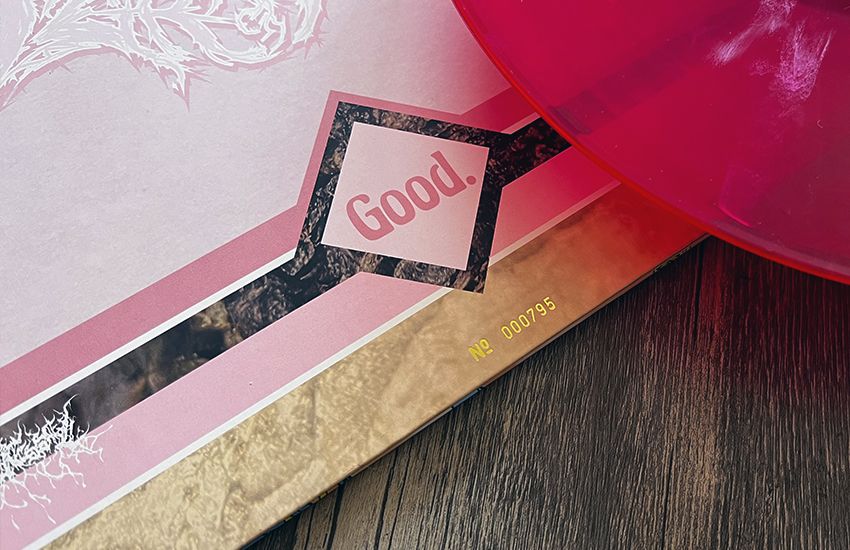 The gatefold jacket has a thick spine that I really appreciate and is gold foil stamped with the pressing number. I have number 795 out of 1055 of the total number across all variants, so if the numbers are right, there were only about 255 of these made, which is incidentally the second most pressed variant of this run, which would be interesting. The gatefold houses a booklet insert with additional artwork, lyrics, and photos, which we don't see enough in vinyl pressings. Bells and whistles are all here; the gold sticker on the outer sleeve, and the WV sticker and Bandcamp download code on the inside make this a complete Wax Vessel release.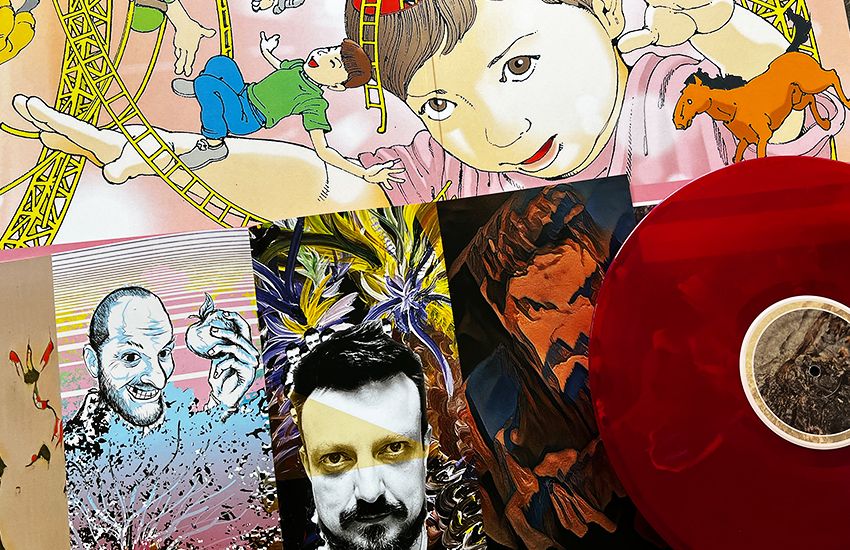 I sometimes dream of those long-gone and never-to-return Cuddlemonster and Pervavor pressings that I missed from Wax Vessel over the years, but I'm incredibly pleased to have Good., undoubtedly their best record yet. Please, Wax Vessel, keep those open pre-order windows coming if you can.
PURCHASE: You Already Know It's Gone | Discogs
-JR
---
PSYCHO-FRAME - Remote God Seeker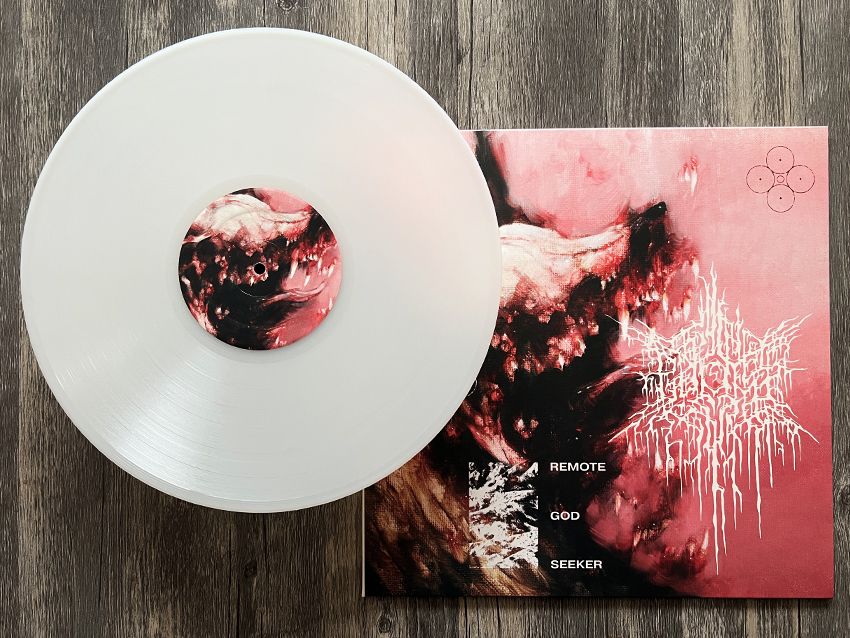 Raining Glass [Unlimited Open Preorder Variant]
Wax Vessel
Back at it immediately with another open pre-order Wax Vessel. After the rousing success of the open pre-order experiment for The Sawtooth Grin – a veritable legacy act within mathcore and grind whose much-anticipated reunion LP was surely enough of a justification for breaking Wax Vessel tradition – Wax Vessel wasted no time extending this open pre-order service to fresh-faced deathcore act PSYCHO-FRAME. I suppose I understand why Wax Vessel wanted to go all-in and help jumpstart this band's career with their second attempt at open preorders and putting WV releases in the hands of folks who would otherwise never own one. Considering that most of the releases WV put out are extremely niche decade(s)-old albums from the MySpace era, it's wise to put resources in a band that are sure to go nowhere but up.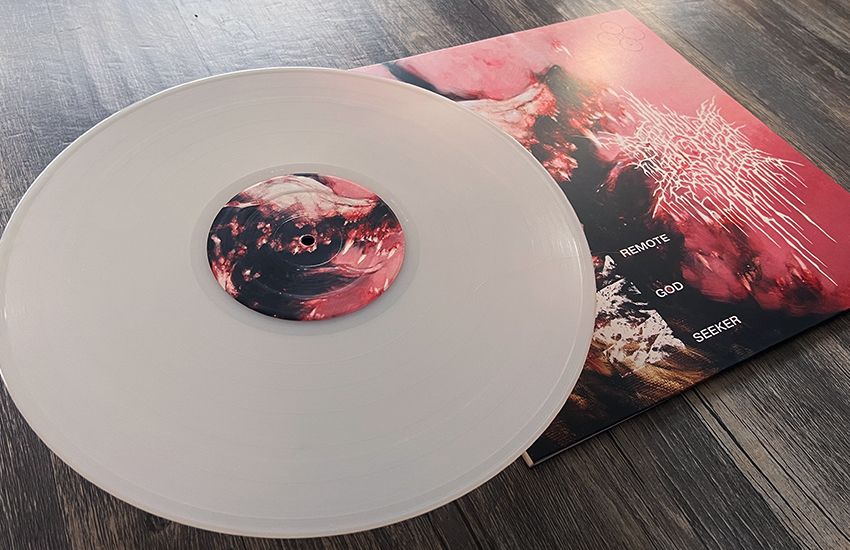 PSYCHO-FRAME's debut EP Remote God Seeker is one of the biggest surprises of 2023. The group is unapologetically deathcore, taking the genre's early sound and aesthetic and giving it a facelift for 2023. In 2003, people would have erroneously called this grindcore on MySpace. If that's your type of sound, then hop on the train. You've missed the first stop, but the second one is coming shortly.
I was again able to grab one of those open pre-orders after getting around to checking out this EP after it had already dropped its initial run of limited mages sold out. I had felt comfortable missing that first wave, but I might try to get in early for the band's next release which is currently being teased heavily. Remote God Seeker interestingly sold more copies than The Sawtooth Grin's record, with 1070 being made across all the variants, and I can only assume the open preorder had something to do with it.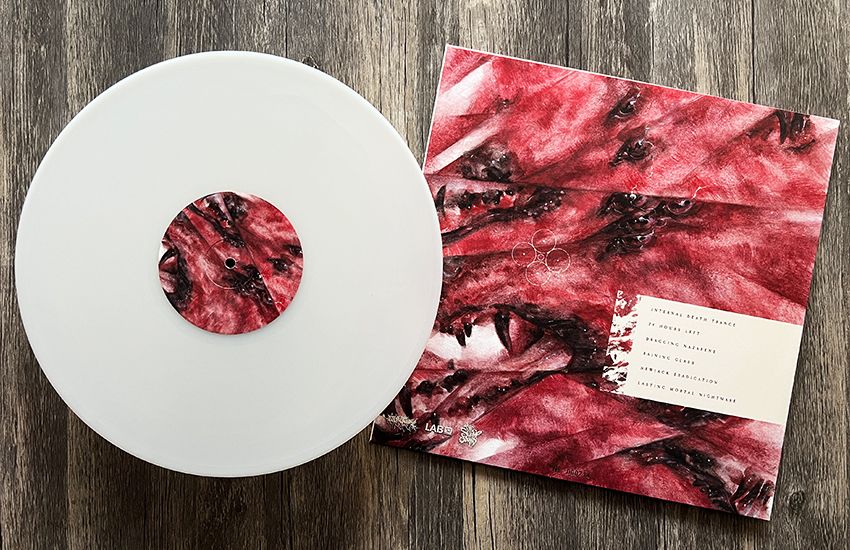 This release is housed in a single sleeve with a two-sided insert with photos, artwork, and lyrics; no gatefold, booklet, or thick spine like with The Sawtooth Grin, but everything is pristine with the art direction from Slopjockey (artwork) LAB13 (layout). The "Raining Glass" variant is also quite cool for being the open variety; I don't think I have a single album in my collection that has this sort of milky translucence. The vinyl is again single sided, which I'm not mad about. I can't complain about playback, either; the record is completely flat with very limited noise or artifacts. Wax Vessel is consistent. Remote God Seeker sounds incredible, which can sometimes be tricky on the format given how compressed and digital the genre can sound.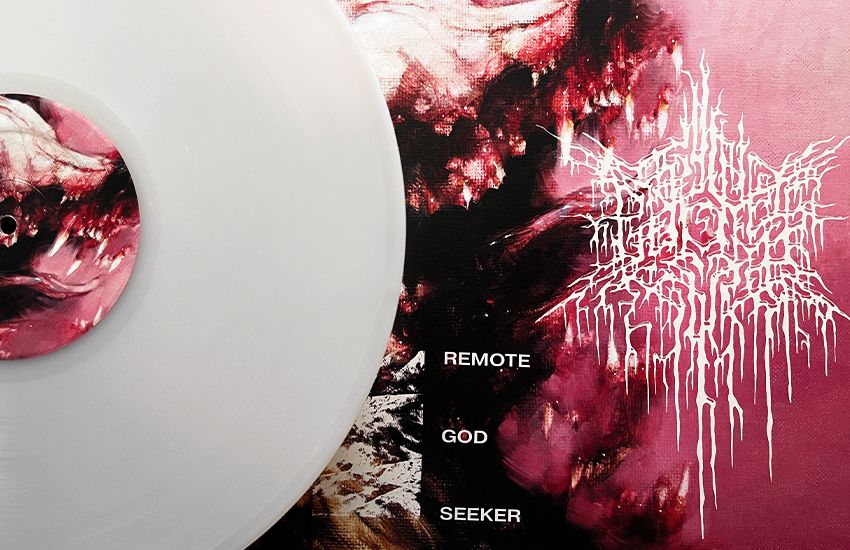 Again, I'm incredibly stoked that Wax Vessel gave everyone who wanted the record an opportunity to have one and hope this is a release strategy that they can pull off more frequently. PSYCHO-FRAME's second EP is just around the corner and drops pre-orders on Black Friday, November 24th, so be sure to follow them and Wax Vessel for more information.
PURCHASE: You Already Know It's Gone | Discogs
-JR
---
Static Dress - Rouge Carpet Disaster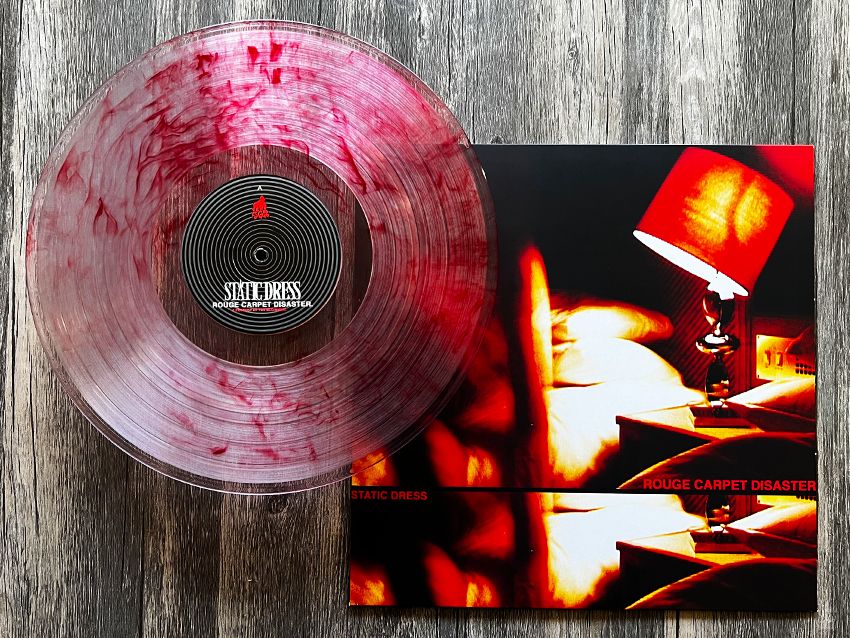 Did You Really Need Pigment [Limited to 150]
Silverback Gorilla Records
With hindsight I can safely say that UK post-hardcore act Static Dress was one of my favorite new finds of 2022. Their debut album Rouge Carpet Disaster came out of nowhere and were fairly high on my list of favorite albums from the year. Their Underoath / Taking Back Sunday style of post-hardcore is made all the more interesting by a similar sense of shoegaze / post-rock influence that pushes Loathe beyond the metalcore scene they rose from. Although for Static Dress, those influences are much more subtle, I'd encourage fans of Loathe and acts such as Seeyouspacecowboy to give this record a shot if you haven't already.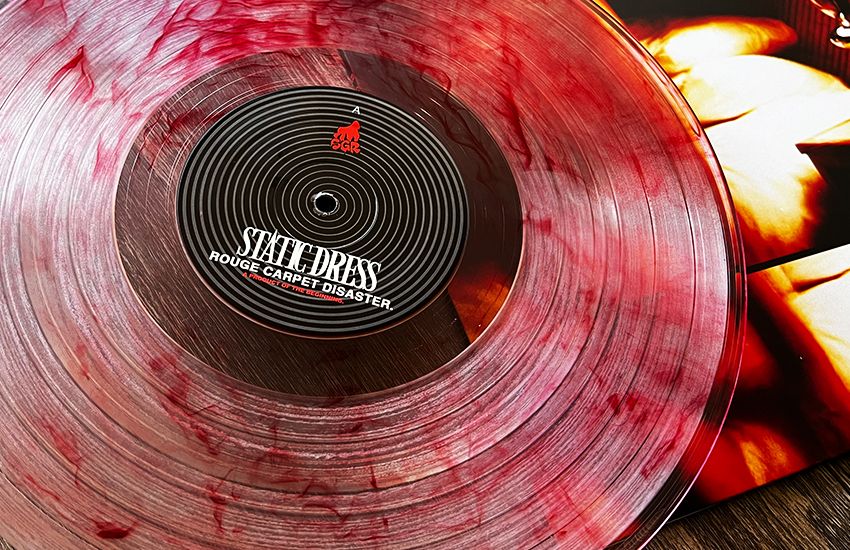 Rouge Carpet Disaster was such a strong debut that the band were picked up by Roadrunner with a deluxe re-release that dropped at the end of the summer. In that time, Silverback Gorilla Records had been working on bringing the vinyl release of the original album to North America where it had initially been exclusive to the UK and Europe and prohibitively expensive to import. I quite like Silverback Gorilla Records and (with all the respect in the world) view them as a sort of Diet Wax Vessel. Yeah, there's the ultra-limited mages that are gone before you had a chance to even think about buying one, and to my knowledge, they often use the same pressing plant and don't do represses either, but if you're into WV style bands, you'll probably enjoy SGR's output and will be far less likely to walk away empty-handed. That's just the thing about Wax Vessel; if they had put this album out with the exact same variants and alt-covers, you would not be able to get one today at all. You can still purchase a few variants of this Static Dress record on SGR though!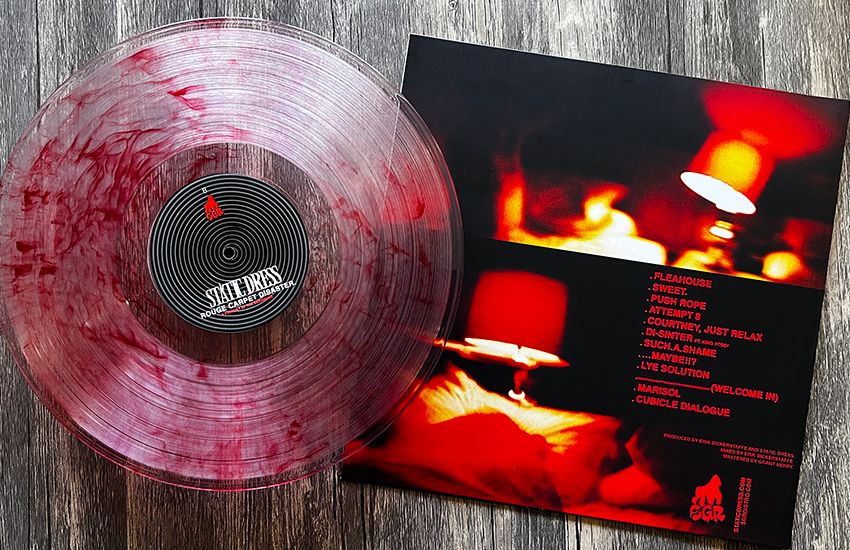 The packaging is pretty simple, but high quality. The single sleeve jacket is clean and has a tasteful thickness. The original artwork is lo-fi by design, so don't fret about that pixelation. The vinyl disc itself plays absolutely flawlessly, which is incredible for a variant with ultra-clear foundation. This pressing plant is just built different. It's a rarity around these parts, especially since these went on sale months ago, but they're still available in three different variants if you follow the link below. Hopefully now that the band are wrapping up some extensive touring that album #2 comes next year.
PURCHASE: Silverback Gorilla Records | Discogs
-JR
---
Tomb Mold - The Enduring Spirit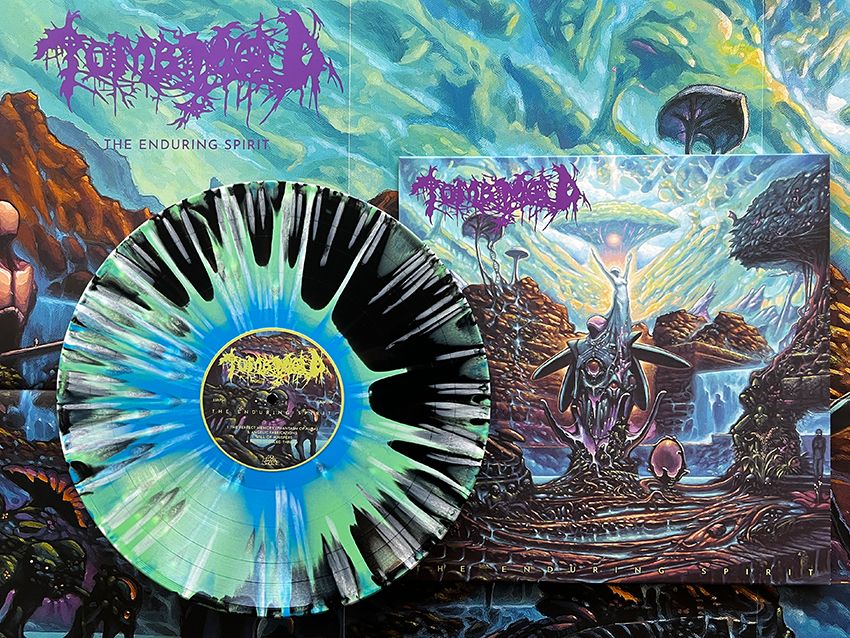 B1: Cyan/Mint/Black Tri-Color Merge With White Splatter
20 Buck Spin
Behold, the death metal album of the year. Tomb Mold's triumphant four-year return The Enduring Spirit is the band's long-telegraphed and fully-realized ascent into progressive death metal, and it's a stunning record. I've been a believer in Tomb Mold for quite some time, sold on their breakout hit sophomore LP Manor of Infinite Forms back in 2018. Tomb Mold fans were eating good for a while; they dropped albums annually between 2017 and 2019, and they had the audacity to get better each time. Then 2020 came and went, and so did the years after. It would be easy to blame COVID; it's been hard on us all. I don't presume to know and have done little to no research on the matter.
What does matter is that they've spent the years wisely. The sudden drop of this thing certainly helped stew some immense hype. As I recall it, the album was announced with a single on a Monday, and the full album dropped within the week with a spread of pre-orders including this limited first variant that was gone well before the end of the day. I set my alarms and set money aside accordingly. 20 Buck Spin doesn't publicize the number of units available per variant they release, but this thing's surely moving units and is considered a massive flagship release for the label, as this album's currently on its second wave of pressings across 14 different variants, the first nine of which (the first wave, sans black) have of course sold out.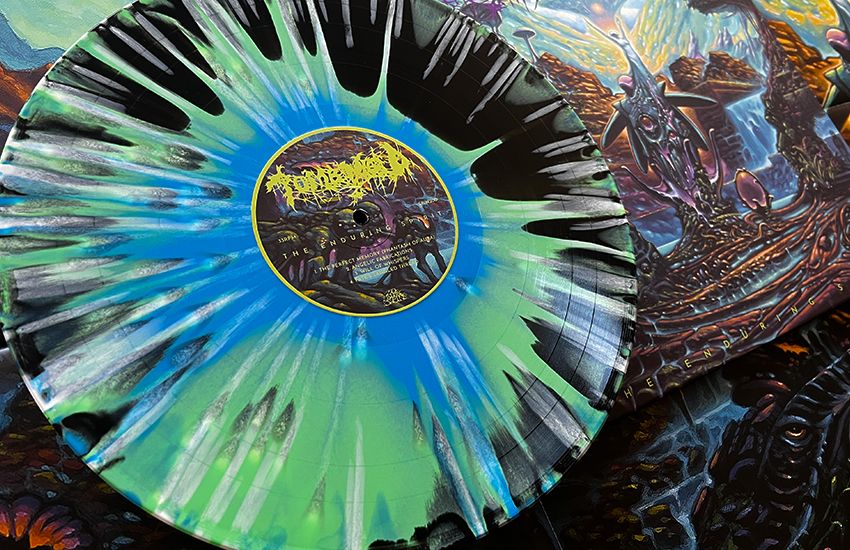 20 Buck Spin and Tomb Mold are leaning in on this absolutely incredible artwork heavily, as evidenced by The Enduring Spirit being the first ever 20BS picture disc. Who could blame them? Artist Jesse Jacobi knocked it out of the park. Included with each album is a massive poster featuring the artwork, which is a generous addition. I'm not sure you can tell by the photos here the exact scale of the thing, but it's likely the biggest poster I've seen folded into a vinyl jacket, at 36x24 inches. It's housed in a standard LP jacket and includes a 4-sided insert with photos, liner notes, and lyrics.
The record itself is incredible and is nearly color-matched perfect to the cover and plays almost flawlessly. The album sounds phenomenal on the format as you would expect. 20 Buck Spin are consistent, and props to them for keeping a package like this around $30 shipped when the major labels are getting ridiculous with the pricing.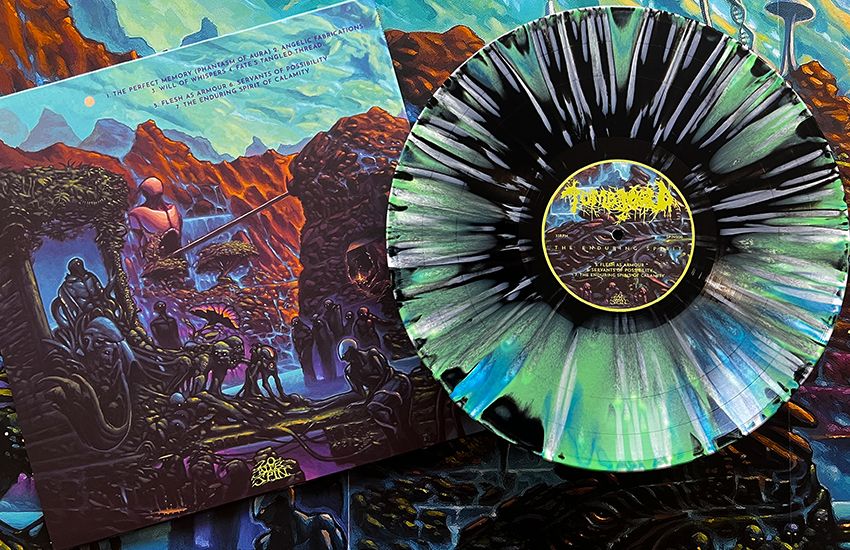 No way around it, this album is mandatory listening in extreme and progressive music in 2023. You might have missed this specific variant, but there's loads of gorgeous colorways still available at 20 Buck Spin. They usually do holiday sales. Keep an eye out!
PURCHASE: Sold Out! Other Variants Available At 20 Buck Spin and Bandcamp) | Discogs
-JR
---
Tomb Mold - Aperture of Body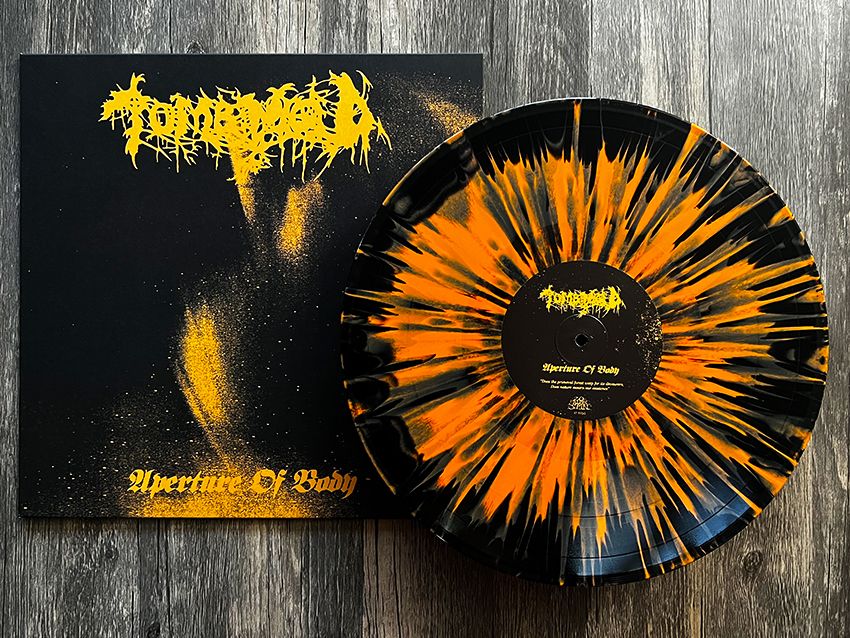 B1: Halloween Orange / Black Merge with Black Splatter
20 Buck Spin
This stop-gap three-track EP that arrived a year prior to Tomb Mold's new full-length was previously only available digitally or on cassette, and they sold out fast. As a bit of a Tomb Mold discography completionist up until that point, I was a little bummed out, but I suppose getting derailed by a cassette-exclusive three track EP wasn't going to be the end of the world.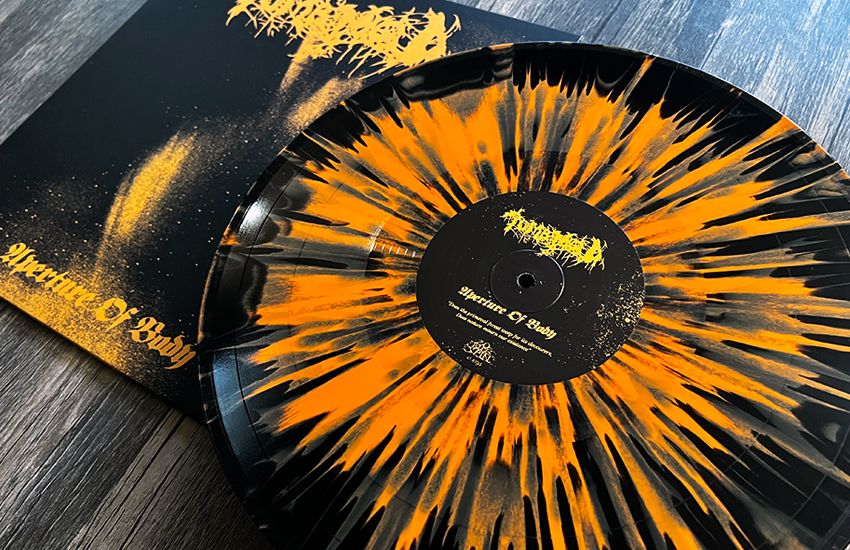 A year later, 20 Buck Spin pressed the EP on a single sided 12" with pre-orders launching alongside The Enduring Spirit, so I threw both of the B1 variants in my cart under a PayPal Pay-In-Four and called it a day, knowing that I'd be resting easy with a future where the Tomb Mold discography page is lit up green throughout. It's the little things that can keep you going.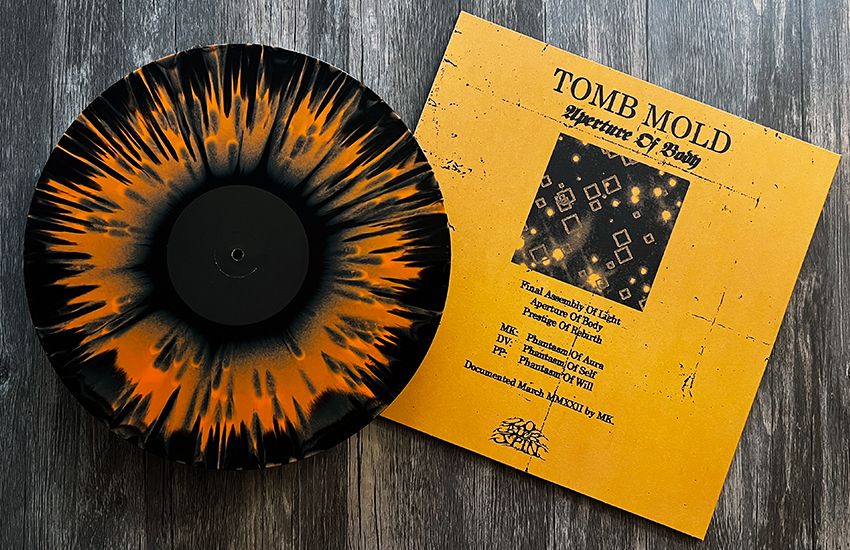 You know the drill by now: death metal's just going to sound really cool on vinyl, and this 45 RPM pressing sounds killer. That 20 Buck Spin consistency delivers yet again on Aperture of Body. It might be a big ask to dedicate the plastic, shelf space, and a crisp $28 after shipping for a three track EP - one of which being an ambient synth track, but as a massive fan of Tomb Mold, I didn't mind it. In fact, I appreciated how the label did try to keep this cheaper than the full-length and didn't try to deliver a product that felt cheap or compromise the jacket or vinyl. This one-time pressing is probably just for the die-hards only, but if this pressing slipped by under the radar due to the hype of The Enduring Spirit, there's still a couple of stellar looking variants available.
PURCHASE: Sold Out. Other variants available at 20 Buck Spin | Discogs
-JR