Well now, would you look at that! It is once again December and, once again, many outlets have decided that November does not exist, effectively winding down their operations in preparation for 2023. But we at Heavy Blog know better, don't we? We know that not only does November (and December, damn it) often have great releases, they have Album of the Year contenders. Insert lamentations about why bands wait until so late in the year to release anticipated albums but regardless of these tired and pointless musings, the fact is the fact: ignore the last two months of the year at your own risk.
The risk is, of course, "only" that you end up missing some fantastic music but when the music is as fantastic as the below selection, can you really afford taking that risk? I would say not, considering the fact that Elder's new album is probably my number two overall favorite album of the year, High Command absolutely slaps, and Black Lava has melted my face off like no other album this year. And that's not even all of the excellent releases, just those that personally made the most impact on me. So warm yourself up something cozy to drink and scroll down below to turn up the heat. The metaphorical heat. Metal is hot, I don't know, read the column, listen to the music, see you next month (yes, in January, again) for End of Year stuff. Bye.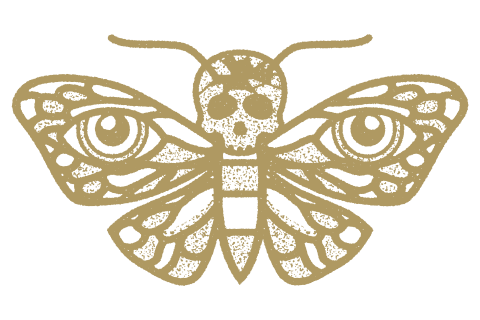 L.S. Dunes - Past Lives (post-hardcore)

One would think that a supergroup featuring members of Thursday, Circa Survive, Coheed and Cambria, and My Chemical Romance would get more attention than L.S. Dunes seemed to obtain last month when their debut LP Past Lives was released. After all, these five bands are among the most celebrated acts in hardcore and adjacent genres over the last twenty years. But Past Lives dropped to seemingly little fanfare, and I'm not sure why, because these experienced songwriters haven't suddenly lost an ability to craft a heart-wrenching hook or weave a haunting atmosphere through the pandemic.
It's not as if Past Lives is a terrible record by any means. Above all, it's proof that Anthony Green is still among one of the best vocalists in the genre, particularly with the pre-release single "Permanent Rebellion," turning in an incredibly passionate and evocative performance. Sure, Past Lives doesn't quite live up to some unreasonable expectations and impossible highs given its members' resumes; we're not really in the ballpark of records like On Letting Go, The Black Parade or Good Apollo I'm Burning Star IV, but it's a damn cool post-hardcore record that is most assuredly above par for supergroups. Hopefully L.S. Dunes isn't a one-off project, and we can see some further exploration of these sounds going forward.
-Jimmy Rowe
Elder - Innate Passage (psych rock, stoner metal)

I keep waiting for the other shoe to drop for Elder. Whenever they announce an album, and we have been blessed with plenty of them over the last few years, I brace myself for this release to be disappointing. Not even bad; I firmly believe Elder are too good to make a properly bad album. But an album that is not excellent, that does not move me to my core, that does not shoot right up to the top of the list of albums that I carry with me for years to come. And it just hasn't happened. I'm being serious; Lore, Reflections of a Floating World, and Omens (even the more tangential The Gold & Silver Sessions!) are all albums that I listen to at least once a month and during some periods, once a week. I am completely and utterly in love with all of them and, somehow, Innate Passage follows in their footsteps.
When you listen to the music itself, it's actually pretty easy to situate the album on the trend that Elder have been on for their last few releases. Moving away from the more flourish-heavy trappings of Lore and, to an extent, Reflections, Elder have been steadily drifting towards the realms of "proper" psychedelic music. Their compositions have become more expansive, less focused on specific moments and more aiming for overall atmosphere. The Gold & Silver Sessions is the best example of this, studio sessions featuring the band letting loose and really creating the sort of trippy, undulating music that you can tell is informing their music more and more.
However, Innate Passage actually seems to be an attempt to meld this sort of trajectory with some of their older sound, creating a sort of hybrid between Lore and Omens. Just listen to "Catastasis", which opens the album. The majority of the track is filled with the kinds of riffs that we've seen Elder place more emphasis on with the last few release; they are more majestic, less focused on notes or immediate hooks, written instead to transform the environs of the listener and transport them to some place else. But it's clear to hear that the choruses are way catchier than on Omens or, indeed, on that transitory and underrated wonder called Reflections of a Floating World (I still need to find the time to properly record my thoughts on this complex album). By the time we reach the outro of the track, we are met with the glorious Elder compositions of yesteryear, guitars set ablaze with groove.
The musical expressions on the album continue to try and hold these two styles in tandem and are absolutely successful at this. For other bands, this might have resulted in a "worst of both worlds" sort of result, where no part is given the opportunity to fully flourish. But through Elder's brilliant skill at compositions, developed over exactly the transitions from one album to the other that we charted above, perfect balance is achieved between the two approaches. And so, we stand here at the end of another long set of words talking about how good Elder are. I am still waiting to be disappointed and fervently hoping that, somehow, I never will. So far so good. So, so good.
-EK
He Is Legend - Endless Hallway (metalcore/hard rock)

Sometimes an album just hits. It may not be in your favorite genre, or include the staples and hallmarks of the music you typically enjoy most. But it just… fucking slaps. Everything about it works. It's such an amazing experience, and I can thank He Is Legend for giving me my latest such iteration of the above.  While they've never been considered the supreme practitioners in any of the genre stylings that they chameleon their way through, there's no denying that He Is Legend live up to their moniker by continuing to be an absolute masterclass of genre-bending expertise. Endless Hallway is their latest foray into the worlds of hard rock, metalcore, and post-whatever goodness and is one of the most electric and thoroughly enjoyable albums of the year in any genre.
Endless Hallway, outside of being expertly constructed and performed, is such a wild success because of its truly remarkable level of diversity both in its songwriting and musical stylings. Riffs? Check. Ripping solos? Check. A penchant for fantastic melody? Double check. Tracks emphasizing post-hardcore, metalcore, heavy metal, hard rock, djent, and blues? Yup yup yup yup yup and yup. He Is Legend have always been championed for their ability to seamlessly blend a copious amount of genres (sometimes in the same song), and Endless Hallway is one of their most successful and definitive statements in this regard. Tracks like the bluesy, Meshuggah-worshipping "The Prowler" melt into the anthemic metalcore finale of "Lifeless Lemonade", only to settle into arena sized, radio ready hard rock in "Honey from the Hive". This shouldn't work, but lord does it ever.
This success can be chalked up to amazing songwriting and absolute performative mastery. He Is Legend come across to me like a band that could literally take any request at a live show and absolutely crush it. The breadth of their talent is genuinely impressive, and is pulled together by an uncanny ability to write heavy, supremely catchy, and oddly cohesive songs in each of the styles they employ. Vocalist Schuylar Croom's distinct and diverse vocal performance serves as the lynchpin tying the whole thing together, allowing each track's unique and often whiplash changes to find a melodic through line that grounds the entire record and allows its more experimental moments to feel all the more pronounced. I could write multiple paragraphs about how exceptional the performances are, but let's just suffice to say that He Is Legend are masters of their craft and deserve all the accolades their records have received.
If you already consider yourself a fan of He Is Legend, Endless Hallway will be another sterling addition to an already incredible discography. If you're new to their unique sonic world, welcome and prepare your body. There's very little not to like here. A thoroughly fantastic release that I've heard well over a dozen times at this point and have no intention of removing from my regular playlist anytime soon. There are a metric ton of reasons why He Is Legend are fantastic but the most easily shared one is simple: They have and continue to fundamentally slap. Fantastic stuff.
-Jonathan Adams
Black Lava - Soul Furnace (progressive blackened death metal)

It's time for another Aussie death banger from Dan Presland and Ben Boyle, aka the masterminds behind such acts as A Million Dead Birds Laughing and Vipassi, though they may be better known for their separate work in Hadal Maw and Ne Obliviscaris. As staples of the Melbourne extreme scene, the duo have been writing together for well over a decade and fuse together seamlessly to create the molten core around which Black Lava generates its gravitational pull.
This isn't the usual grinding affair you might be expecting out of this sort of project. On the contrary, Soul Furnace is a solid flow of obsidian, polished and ink-black, pummeling you with punchy old-school death drumming and ripsaw strings that meander in and out of creepy blackened spoken-word passages. Tracks like "Baptised in Ice" and "Northern Dawn" also dip into groove metal territory, tying catchy fight riffs around you like the strings of a marionette and willing you to move against your will. It's easy to be ensorceled by such top-notch foundational death metal played with the cool confidence of veterans.
Black Lava aren't reinventing the wheel, but they're doing dark rituals to trap you inside and send you careening down an active volcano choked on ash and grit. In a year absolutely laden with some of the finest death metal we've seen in quite a while, Soul Furnace immediately sticks out as one of the most solid, indefatigable entries in the canon. It may be too late to make some year-end lists, but who fucking cares? Death metal forever.
-Calder Dougherty
FURTHER LISTENING

Lower Automation - Strobe Light Shadow Play (noise rock, mathcore)
The intertwining of noise rock and mathcore continues to be a fruitful development in weirdo underground circles, and this sasscore-imbued three-piece can create an interesting racket. Fans of old-school Daughters and The Number Twelve Looks Like You will have a blast with this one.
-JR
Epectase - N​é​croses (Extreme progressive metal)
Epectase's previous release, Astres, is one of black metal's most well kept secrets. It's not exactly behind lock and key but seems to enjoy a weird obscurity given how good it is. Maybe it's because it's so challenging, melding black, death, and heavy metal in bizarre configurations. N​é​croses, their newest release, is not going to be any easier to digest; the band have dug further into their sound and brought forth a blackened slab of tortured sound, adding kraut rock, darkwave, industrial, and even more influences into the mix. The result is, once again, an album that takes "extreme" and "progressive" seriously, pushing the boundaries on what seems possible.
-EK
High Command - Eclipse of the Dual Moons (Thrash Metal)
Thrash has a few modern champions, but few stand as tall and menacing as High Command. Since bursting onto the scene with their full-length debut back in 2019 there's been no stopping the juggernaut of bald-faced hero worship done to exquisite perfection that is High Command. Eclipse of the Dual Moons is a step up in every regard from their already excellent debut, and if you dig modern thrash that fully understands what makes the genre thoroughly enjoyable look no further than this record. Exceptional work.
-JA
Dysgnostic - Scar Echoes (dissodeath)
Another month, another fantastic dissodeath release through Transcending Obscurity. Dysgnostic approach the genre at an angle, flirting with progressive, thall-y flourishes while offering up one of the most full-bodied albums the microgenre has seen. And the drumming? Hate Eternal eat your heart out.
-CD
CIRCLES – THE STORIES WE ARE AFRAID OF VOL. 1 (DJENTY ALT METAL, AUS PROG)
DAVID MAXIM MICIC – BILO IV (PROG METAL, JAZZ FUSION)
INVALIDS – PERMANENCE (MATH ROCK)
LYKOTONON – PROMETHEAN PATHOLOGY (INDUSTRIAL BLACK METAL)
SAHG – BORN DEMON (HEAVY METAL)
SHE SAID DESTROY – BLEEDING FICTION II: CHILD OF TOMORROW (POST METAL)
TALLAH – GENERATION OF DANGER (EXTREME NU METAL, DEATHCORE)
ASTROSAUR – PORTALS (POST-METAL, PROG ROCK)
POLY-MATH – ZENITH (TECH PROG)
SKIN FAILURE – RADILLAC (PROGRESSIVE HARDCORE, CROSSOVER)
DREAM UNENDING – SONG OF SALVATION (PROGRESSIVE DEATH-DOOM)
ENVY – SEIMEI (POST HARDCORE)
KURUSHIMI – RETURN III: DEATH (PROGRESSIVE FUNERAL DOOM)
LAMENTATIONS – PASSION OF DEPRESSION (PROG METAL, PROG DEATH)
BACKXWASH – HIS HAPPINESS SHALL COME FIRST EVEN THOUGH WE ARE SUFFERING (INDUSTRIAL HIP-HOP, HORROCORE)
DISILLUSION – AYAM (PROGRESSIVE METAL, MELODEATH)
EF – WE SALUTE YOU, YOU AND YOU! (POST ROCK)
FLIEGE – ONE DAY THEY'LL WONDER WHAT HAPPENED HERE (WEIRDO BLACK METAL)
INTECHNICOLOUR – MIDNIGHT HEAVYWEIGHT (ALT ROCK)
THE SAWTOOTH GRIN – GOOD. (MATH GRIND)