Professional artist Tom Ford may be better known to our UK readers as an editorial illustrator for The Independent, but when the sun goes down, night-Tom is a one man music machine. Cities Underground is his no-holds-barred, genre-agnostic project that revels in dancy, jovial, heavy tunes built to drive away the grind of daily life. Read the interview and check out Snicklewharfburger, streaming in full a day early below!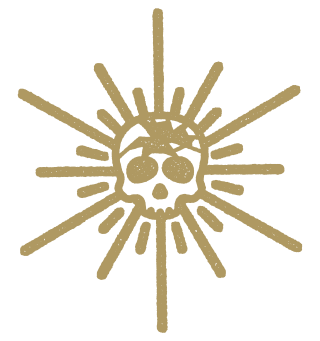 Let's tackle the burning question on everyone's mind. What exactly is a Snicklewharfburger and where did it come from?
It's something that previously returned zilch on a Google search, and now… returns 4 unfortunate musical links.
The word itself is based on the Snickelways of York, UK (where I went to Uni), which are small footpaths throughout the city - formed in the medieval times - that would lead you down back alleys full of sordid visuals, weird sounds and unpleasant smells. One would tolerate the general peril in hope of a short-cut to their destination; it seemed a fitting title for this music!
You've called it cartoon metal. The album itself draws from a huge, disparate web of influences like progressive metal, drum & bass, hyperpop, deathcore, and funk to create an electric, infectious successor to projects like Devin Townsend's Ziltoid and Dethklok. To my ear, it all works together pretty seamlessly. How long did it take to develop? Any scrapped drill tracks?
The drill demo folder will remain encrypted (even to me) until I can get that one to work.
"Lovely Day" came first and it came out really quickly - in spite of my best efforts - and with it there, on the table, fully formed, all it's genres staring back at me, I decided to give it some siblings following the same DNA of 'up to 11 all the time and no genre off the table'.
I'm pleased the DT influence came across, Deconstruction is a 21st-century composition masterpiece in my eyes!
You're just one person, right? It's safe to say that all instruments and vocals, real and imagined, are written and performed by you on the record?
Night-Tom generally likes to make the music, then day-Tom tries to ruthlessly edit it.
Guitar and bass is what I can physically play so that is all recorded by me and everything else instrumental is programmed because I can't afford session drums and strings…yet.
The vocals originally start life as terrible, terrible vocal takes by me (even the Babymetal ones), and then there are so many good freelancers on Fiverr that I've been able to find people to realise those parts with commercial use. It's a cool ecosystem on there.
How long did it take to record Snicklewharfburger?
It started with "Lovely Day" around the beginning of 2022, then "Worker" at the end of Spring, then I just KEPT coming back to writing more tunes throughout the year until I had a body of completed mixes by mid-October. All-in, the best part of a year on-and-off I reckon.
The songwriting of a track can generally be done in a couple days and then it's just a constant, painful, spiral of despair iterating on the mixes before handing over to George for mastering.
Thematically, the album is pretty cheeky and loves poking at things like the doldrums of capitalism and evangelism. What else grinds your gears?
When you have to enter every part of your CV into a company's online CV portal. And then the page refreshes before you save.
You also do all your own art.
I do. That music video for "Lovely Day" nearly killed me.
Is there anything you can't do? Don't be modest.
As previously alluded to, I can't really do vocals that I'm satisfied with…yet. So I'll be continuing to pluck from the Fiverr ecosystem for a while. I also haven't ever made any proper money from my music, so there's that.
This is your debut release. What's next for Cities Underground?
I'll do a few more singles over the course of 2023 for sure. This project is essentially like my ships-in-bottles-on-the-mantelpiece, where it'll never be done until I'm gone. I'll keep obsessing over the process of making the ships and that will lead to more experiments with genres. Maybe I will eventually unlock the drill folder…
Snicklewharfburger releases digitally tomorrow, with a cassette release through Neverdeath Records later next month.