After gaining a cult following with 2019's Gloomlord and capturing the attention of the tastemakers at 20 Buck Spin, Florida death-doom acolytes Worm crafted something of a breakthrough last year with Foreverglade. Where Gloomlord poured and set a firm foundation of the band's melding of funeral doom and black metal, Foreverglade was the elevation of the form into more majestical realms of ethereal atmospheres and melodic guitar work. Surely, Foreverglade's successes benefitted by the tandem release from labelmates Dream Unending (Tomb Mold, Innumerable Forms) who offered a similarly fanciful take on the death doom genre, but nevertheless, Worm stood apart on their own merits.
It's so interesting that a year later, Worm find themselves on the precipice of a major evolution within their discography in step with Dream Unending through 20 Buck Spin, perhaps banking on a repeat of last year's autumnal shifts rising the tides on the acts who have demonstrated some parallel thinking on how to drive the genre forward. Where Dream Unending's second chapter seems to be a calculated sequel, Worm offer a four-track EP with some Foreverglade B-sides updated by new guitarist Phil Tougas (of First Fragment and VoidCeremony, among others) and some thoughtful hints towards the band's future.
The deep lore held within the album's promotional materials reveals that Bluenothing's title track was intended to be an epic finale of Foreverglade. Who's to say why the band decided to give the track the axe, as it is no less masterful than any of the finalized tracks on that record. Opening with triumphant traditional metal dueling leads, this sludgy dirge of a track carries ornate bells and choirs to accent the occasional prog metal fills and blackened blasts to give the affair a fitting occult aesthetic that doesn't forsake riffing in order to navel-gaze beyond what's necessary. Tougas soars, naturally, with expressive leads and solos throughout the eleven-minute journey.
"Centuries of Ooze II" is the sequel to what was actually the finale for Foreverglade, again making plentiful use of Tougas' technical guitar wizardry atop inspired doom riffing and esoteric synthesizers. The clean singing at the end of the track is subdued, but is a welcomed page in the diverse Worm playbook. These two tracks are more or less stylistically consistent, but valuable and absolutely worth the second look beyond Foreverglade's runtime.
The following two tracks pivot somewhat. "Invoking The Dragonmoon" is an indulgent transition track, with an extended spiraling guitar solo dancing over a soundtrack of epic synthesizers and the crackling of fire. "Shadowside Kingdom" is a more fully-fleshed track that is firmly in the realm of progressive and epic black metal that brings to mind recent revelations from Stormkeep, among others. It's fun to hear Worm pick up the tempo and revel in the excess of black metal's more adventurous reaches to balance out their tendency towards more ponderous paces.
It's probably difficult to justify the hype over just four tracks, which come with the labor and costs associated with recording, production,  commissioning such detailed and striking artwork for the release, publicity, and printing up merch and physical copies of the release. Releases such as this are rarely worthwhile, but Bluenothing serves Worm well as an opportunity to lay the ghosts of Foreverglade to rest while offering a glimpse at the band's future, which is shaping up to perhaps be more grandiose than before. The inclusion of Tougas to the band's fold is a revelation, and a broader set of influences might make Worm a household name in this corner of the genre by the time the next full-length comes our way.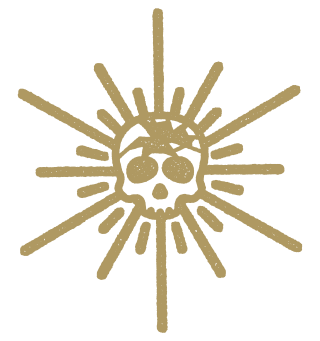 Worm's Bluenothing is out October 28th via 20 Buck Spin. Pre-orders are available at this location.