If you've not paid attention, the whole vinyl situation is looking dire. The latest word is that, unless a band gets their album turned in for an order in the next couple of months, it's not coming out on the format until 2023. According to Variety, it's partially thanks to artists like Adele and Ed Sheeran who overwhelmed the already overwhelmed vinyl industry with massive orders for units, and natch, they get top priority and leave small labels and independent artists with scraps.
It's alarming how the demand for vinyl simply cannot be met, and the bottleneck can certainly get worse. Hopefully over the next year or two we can see more pressing plants pop up to help, but we're in the midst of a global supply chain shortage. The machines need to get made somehow, and the plastic's gotta be produced, and it's more expensive to come by the materials. On top of (and because of) this, we're now paying upwards of $50 for a 2xLP. But I'm a chump and I'll pay it for the right album; I recently paid $80 for Frontierer's Oxidized, and half of that cost is from overseas shipping. The hobby is starting to hurt, and it's a bummer.
I would absolutely recommend reading the aforementioned Variety article on the vinyl industry, as it provides loads of insight into the current status of vinyl. Once through, check out some highlights from Heavy Blog staff's shelves obtained in the last month below, including records from Between the Buried and Me, Full of Hell, Abominable Putridity, and Christian Cosentino.

Between the Buried and Me – Colors II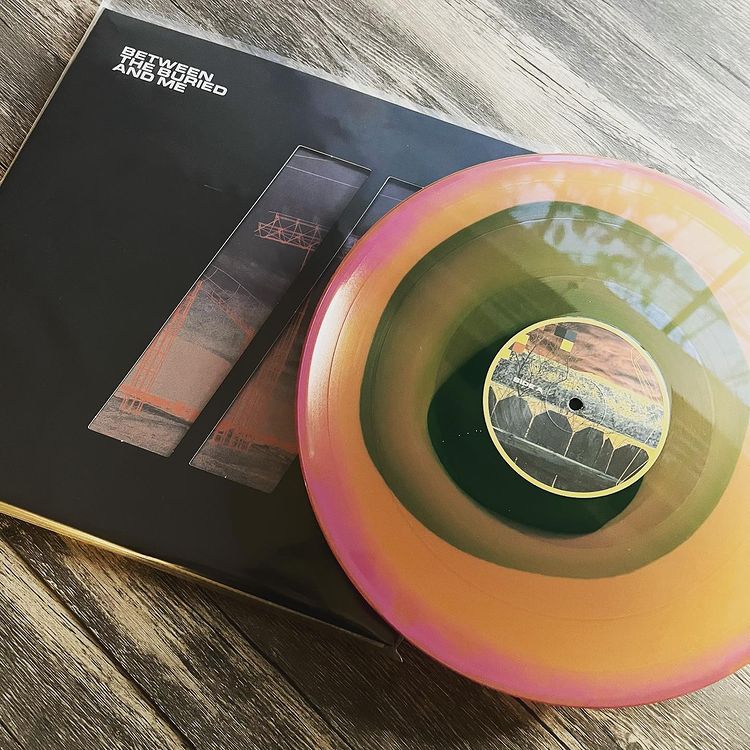 Black Inside Grimace Purple Inside Transparent Highlighter Yellow [Retail exclusive]
Sea Blue/Black Galaxy; Limited to 1500 [BTBAM exclusive]
Sumerian Records
Swept up in high passions on the day that Between the Buried and Me announced their sequel to their 2007 opus Colors, I ended up pre-ordering several different variants of the album at various locations; Amazon (which I would later cancel), BTBAM's official store, and my local independent record store. I don't make a habit of variant collecting, but the idea of Colors II was exciting and I already owned four copies of Colors, so I wanted to go all-in on the album pre-order. Turns out the album is fine, and I'm not upset about owning two different variants of this.
Let's look at each of these variants, shall we? First up is the Black/Purple/Yellow retail exclusive (above, left). The distribution that serves my local record store must be wonky, because I anticipated receiving an entirely different indie record store exclusive. I'm not mad though, because this variant came out looking better than the mockups, which is a rarity. The colors blended beautifully in somehow unexpected ways (yellow and purple are gonna make a brownish color, ya goofballs) and I'm loving the way it looks.
On the other hand, the BTBAM exclusive (above, right and center) doesn't look nearly as cool as the mockup and actually looks somewhat black unless you're in the right light, which is a disappointment compared to the mockup. Honestly, if you're upset at missing this one, I wouldn't sweat it much. Standard issues abound: quiet portions of the record, particularly the intro track, are highly susceptible to surface noise and pops, and incidentally, the BTBAM exclusive has more of these artifacts. It could very well be random!
One quirk of this release that I did enjoy is that the die cut "II" on the cover allows for some artistic expression on behalf of the listener, and allows for swapping of inner sleeves to change that flash of art. It's inconsequential, but cute. Overall, the pressing run of Colors II appears to be standard fare if not a little on the noisy side.
Retail Exclusive: Available at most record stores and online at: Rough Trade | Discogs
BTBAM Exclusive: Sold out, sorry! Other variants may be available: Merch Bar | BTBAM | Sumerian | Discogs
-Jimmy Rowe
Full of Hell – Garden of Burning Apparitions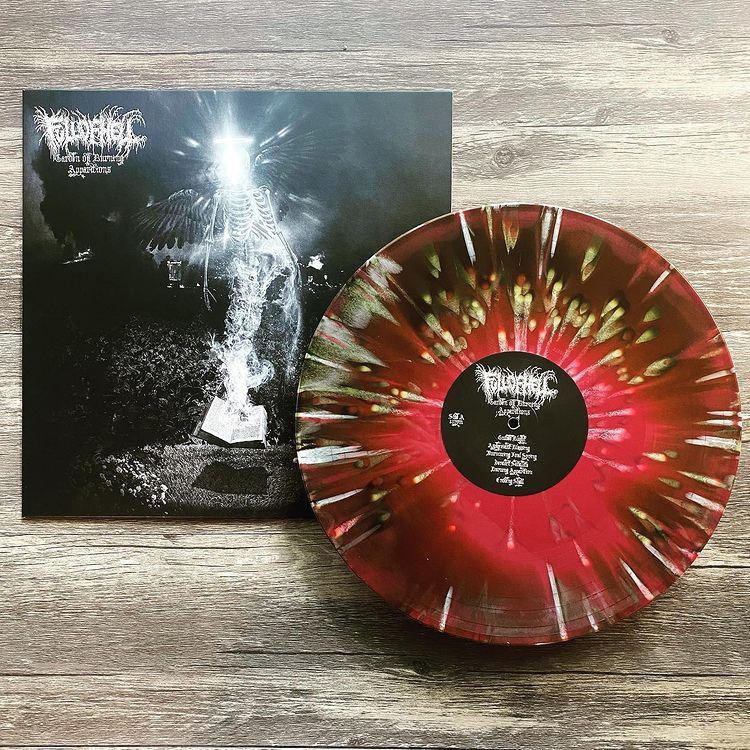 Oxblood, Swamp Green and Silver Tri Color Merge with Splatter; Limited to 247
Relapse Records
I've made it this far by grabbing the solo and collaborative full-length discography from noise/grindcore act Full of Hell (let's not get into the splits and EPs right now), and their 2021 Relapse Records sophomore release (fifth as a single band) Garden of Burning Apparitions was a no-brainer. When pre-orders dropped, I got a notification on my phone and I was blindsided by the frenzy that knocked the Relapse webstore offline. I sat in a Buffalo Wild Wings parking lot, hands sweaty, hunched over my phone and constantly refreshing in the hopes of grabbing one of the more limited pressings. As fate would have it, I missed out on the most limited run, but scored this second-tier tri-color merge with splatter, and it's absolutely gorgeous.

Without context, you'd might assume this record was a 2xLP due to the variation in color of the record, but the A/B sides are different colors. Gorgeous product, as expected from Relapse Records and their product designer Drew Juergens. It's easily one of the most gorgeous pressings I've purchased this year. As far as sound goes, I've no complaints; it's Relapse Records, and they're consistent. Loud and noisy records are going to sound good on vinyl, and if there were any noticeable artifacts, pops, or noise, it blended right in with the cacophony of this one, only to be revealed in the dead silence before and after proper tracks. Presentation and packaging is simple enough for a grindcore record, with a printed inner sleeve and an uncomplicated outer sleeve. Again, hard to be disappointed with a tentpole Relapse Records release such as this, and any Full of Hell release is a must-have, in my opinion, and worth nabbing early.
Sold Out at Relapse Records (sorry! — other variants available) | Discogs
-JR
Abominable Putridity – Parasitic Metamorphosis Manifestation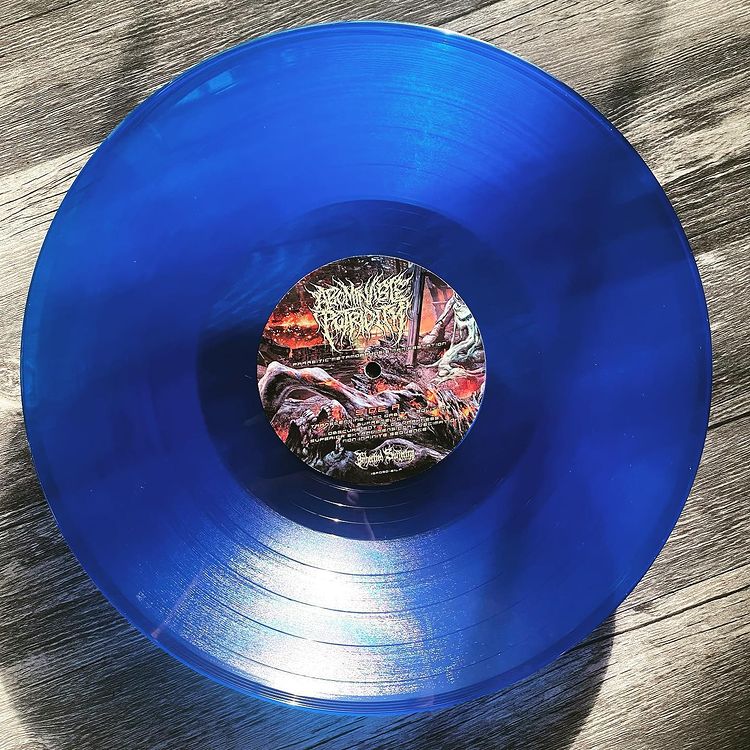 Translucent Blue; Limited to 200 copies
Inherited Suffering
I've been a longtime fan of Abominable Putridity. One might say they're Baby's First Slam Band, bridging the reptilian brutality of slam and brutal death with tech death's gloss and sheen. It was certainly among the first brutal death metal bands to keep my attention in the long term, with their album Anomalies of Artificial Origin being one of my favorites of 2012, and since cemented their name as highly influential in the genre. It's a death metal standout for me, but I've never been able to purchase the record physically. Not that it's been historically inaccessible, but because for some reason, the artwork went from a gorgeous Par Olofsson masterpiece to, well, whatever the hell this is. I was so disappointed the band abandoned the original artwork to the record that I simply could not purchase the vinyl so long as it has the ugly alternative cover. Yes, this has been a serious peeve of mine that I've carried for a decade.
Now at long last, the band have returned with their second full-length LP, which we've all greatly enjoyed here. On top of the music just being excellent cybernetic groove-oriented brutal death metal, the artwork is among the best I've seen this year in the style, and with a limited pressing of translucent blue to match, I had to jump at the opportunity.
This is the first time I've purchased anything from Russian label Inherited Suffering, so I had no clue what to expect. Even back in Q1 of the year, $30 for a single LP was a big ask (and is unfortunately fast becoming a common occurrence), but $15 for shipping from Russia wasn't a bad deal at all, especially compared to the outrageous shipping from the UK at the moment. All told, this piece cost $45 for a single LP, which is on the high end, but spoiler alert: someone else is listing this record for $90 on Discogs, as expected.
Shipping was uneventful; patience is to be expected and the label provided a tracking number. The record arrived in fine condition despite the international shipping odds; the jacket was unbent and the record itself was unwarped. The jacket has a glossy sleeve that is as proud of this artwork as it should be. A printed inner sleeve features further cover art detail and liner notes. There were seam splits on the inner sleeve and jacket, and that's okay; people who complain about this inevitability are babies.
Further, the album sounds great. Death metal seems to sound consistently great on vinyl, and the production and mastering on this record sounds incredible. The record is on the thinner side for $30, but there's no issue here. I'm not sure I was worried about importing a record from Russia at such an affordable price, but I would recommend any purchase from Inherited Suffering. If not for the records, then the possibility of getting strange inquiries from your postal worker about why you're buying records from Russia (yes, this actually happened).
SOLD OUT at Inherited Suffering Records (Sorry!) | Discogs

-JR
Christian Cosentino – Lawn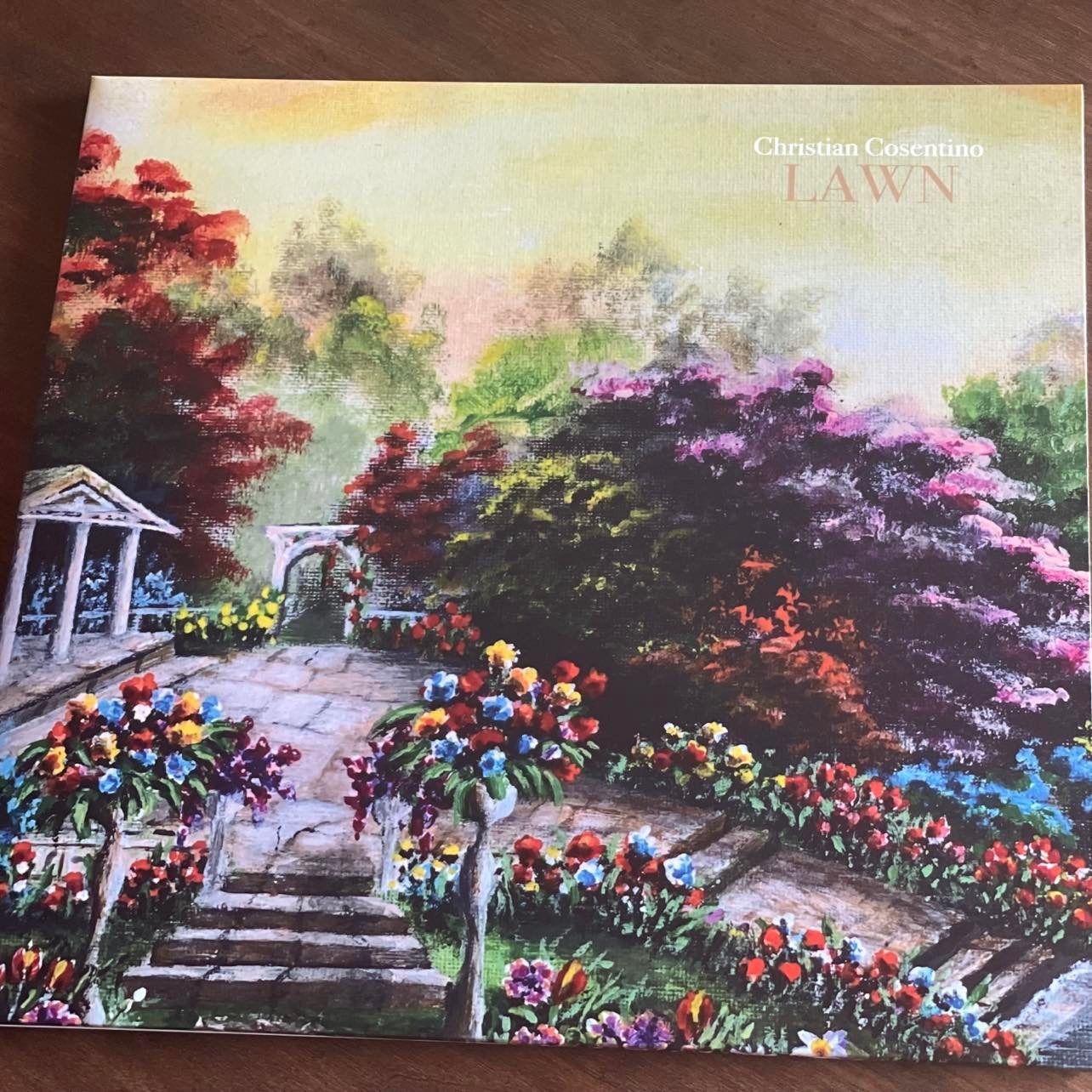 Bright Green  / First Pressing
Phantom Lure
Christian Cosentino is an esteemed and wholesome name if you're into the makings of symphonic and progressive black metal. Feeding into the narrative that black metal is less about frostbitten winter and more about misty springtime with dancing rays of sun through bumbling foliage. Lawn is an album that feels fresh and as colorful as the artwork implies. It has an undeniable ethereal black metal quality but the elementary colours and the personal nature of the music breathes life into otherwise unrelenting music. Far from the only example of this brightness in black metal but certainly one of the least hesitant. Almost irreverent.

Due to the limited exposure of the music, an edifice of music produced for one's catharsis rather than commercial viability, you may construe a lack of support. That makes this vinyl release quite special. Thankfully, this enthusiastic, colorful black metal endeavor resonated with people. Piano bounces along the track listing. The energy is infectious over its runtime. The warm atmosphere makes Christian sound like they're pouring music right into your ears.
After a limited CD release and many months on Bandcamp, Phantom Lure ended up pressing an undisclosed amount of the album on a wonderful 180 gram green vinyl. Housed in a sleeve with a single insert and mastered to perfection. Not a single noticeable flaw. The insert features the uncropped album art with a nod to the continuing art on the B-side of the record. I'm not a particularly avid record collector but this album was a treat on every front. I want more but that's always the ideal response to music. To be so endlessly satisfied. I eagerly await their next effort. Hoping there's enough experiences for them to tap into and enough willingness to put it to form once more.

The record was affordable enough. The pressing and music was one of a kind enough and limited enough to dismiss any notion of price. Worth its weight in gold and worth the wait to boot. My biggest disappointment is the lack of lyrics. WIth such an intimate note of personal experience, I was holding out for a deeper dive into the expressions of the music. The note that demands further curiosity is as follows: "This album is a document of my childhood emotions written in (and through the "lens" of) my last year of high-school." I highly recommend checking this album out. If not for the undeniability of the music, then for its charm. A darling release for the year.
Naturally, as we go into winter (especially here in Canada) and vaccination rates chip away at those public health mandates; the warm presence of an aesthetically archetypal type of music lines up perfectly with the few warm days the year has left. Sun poking through intermittent weather one last time as our society drip-melts the cold grasp COVID has had on us. We're still stuck in the ice but the light warms my core. Encroaching spring, even with a winter ahead of us. Blessed are we to have Christian Cosentino's Lawn to usher in the season.
Available now at Phantom Lure Records  | Discogs
-Cody Dilullo