For those who missed our last installment, We post bi-weekly updates covering what the staff at Heavy Blog have been spinning. Given the amount of time we spend on the site telling you about music that doesn't fall neatly into the confines of conventional "metal," it should come as no surprise that many of us on staff have pretty eclectic tastes that range far outside of metal and heavy things. We can't post about all of them at length here, but we can at least let you know what we're actually listening to. For those that would like to participate as well (and please do) can drop a 3×3 in the comments, which can be made with tapmusic.net through your last.fm account, or create it manually with topsters.net. Also, consider these posts open threads to talk about pretty much anything music-related. We love hearing all of your thoughts on this stuff and love being able to nerd out along with all of you.
Scott Murphy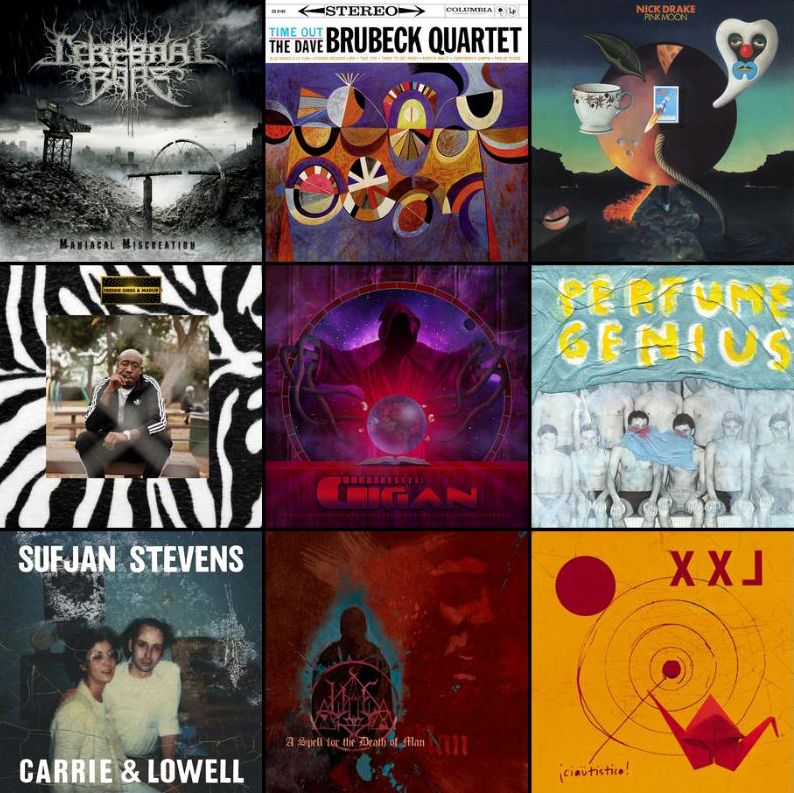 Cerebral Bore – Maniacal Miscreation
Dave Brubek Quartet – Time Out
Nick Drake – Pink Moon
Freddie Gibbs & Madlib – Piñata
Gigan – Multi-Dimensional Fractal-Sorcery and Super Science
Perfume Genius – Put Your Back N 2 It
Sufjan Stevens – Carrie & Lowell
Woe – A Spell for the Death of Man
XXL – ¡Ciaütistico!
Jordan Jerabek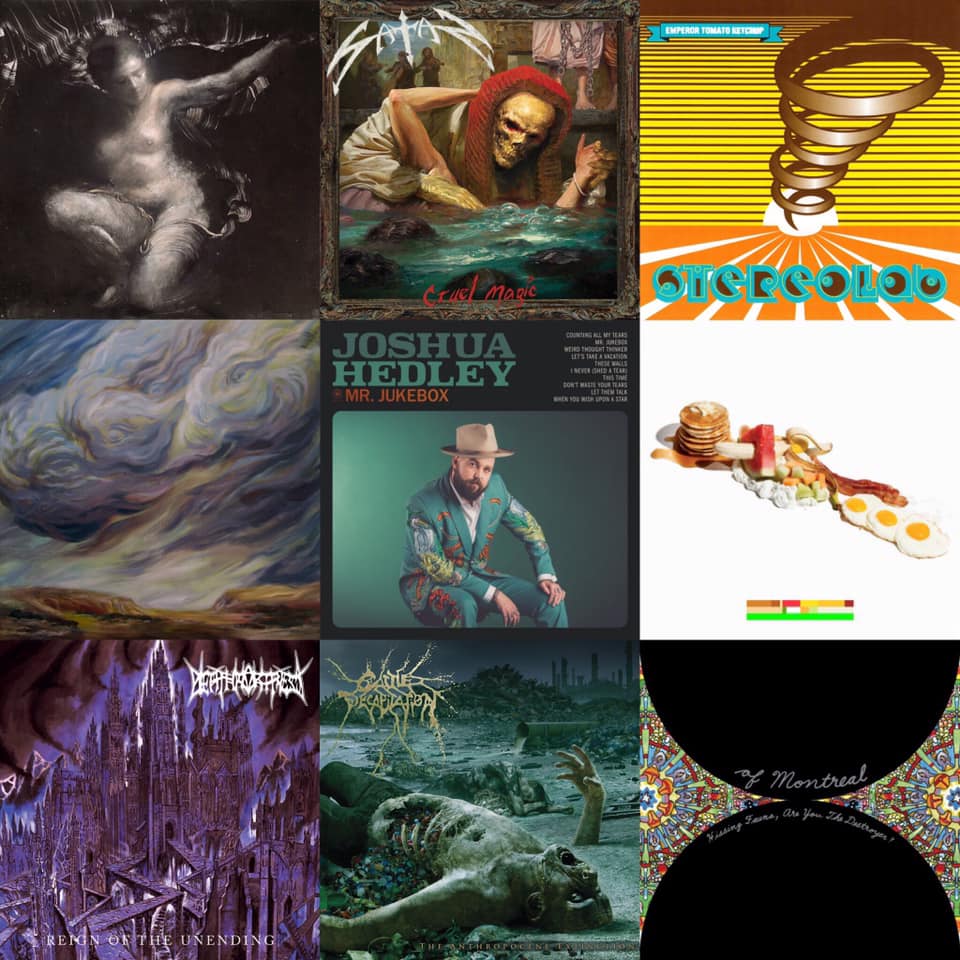 Serpent Column – Invicta
Satan – Cruel Magic
Stereolab – Emperor Tomato Ketchup
Chapel of Disease – .​.​.​And As We Have Seen The Storm, We Have Embraced The Eye
Joshua Hedley – Mr. Jukebox
Battles – La Di Da Di
Death Fortress – Reign of the Unending
Cattle Decapitation – The Anthropocene Extinction
Of Montreal – Hissing Fauna, Are You the Destroyer?
Simon Handmaker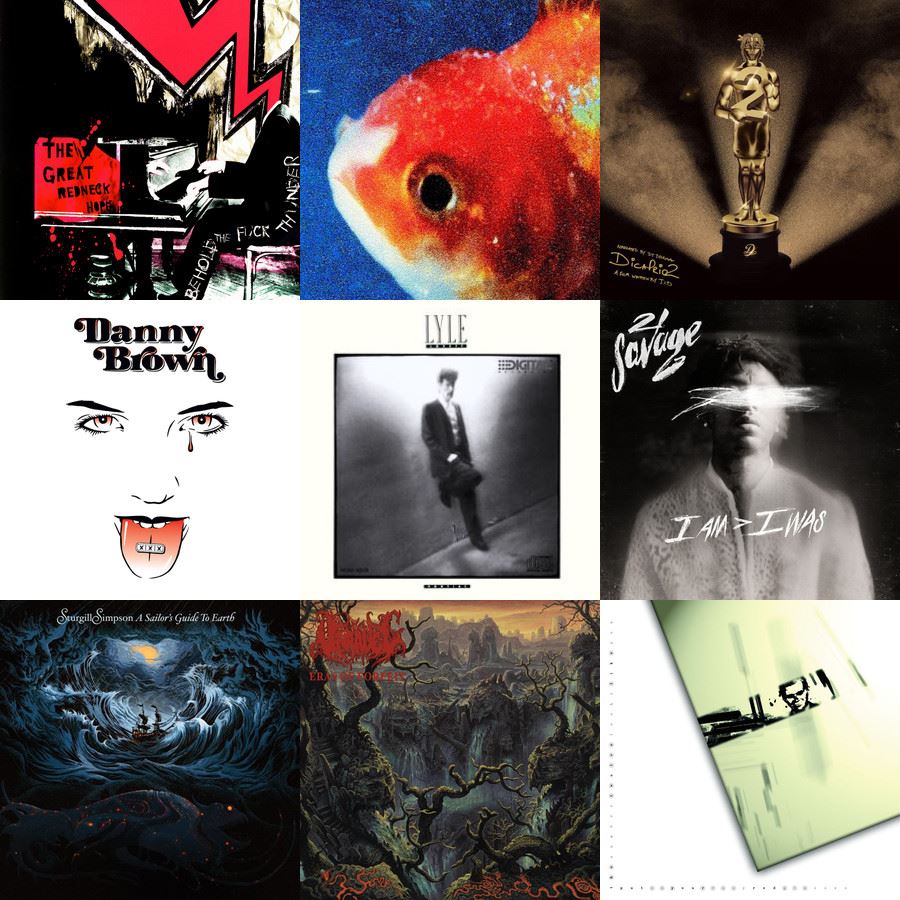 The Great Redneck Hope – Behold the Fuck Thunder
Vince Staples – Big Fish Theory
JID – Dicaprio 2
Danny Brown – XXX
Lyle Lovett – Pontiac
21 Savage – i am > i was
Sturgill Simpson – A Sailor's Guide to Earth
Unravel – Eras of Forfeit
The Number 12 Looks Like You – Put On Your Rosy Red Glasses
Colin Kauffman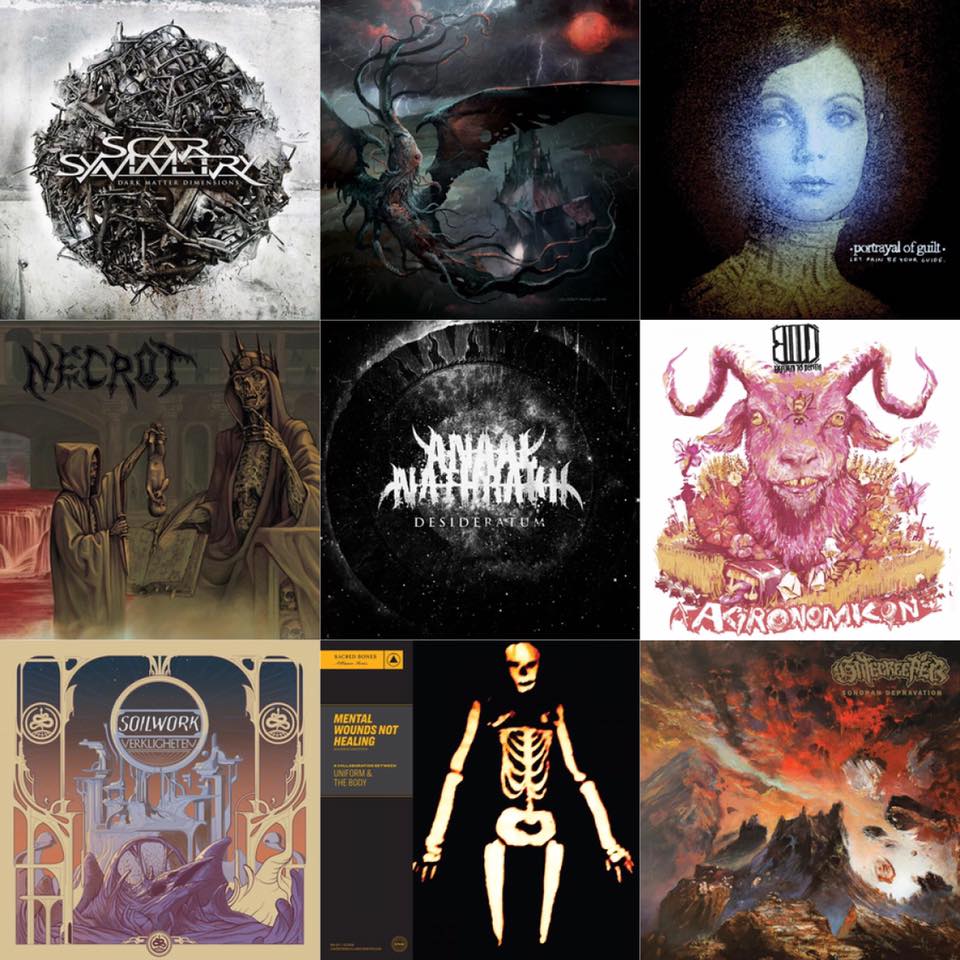 Scar Symmetry – Dark Matter Dimensions
Sulphur Aeon – The Scythe of Cosmic Chaos
Portrayal of Guilt – Let Pain Be Your Guide
Necrot – Blood Offerings
Anaal Nathrakh – Desideratum
Beaten To Death – Agronomicon
Soilwork – Verkligheten
The Body / Uniform – Mental Wounds Not Healing
Gatecreeper – Sonoran Deprivation
Eden Kupermintz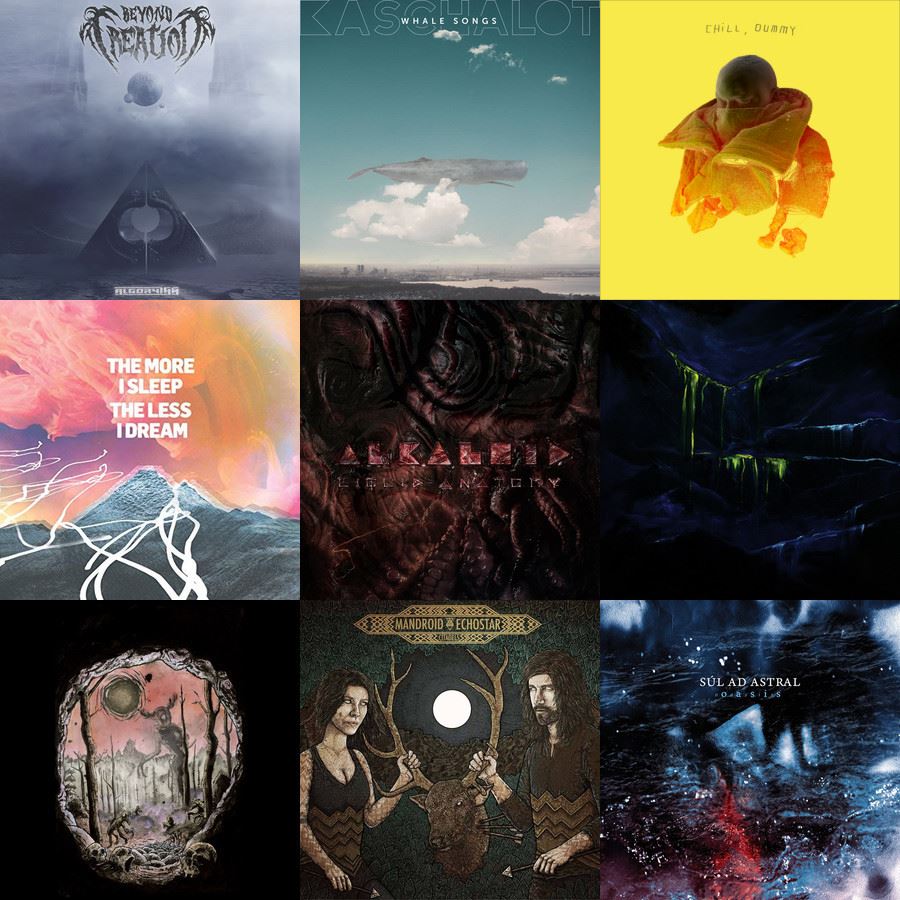 Beyond Creation – Algorythm
Kaschalot – Whale Song
P.O.S – chill, dummy
We Were Promised Jetpacks – The More I Sleep The Less I Dream
Alkaloid – Liquid Anatomy
Astronoid – Astronoid
Lost Tribes of the Moon – Lost Tribes of the Moon
Mandroid Echostar – Citadels
Sul ad Astral – Oasis
Noyan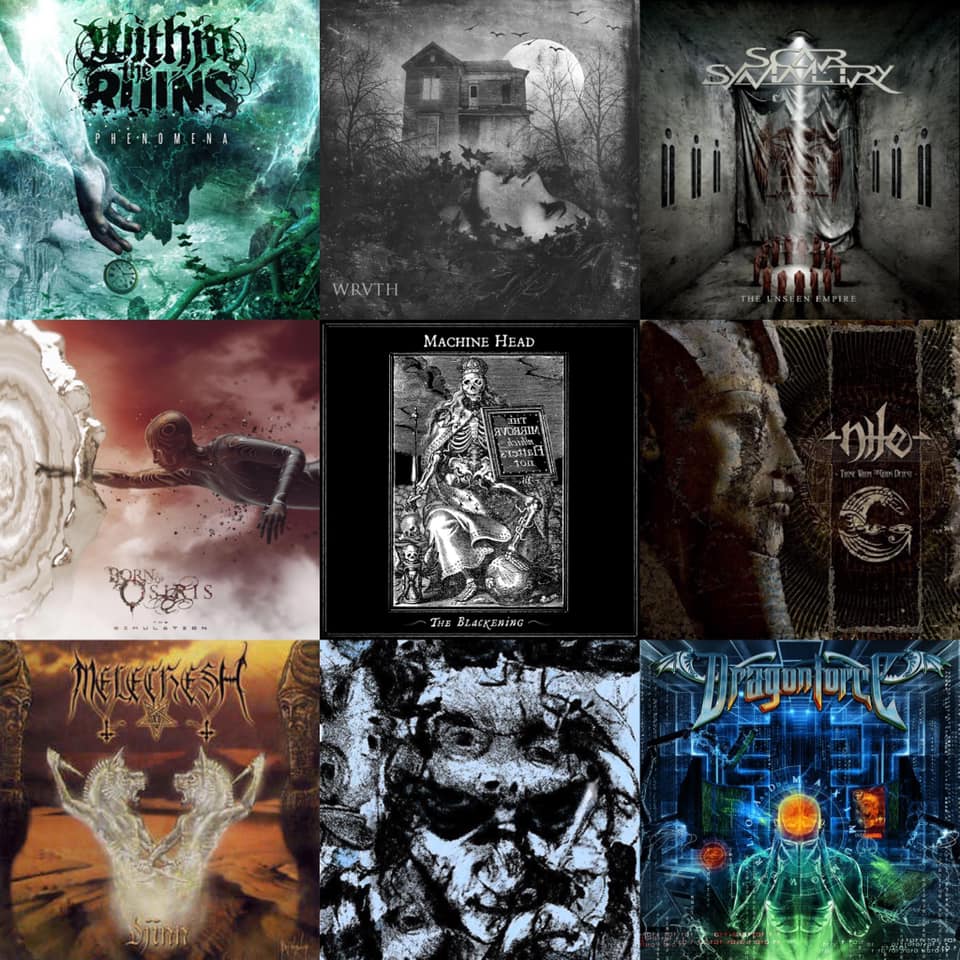 Within the Ruins – Phenomena
WRVTH – WRVTH
Scar Symmetry – The Unseen Empire
Born of Osiris – The Simulation
Machine Head – The Blackening
Nile – Those Whom The Gods Detest
Melechesh – Djinn
A Novelist – Portraits
Dragonforce – Maximum Overload
Pete Williams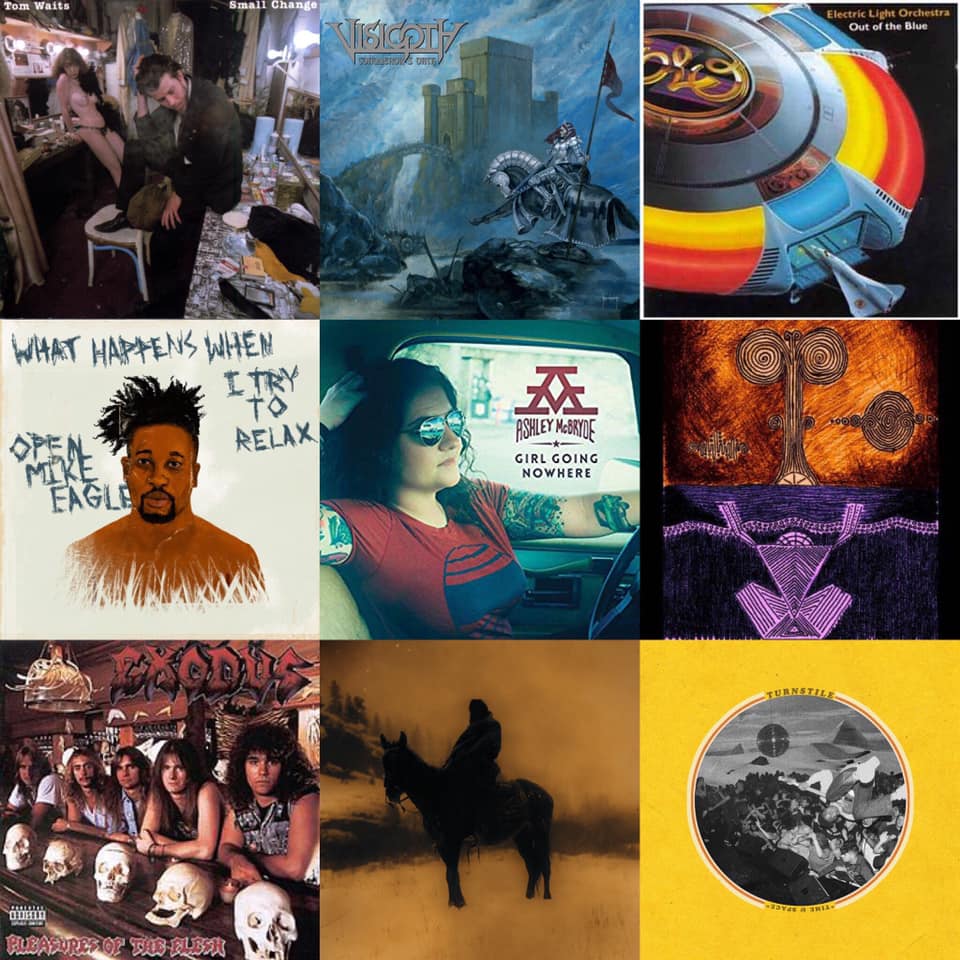 Tom Waits-Small Change
Visigoth-Conqueror's Oath
Electric Light Orchestra-Out of the Blue
Open Mike Eagle-What Happens When I Try to Relax
Ashley McBryde-Girl Going Nowhere
Psython-The Last Days of the Good Times
Exodus-Pleasures of the Flesh
Wayfarer-World's Blood
Turnstile-Time and Space
Trent Bos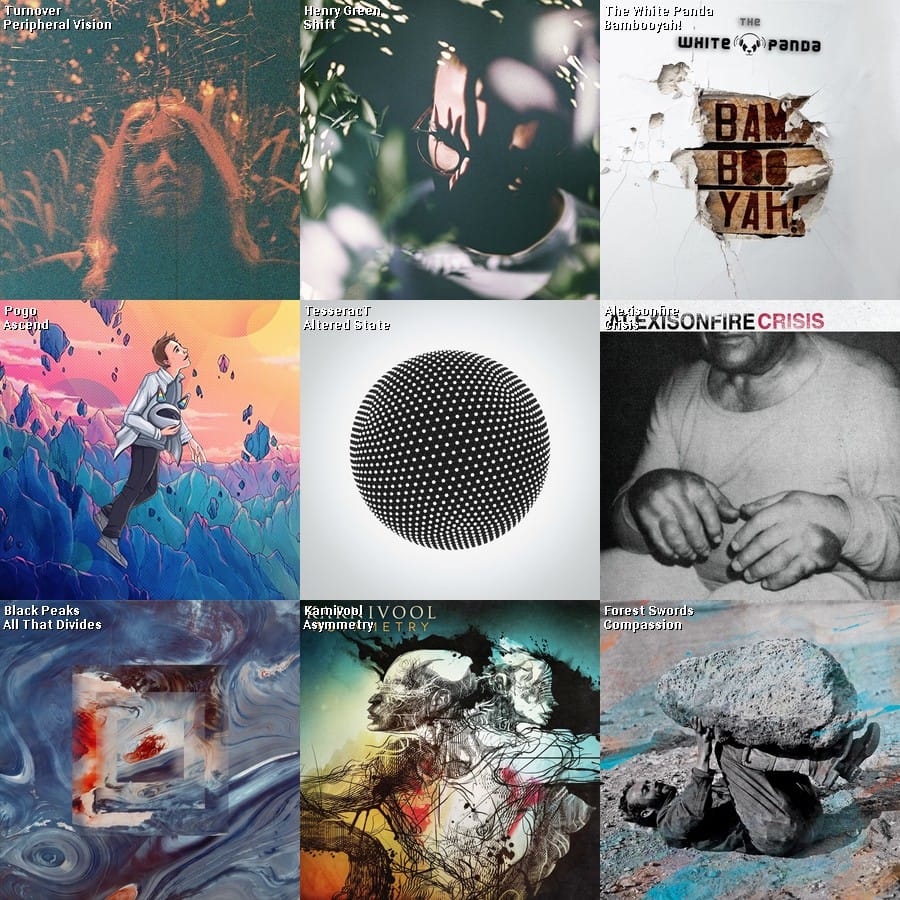 Turnover – Peripheral Vision
Henry Green – Shift
The White Panda – Bambooyah
Pogo – Ascend
Tesseract – Altered State
Alexisonfire – Crisis
Black Peaks – All That Divides
Karnivool – Asymmetry
Forest Swords – Compassion
Joshua Bulleid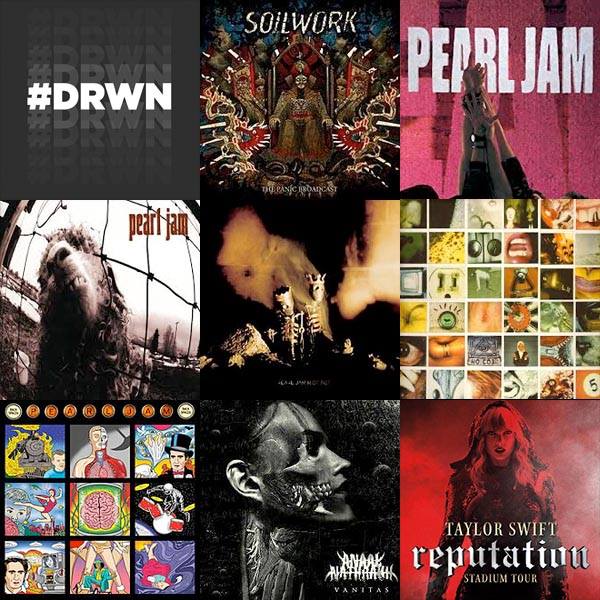 Darwin – #DRWN
Soilwork – The Panic Broadcast
Pearl Jam – Ten
Pearl Jam – Vs.
Pearl Jam – Riot Act
Pearl Jam – No Code
Pearl Jam – Backspacer
Anaal Nathrakh – Vanitas
Taylor Swift – Reputation: Stadium Tour
Jonathan Adams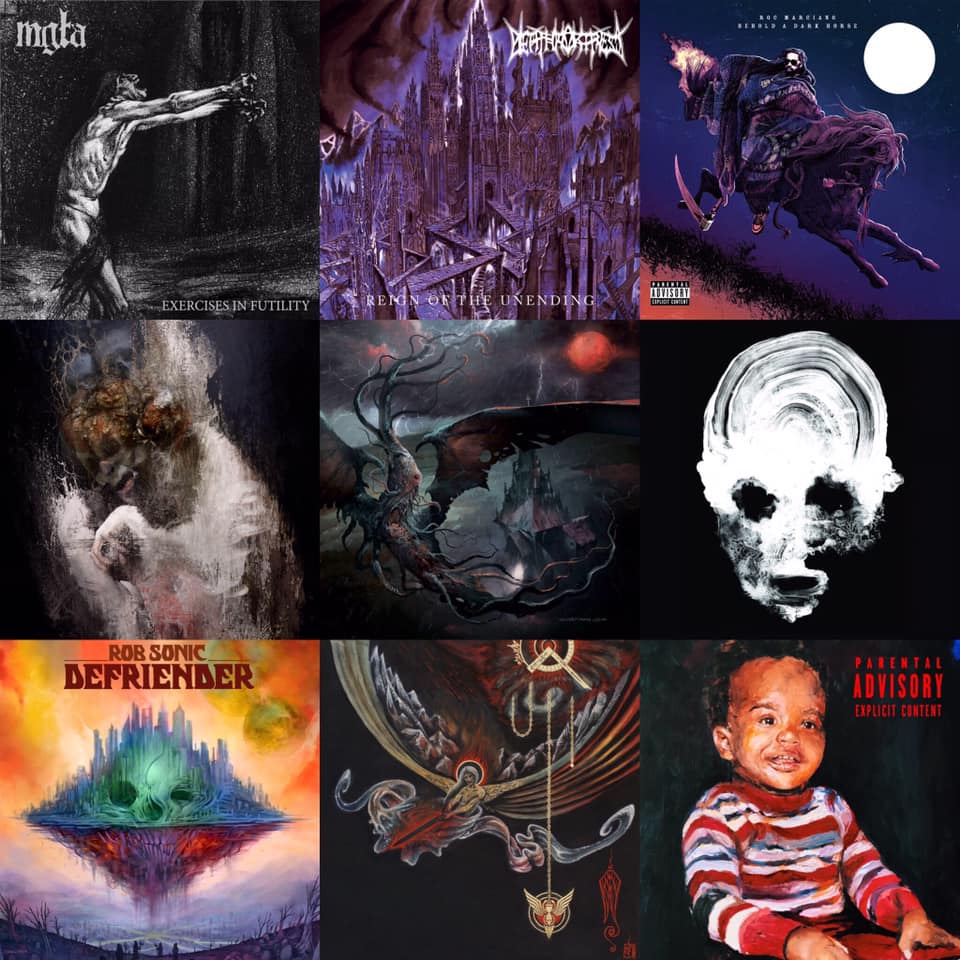 Mgła – Exercises In Futility
Death Fortress – Reign of the Unending
Roc Marciano – Behold a Dark Horse
Acathexis – S/T
Sulphur Aeon – The Scythe of Cosmic Chaos
Daughters – You Won't Get What You Want
Rob Sonic – Defriender
Gudveiki – Vængför
Benny the Butcher – Tana Talk 3