photo: Fernando Chuy
Editor's Note: You may recognize the author of this piece as our good friend and once-regular contributor Bill Fetty. If you read enough of his pieces it should come as little surprise that his background is in community organizing, labor organization, and social justice, which he's done so for many years in his native Wisconsin. Since taking a leave-of-absence from us in 2017, Bill has spent time in a few places in very different parts of the world, eventually landing in Guatemala. Given the distinctly American/European bent of this site and our staff, we love having the opportunity to get a perspective on metal and music from another part of this big world. In particular, with Guatemala mostly only getting notice in the US recently as one of the Central American countries lumped into the "migrant caravan" story and painted with the broad brush of violence and instability, it's crucial to be able to see events like the one described below offering a window into life going on as normal, filled with people who love metal and live music just like so many do here and around the world. It's a vital perspective to remember as so many continue to demonize and other-ize any and all people who are different and not born here.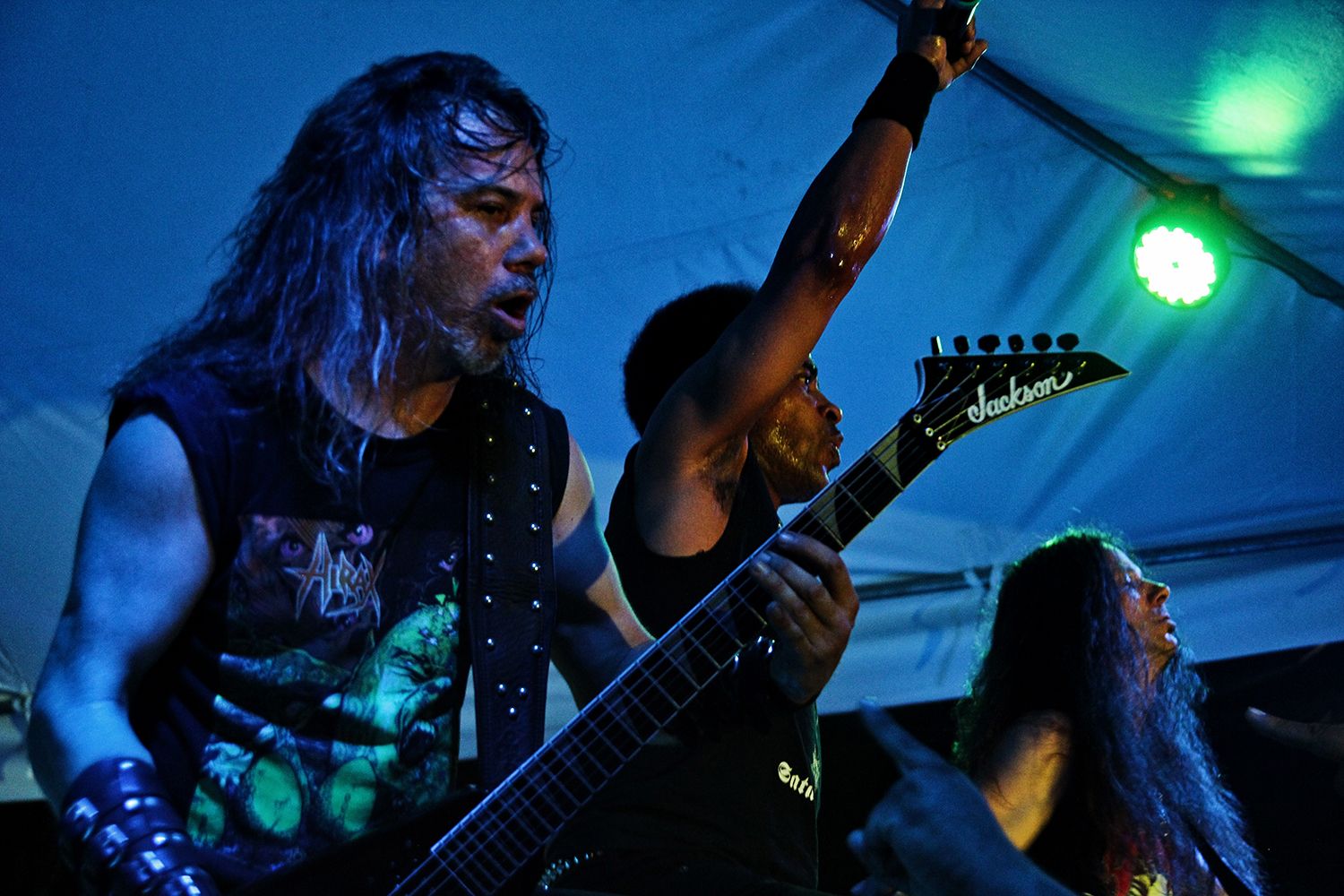 Photo: Bill Fetty
For nearly 35 years Hirax have been plying their trade of sinister thrash metal with rotating lineups, and now, for the first time in their long career, they visited Guatemala. When considering the most metal-starved fanbases in the world, this small Central American nation is rarely recognized but this is a place where the fans are the embodiment of fanatics, gobbling up every note of music from other countries that comes in front of them.
The California thrash legends are performing on this night with no fewer than five local support acts ranging from stoner metal to hardcore punk. This is a show that will display the entire gamut of what Guatemalan heavy music is when the rest of the world isn't looking… but perhaps they should. We had the chance to speak with them ahead of their first appearance in Guatemala City about what the ride has been like over all these years and their anticipation for performing in front of an absolutely rabid and rapt audience who rarely have the opportunity to showcase their fanaticism for metal and heavy music, in general.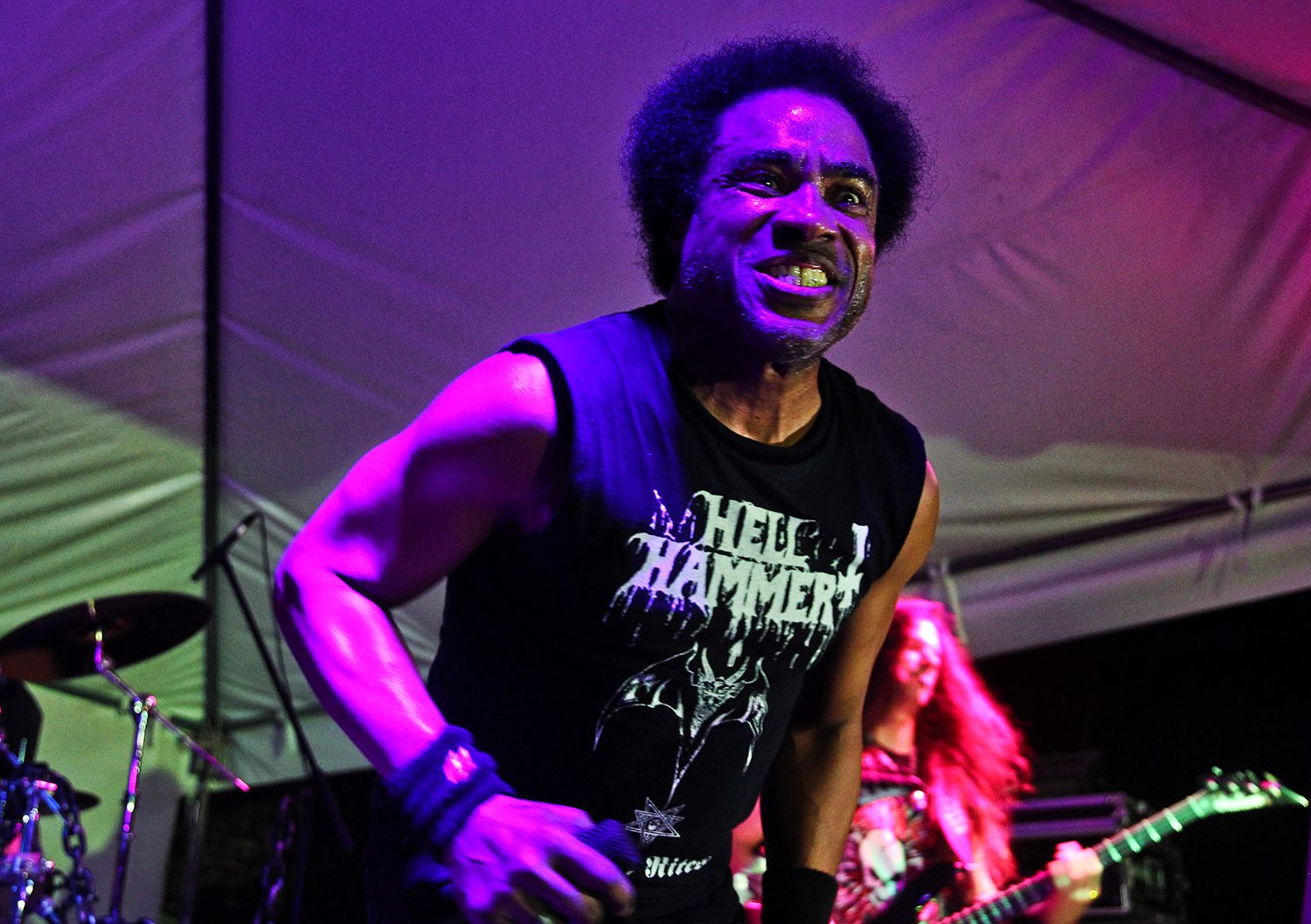 Photo: Bill Fetty
HB: Why Guatemala?
Hirax: Why not? We're lucky to be here. Especially with the way the world is right now, the climate with different shit that's going on but we've always liked going to different countries and trying to start our thing there. You come through once and then come through again and the audiences grow. We just love growing things on the road. We like intimate countries where we can really get to know our audiences and start something by creating a buzz about Hirax.
HB: What's been new and interesting from other places you've been so far and what kind of misconceptions have been dispelled since you've been here?
Hirax: There's some weird stuff going on here like there is everywhere else in the world so it's interesting to see it. Other than that, it's not really different from other places. People think "oh, you're going to Guatemala. Be careful." but we're not worried about anything like that. We've got metal family all around the world, as long as you're metal you're our family, and the people here have been really nice to us.
HB: What says "metal" to you about being here in Guatemala?
Hirax: The passion about the people here. The overall enthusiasm of the promoters in bringing us here and the fans we've met. We've been doing this long enough to know this is going to be good just based on that enthusiasm. It's a perfect fit for us with the people in general. This is what we do. We came here at a really good time with everything that's going on. It's crazy good for us.
HB: How does it feel to be caught up in everything that's going on (i.e. political protests and Guatemalan Independence Day)?
Hirax: The Independence day thing is really cool. The political thing is a slippery slope but I do know we're all the same. We sat down at the table at a bar with a bunch of people last night and it was everyone talking and having fun. It was awesome. We realize what's going on with our governments but that doesn't divide us as people. So coming to Guatemala at this time with all the shit that's going on; we didn't know this was going to happen but it's been kind of a perfect storm.
HB: What about the timing made it right to visit now after all the years you've been doing this?
Hirax: You couldn't find a better band for this place and time. For us it's about giving people an experience they'll never forget. For us it really is about giving fans an unforgettable experience. We've just come off a European tour where we played something like 16 shows in 18 days so we're ready to put on a great show. Right now we're firing on all cylinders. We haven't had much of a break so I think we're more than ready for it.
We're fired up because the whole city is fired up with everything that's happening right now. We had no idea it was going to be like this. It's kind of intense. Our hotel is in the middle of all of it.
The band always seems to wind up in the middle of this kind of stuff. Whether it's been in Chile, Colombia, wherever; we always find ourselves in remarkable places at crazy times.
We have the balls to do what we do. "You're going to Guatemala and El Salvador right now?" But that's us.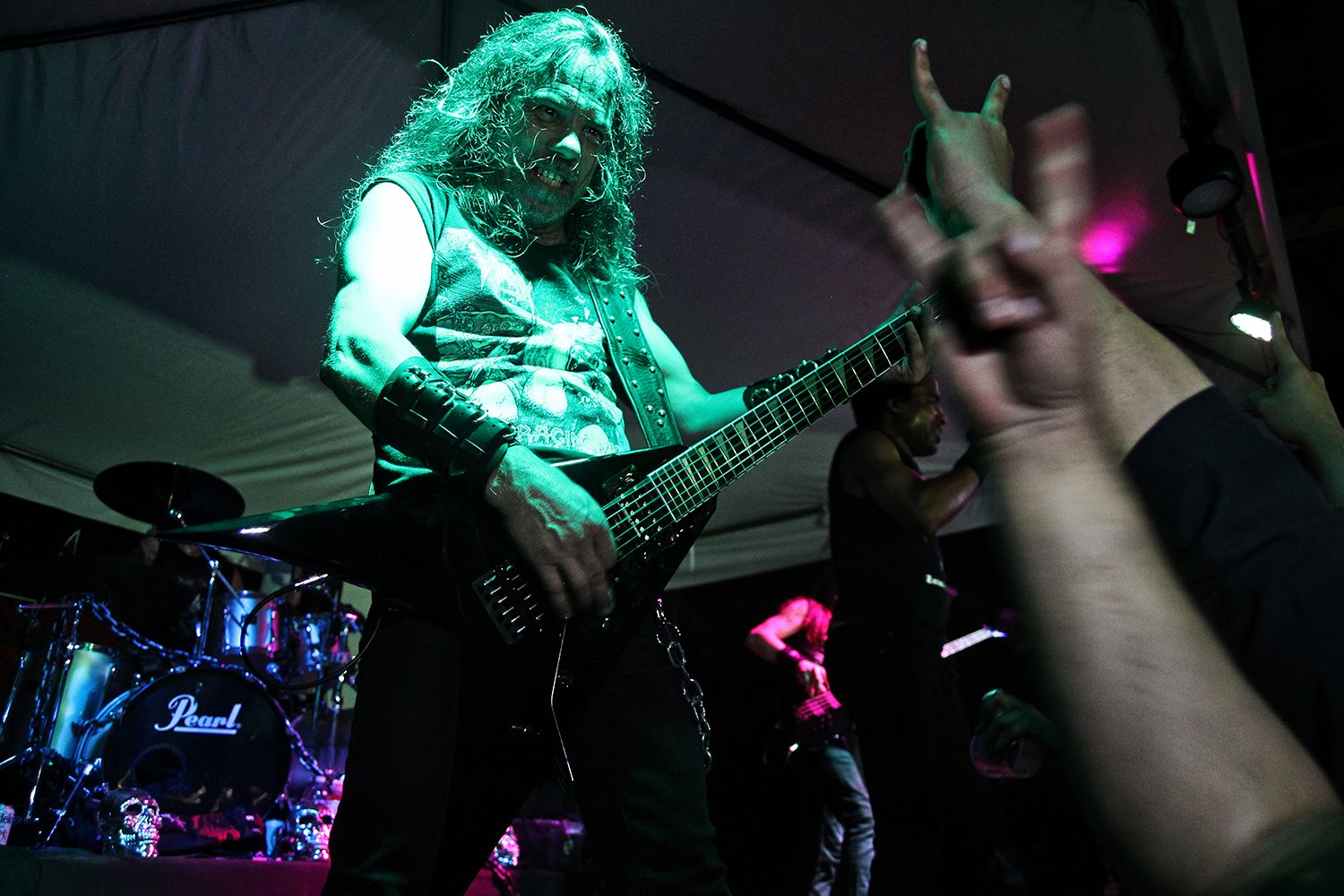 Photo: Bill Fetty
HB: This is what you do but what about other bands?
Hirax: A lot of bands talk the game but won't come down here but we also know a lot of bands that would come if they could but we're here to bring everybody together.
Last night proved it. We're the peoples' band. We hang out with our fans, drink beer, and rock. That's just what we do.
HB: There are five local bands opening for you tonight. It's a wide range of sounds. Is that intimidating or more exciting for you guys?
Hirax: That's what we live for, punk, hardcore, grind, death, black, but we're a thrash band at the heart of it all. The billings, for example, are nuts in Europe where you'll have all kinds of bands playing together so having something like this with local bands is great. It's bringing an audience like that together that is great for us. We're not trying to be on one side of the fence.
We're a pretty diverse band as it is within the band and I think that's a blessing.
HB: Thrash has seen a few revivals now from its original heyday of the 80s. Why do you think it keeps coming back?
Hirax: It's pretty awesome. What's great about thrash is that whatever genres of punk or metal that are around you, it all goes back to thrash. I don't think it will ever really die off. You don't get bands like Cannibal Corpse or Death without thrash.
For some people it never really died.
You never saw it completely die off. Bands like Megadeth and Metallica, say what you will about them, they never stopped. But what's great about what we do is that there are no apologies. We do what we do. People come to our shows and know they're going to have a really great time. We have a diverse crowd and it doesn't matter what your background is when you're at one of our shows. It's about the heart.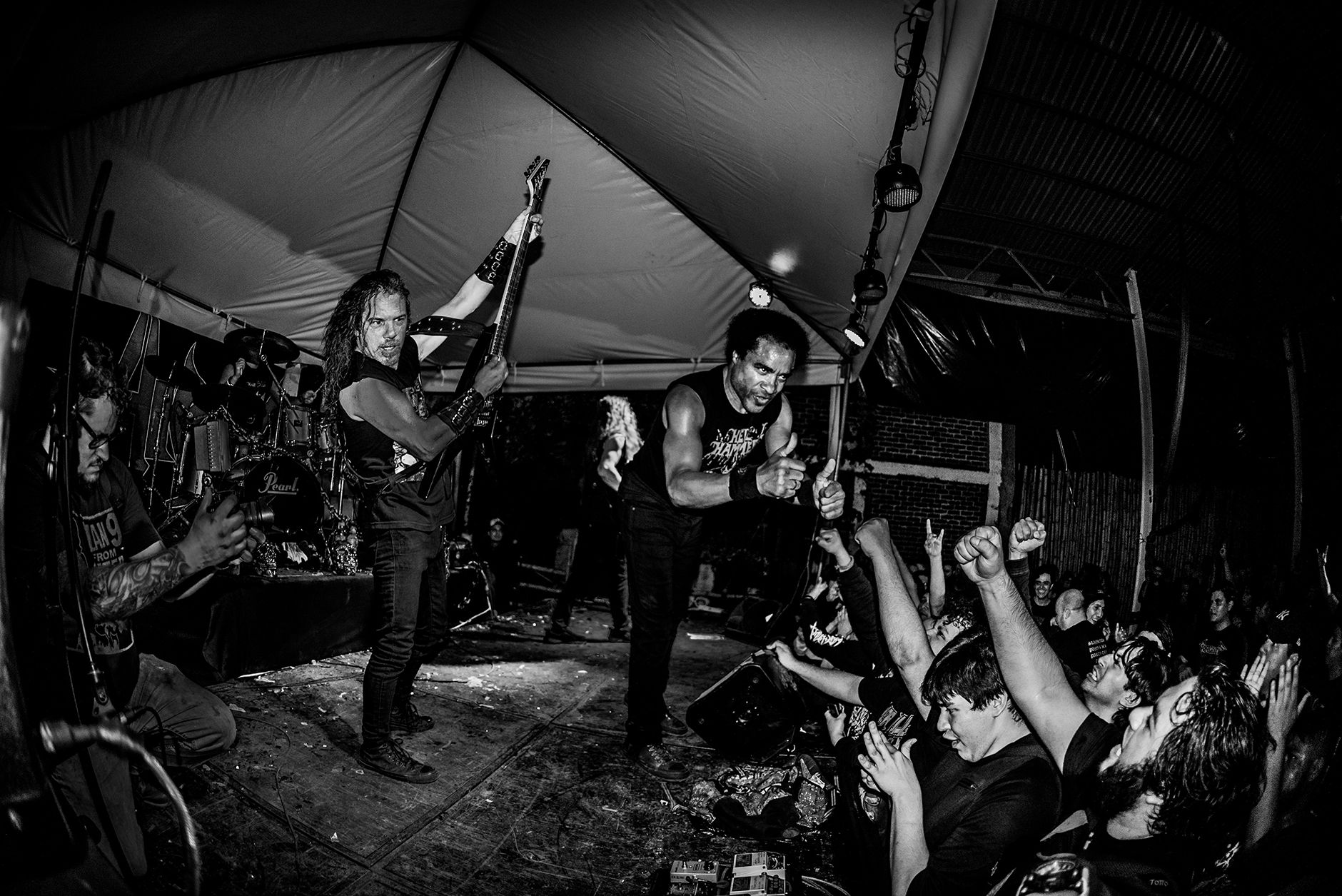 Photo: Fernando Chuy
HB: At the end of the night what do you want to have happened?
Hirax: It's cool to watch the transformation over the course of a set. You never know what can happen.
Drink beer and hangout with our people.
We all have different feelings but we all have one common link. I just want people to remember the show and plant a seed for when we can come back.
HB: How many more years are you going to keep doing this?
Hirax: As long as my body holds up. It's really about our health. As long as we take care of ourselves we'll keep doing it but we don't do a good job of following that advice. We stay up all night hanging out with fans. It's a bit of a patience and strength game. You get tested especially on tours. There will be some shit that goes wrong and it comes down to your health, mentally and physically. We do this tired shit all the time but when the show starts we do this on adrenaline.
HB: How does it feel for a band with your lineage, the way the industry is now?
Hirax: We're working on that still. Our pride keeps us going because we work hard. The people are more about what we're doing than the money. Other bands like Exodus and Testament get a lot more support but we don't begrudge anyone their success.
HB: You're still doing it DIY?
Hirax: Yeah, and there are things you learn from the years of hanging in there. It's nice when bigger bands say we paved the way or influenced them.
HB: What do you think of social media and online music?
Hirax: You've gotta evolve. If you don't then you have to get out of the game. I don't think things like Spotify are a bad thing, you just have to adapt. It's one thing to do a record but it's better if you can tour. You can't be a badass right off the bat.
We're gonna do a new record but the show is more the product than any merch we can provide. We're going to go off tonight and we want the fans to be a part of the show.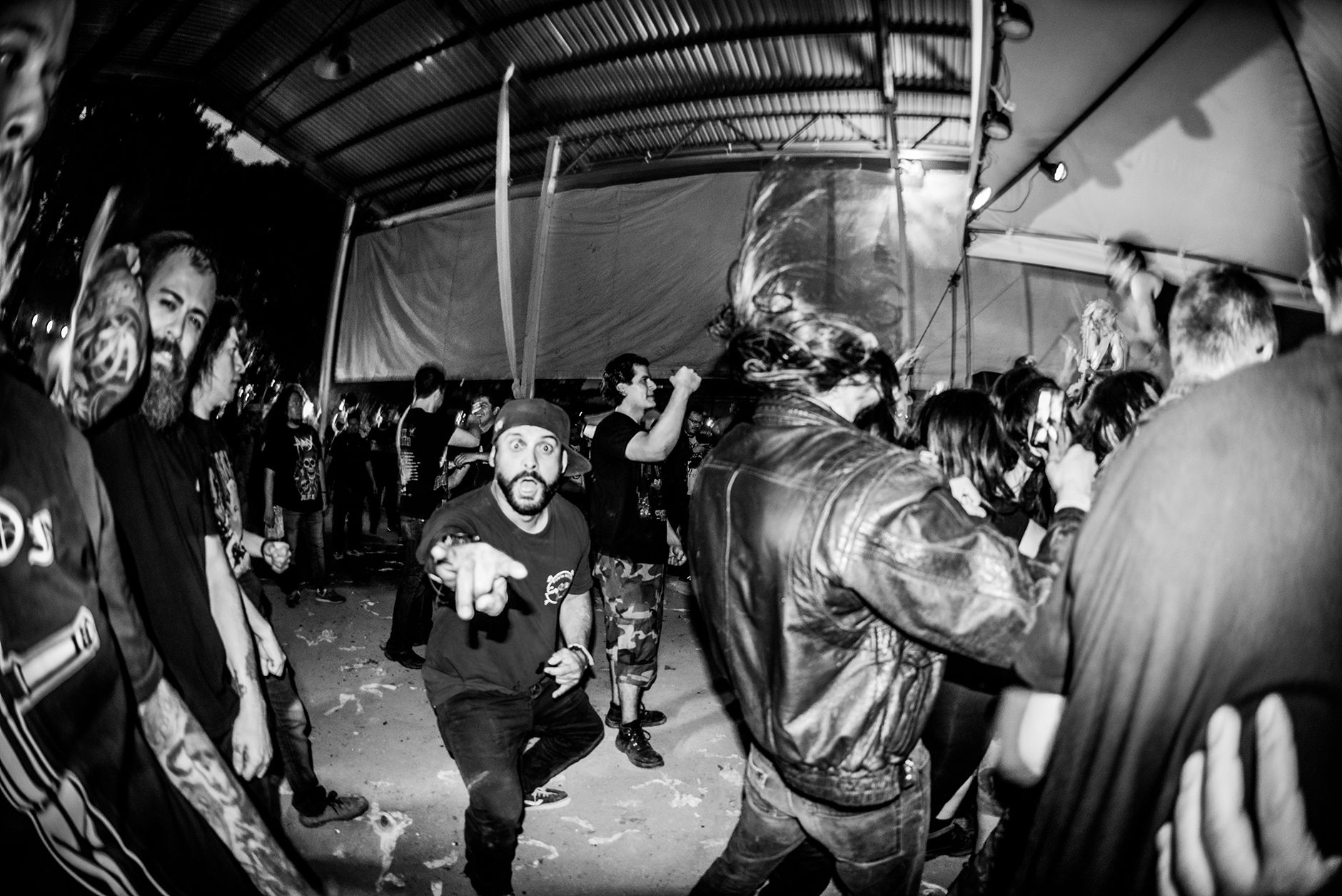 Photo: Fernando Chuy
After an energetic and powerful hour and a half long set that ran the gamut from fresh material the band worked out while in Europe to the very first song the band recorded, an exhausted Hirax and their maniacal fans partied long into the Guatemalan night as fireworks celebrating the nation's independence day provided the perfect backdrop. All of the bands on the bill on this night provided five hours of non-stop, metal fireworks culminating in a circle pit the raged through the headliners' entire set. The only thing that stopped these fans was the end of the set and the ensuing line that snaked through the parking lot to meet their heroes which Hirax were more than happy to indulge.
…
See full photo sets below. All photos published with the permission of the photographers.
[Modula id='4′]