Those of us music lovers who purchase and collect physical media understand the thrill of the hunt. Be it digging through crates, scoring a deal on that grail on Discogs, or getting in on the pre-order before the limited edition variant sells out, the rush of broadening the collection is one of the most fulfilling things about consuming music for much of the Heavy Blog staff. Fear of missing out (FOMO) is also a huge driving force due to the limited nature of many releases, and collectively, we tend to spend way too much money for the sake of getting in while the getting's good. However, funds are not always in supply, and we often spend our free time adding out-of-press releases to our Discogs wantlist or staring longingly at /r/vinyl and /r/heavyvinyl in hopes of catching a contact buzz.
Thus, we began the Heavy Buys column in order to showcase and review recent staff purchases. We're re-booting the column and would like your input! Earlier this week, Jordan gave a rundown of his copy of the new Sumac record, Love in Shadows and offered a blueprint of what to expect from this column going forward. What do you want out of a column that reviews physical media? Let us know.
Without further ado, here's a quick rundown of some recent purchases on vinyl: Author & Punisher, Pig Destroyer, and the Rick and Morty soundtrack.
Author & Punisher – Beastland

Specifications: Electric Blue and Metallic Silver Merge with Royal Blue, Black and White Splatter LTD to 100
Purchase: SOLD OUT at Relapse Mailorder (purchased for $24.99). Black standard variant available for $19.99.
In case you missed our review of the new Author & Punisher record Beastland, it's as good as it gets in the world of industrial music in 2018. As a longtime fan of Shone's one-man powerhouse of a project (I interviewed him back in 2013 before the release of his third album Women and Children) I knew that I wanted to get in early on his Relapse Records debut and the morning that pre-orders for Beastland went live, I dropped in and secured my copy of the limited edition color variant, limited to 100 copies. As a die-hard fan of Shone's work I knew I wouldn't be disappointed by the record, and I'm fast on my way of completing the discography. And of course, immense FOMO on that ultra-limited color pressing, which incidentally sold out hours later. So thanks, Relapse, I'm vindicated on the unplanned expense and the behavior has been reinforced.
As far as physical presentation goes, Beastland is basically your standard "smaller release" Relapse fare. No gatefold, single 12″ LP, standard gram. The text and some art assets on the album's front and back cover shines in the light, which is a minor touch to make it stand out. Black paper sleeves without the increasingly standard poly liner, but slits in the corners of the paper sleeve allow you to slide the record into an additional poly sleeve without any fuss if you're worried about protection and longevity.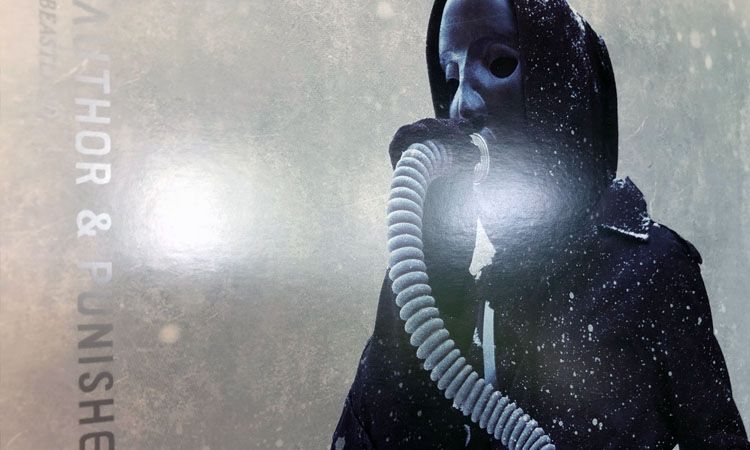 I expected such a bass-heavy album to sound incredible on vinyl with rich bass response, and was pleased with how fat the ubiquitous bass synths sound on the format, particularly for a standard gram pressing. Though, the inconsistent production seems to be highlighted on vinyl, with a wash of thick bass drowning out vocals and drums on some tracks more than others. This doesn't stop Beastland from being an incredible record and one of the year's best though, and just feeling the low end makes it worth owning on vinyl. Some EQing may help if you have the option.
Verdict? If you missed on the limited variants, no need to shell out $75 on Discogs for a second-hand copy. The standard black pressing is still available and likely indistinguishable in quality outside of the pretty colors on the wax. Some folks swear that black vinyl sounds better than colored pressings, which I don't believe personally, but we'll go with that if you're kicking yourself for missing the colored pressings.
.
Various Artists – Rick and Morty

Specifications: Dark Green and Orange
Purchase: Purchased at local independent record store for $25, and currently available through Sub Pop records and Bandcamp.
To be fair (heh), Rick and Morty is an incredible show despite the shitposting and that obnoxious sect of its fanbase, and truth be told, this purchase was spontaneous after seeing the record on the shelf at a local record store and I figured that it would be worth having on novelty alone. And sure, this 80% novelty, but as it turns out, Ryan Elder has scored some truly incredible music for the series between the improv flu rapping and the memey Get Schwifties of the series. Outside of the theme song which everyone knows, "Jerry's Rick" and "Tales From The Citadel" are touching instrumentals that wouldn't feel out of place on a post-rock record and "African Dream Pop" is a neat track that sounds exactly how you think it does based on the title. Plus, there's a new song by Clipping. called "Stab Him In The Throat," so it's hard to be mad about owning this record.
The packaging is somewhat interactive and unique as a piece of art which adds to the novelty. There are two LPs stored in their own independent cardboard sleeves, sans gatefold, and come housed in a die-cut slipcase featuring the titular characters in Rick's spaceship. This configuration allows you to swap and flip the sleeves around and create different landscapes for Rick and Morty to flee from. My personal favorite is the "default" A-side artwork from Skinner (Mastodon). The only issue that comes out of this unique presentation is that if you want to store the album in an outer poly bag, the slipcase can get stuck. It's a little goofy, but a minor squabble compared to the opportunity for an above-and-beyond presentation.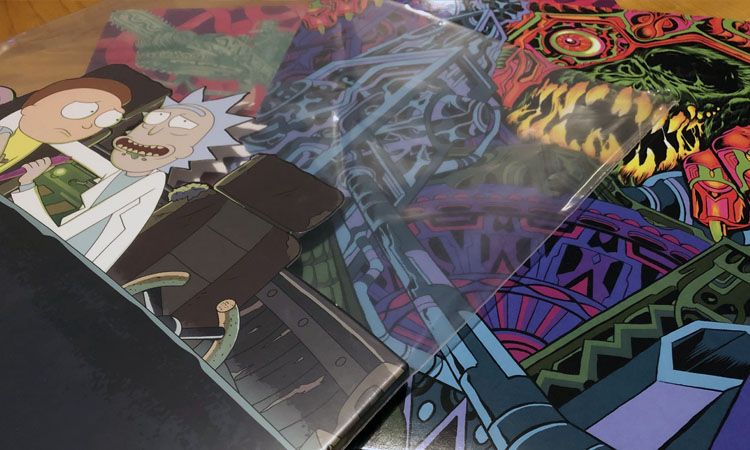 I purchased what appears to be a different version version than the standard version 2xLP listed on Sub Pop's website in Green and Yellow. This Dark Green / Orange (per the sticker on the front) color configuration was never mentioned by the label on the website. Unfortunately, my copy came with a defect. The C-side inner sticker got mangled in the process (pictured below) but the sticker fragment did not end up overlapping the grooves or affecting play. No harm, no foul, I suppose, but I expect better quality control from an institution such as Sub Pop.

If you're a fan of the show and have a record player, there's no real reason to not pick this up if you're in the market for non-essential collectibles with unique presentation. Yeah, it's fun to drop "Get Schwifty" (which, by the way, has a different instrumental than the version that appeared on this show) and "Let Me Out," but Ryan Elder's instrumental score makes it worth perusing. I just wish they divided the goofy tracks and the more "serious" score on separate records or sides.
.
Pig Destroyer – Head Cage

Specifications: Black and White Merge with Grey and White Splatter (Limited to 500)
Purchase: SOLD OUT at Relapse Records. Originally purchased for $22. Black variant available for $20.
Head Cage was a long time coming, and was one of the highest-profile extreme metal releases of the year. Unfortunately, the record was divisive as the band have found themselves straying further away from the deathgrind that put them at the forefront of the genre. Head Cage is a great album that takes cues from sludge, grind, and hardcore, but many long time fans were left feeling cold. I loved it, personally, but this isn't really the place to talk about the music.
Being such a cornerstone of the Relapse legacy, the label offered numerous color variants in various quantities. By the time I had the funds, I had missed out on the two most limited colorways, but caught this black and white merge with grey and white splatter, limited to 500. The pressing is beautiful and compliments the artwork, and I'm glad I was able to grab something that wasn't just a standard black pressing. It is a standard weight pressing, but it sounds good. The format lends itself well to this style of music.
The packaging isn't really anything to write home about for your average vinyl collector. Relapse Records deliver quality pressings, for sure, and it's hard to be disappointed. As with the new Author and Punisher record, the black paper sleeve that houses the record doesn't have a protective liner, but the corner slits allows for the upgrade. They did give this album a gatefold jacket despite the single LP, which is nice, and it includes a foldout lyric sheet. This is where having the physical product gains points for sentimental value for me and Heavy Blog in particular: the photos inside the lyric sheet are taken by our longtime friend and contributor Mark Valentino. Way to go, Mark!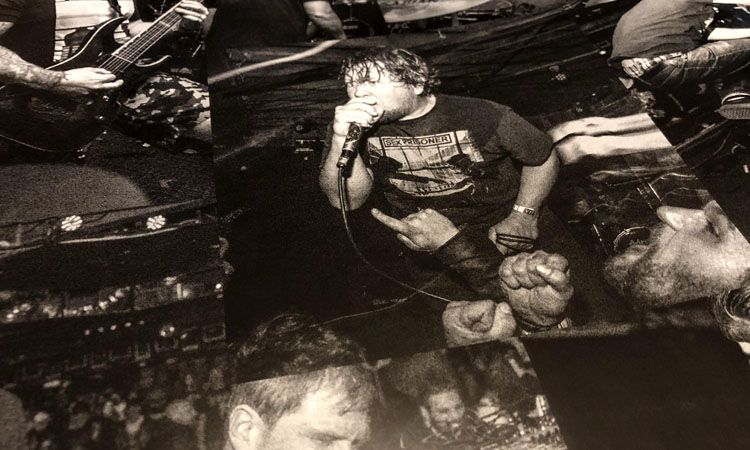 This particular pressing is available second-hand at Discogs for $35 at the time of publication, so if you're a huge fan of this record and are dying for something other than black, you won't break the bank. Otherwise, you can just settle for the standard pressing.
.