Even a cursory glance of our biweekly "What Heavy Blog Is Really Listening To" posts will reveal that there is a great deal of variety among our staff's musical tastes. Due to this, we brainstormed the idea of "Playlist Swap," another biweekly segment that takes place between playlist updates. We randomly select two of the participants from each update, have them pick their favorite track from each of the nine albums in their grid and then send the list over to the other person to listen to and comment on. Within these commentaries occurs praise, criticism and discovery, and we hope that you experience a few instances of this last point as well. This time, we've got staff writer and death metal sommelier Jonathan Adams in one corner, and content editor and resident sludge-lord Simon Handmaker in the other.
Jonathan's Grid and Simon's Comments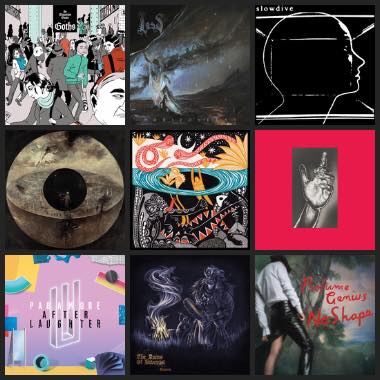 Simon: Funnily enough, the only song out of nine from Jonathan I didn't like is one of the two metal tracks here, and I'm completely fine with that: I've been looking a lot to expand my tastes outside the heavy stuff, so getting a chance to dig my teeth into the lighter side of music here was fantastic. Besides Loss, I really did enjoy everything here a lot, which I'm not surprised by, since Jonathan has great taste both in and outside metal. I always love Playlist Swaps because of the new stuff I get to hear, and this was no different. Barring the always-present chance that I will forget to add stuff here to my later listening list (which has been growing exponentially recently as we move into summer), I can definitely see some of the stuff on here being some of my go-to records for the second half of 2017. Although where Jonathan and I tend to connect is our shared love of Incantation-worshiping modern death metal a la stuff like Heresiarch and Blood Incantation, I'm happy to connect over stuff here like Perfume Genius and The Mountain Goats as well.
The Mountain Goats – Goths – "Andrew Eldritch is Moving Back to Leeds"
Jonathan: Goths is, in my most utterly objective and obviously infallible opinion, one of The Mountain Goats' best records in quite some time. This song in particular is a beautiful melting pot of essentially everything the band does well: odd incongruity between the darkness of the lyrics and cheeriness of the music, a heavy amount of relatable nostalgia, catchy melodies, and Darnielle's amazing lyrics ("There's indifference on the wind" is essentially as perfect as opening lines get). I was hooked on this track from the very opening notes. Good stuff.
Simon: My experience with these guys was pretty much limited to All Hail West Texas before this record came out, and so far I've just been absolutely loving Goths. It's a great indie-rock-pop-whatever record, and this is definitely one of the best tracks on it. Nothing turns me on to a song immediately like xylophone does, and combined with the groovy, plodding bassline of this song, "Andrew Eldritch" immediately became one of my favorites from The Mountain Goats the minute I heard it.
Loss – Horizonless – "The Joy of All Who Sorrow"
Jonathan: This album made me want to die slowly. This may not sound like a ringing endorsement, but Loss don't leave a lot of space for emotional breathing room or speculation. This track is a funereal sledgehammer to the gonads. It mixes harsh, almost black metal vocal stylings with heavy and plodding doom in a way that creates some incredible emotional heft. And that bass tone… good god. It's a great track from a fantastic album.
Simon: This has been quite the hit among the Heavy Blog camp since it came out a week or two ago, and I'll admit that I've been a lot slower coming around to it than other people have, which is weird, because I'm definitely one of the larger proponents of doom metal – and funeral doom specifically – on the staff. Loss does it well, and I think this is objectively a good album in the style, but… man. I don't know. Something about Horizonless just doesn't really catch me nearly as much as bands like Ahab and Lycus do. Oh well. Hopefully I'll crack this nut and like this album eventually.
Slowdive – Slowdive – "Sugar for the Pill"
Jonathan: Slowdive always seemed like the poor man's My Bloody Valentine to me. I wasn't able to fully get into their music when I was first exploring shoegaze, and that is a shame. As I've become more familiar with the genre I've come to appreciate them to a much greater extent. Their first album in over twenty years is a certified keeper for me, and this track is so lush and ethereal that I have a hard time concentrating on anything else when it's on. Guitars loop and swoop in truly beautiful ascending and descending patterns, while the bassline propels the song forward as synths surround in a sea of tranquil noise. I honestly recommend this whole album, but if you had to start out with one track this would be it. Prepare to float into transcendence.
Simon: This is my first foray into Slowdive, which may or may not be surprising given my quasi-purposeful propensity for breadth in my taste in different genres as opposed to depth. While I wouldn't say I don't like this track, I kind of feel like the music just… passed me by. It's really pretty, and it's definitely not bad; it's just very insubstantial. I get that that's sort of the point, but I don't know. There's plenty of equally pretty music out there that where I can latch onto something, but I couldn't really find much here to really keep my attention. It's on, and then it's not. Very relaxing, though, so I could definitely see myself putting this on to just chill out and unwind.
Gravetemple – Impassable Fears – "Domino"
Jonathan: I saw Sunn O))) in Denver a few years back. It is an experience I will never forget. It was the single loudest and most visceral concert experience I've ever had. When I heard that Stephen O'Malley and Attila Csihar (Sunn O))) regulars) were making a drone/noise album, I lost my collective shit. "Domino" is the only track to be released from the album thus far. It's one of the shortest, and honestly reminds me of the final ten minutes of Ridley Scott's Alien. An odd alarm blares constantly at the forefront of the track, while inhuman beeps and blurps occupy that remaining space in some odd form of rhythmic harmony. In all, it's a fairly insubstantial track in comparison to the ten-plus minute behemoths that populate the rest of the record, but it gives a good taste of the mystery and chaos in store in the full length.
Simon: I've been trying to keep my ears away from Impassable Fears until now. I feel as though I have sort of a predisposition to not liking it, since it's pretty much just the same dudes as Sunn O))) and I'm not a huge fan of theirs, as much as I love other drone metal bands like Earth and Locrian. This is really, really cool though, so I'm glad I was forced to check it out. The blips and whirrs that characterize this track sound like they were pulled straight from some 80's science fiction film like "Brazil." There's not much to say since it's probably just an interlude between two much larger tracks, but I'm definitely more curious as to the sound of the whole album now. Excited to hear this in context.
Yazz Ahmed – La Saboteuse – "Jamil Jamal"
Jonathan: My sister loves jazz. She frequents clubs, has a solid knowledge of the genre's history and evolution, and is way cooler than me in essentially every regard. When I shared La Saboteuse with her, she hadn't heard it before and dug it. Literally a milestone in my life. That aside, this album is just fantastic. "Jamil Jamal" is definitely the track from it that I've jammed the most. The incredibly fluid melding of middle eastern music with jazz is revelatory. There's just something about the almost menacing gentleness of the keys about a minute-and-a-half in that speaks to my soul. Essential for anyone who is even remotely interested in modern jazz.
Simon: I hate to be "that guy" but man, I'm so glad I just randomly stumbled across the promo copy for La Saboteuse in my email inbox one day and decided to give it a spin. This record's been the talk of the town at Heavy Blog, and for good reason: Yazz Ahmed is amazing. Her horn-centric style of jazz pulls from a variety of esoteric influences and renders out of them a remarkably fluid and individual sound. I've been floored by this album every time I play it, and "Jamil Jamal" is a great example as to why.
The Physics House Band – Mercury Fountain – "Calypso"
Jonathan: God, I love this track. The way in which the drums thunder and blast in erratic and heavy patterns to the point of feeling nearly overwhelming, yet still remain wholly danceable throughout, is impressive. The music surrounding the rhythm section is no less incredible. Textured, multi-faceted, and always being pushed forward into new variations on a theme that never feel stale or overly repetitious. Definitely scratches my instrumental post-whatever itch.
Simon: I'll admit it, I'm dumb for not checking this album out earlier. This feels like a way more energetic and fun version of Three Trapped Tigers post-rock/electronic/jazz sound, and I'm so into it. Whereas those guys tend to make moody, lush soundscapes that are drenched in reverb, this is a lot more straightforward, option for the good ol' odd time signature repetition tactic to create some beautifully cyclic patterns. Listen at your own risk: this is dancy as hell, and you will succumb to the urge to groove out.
Paramore – After Laughter – "Rose-Colored Boy"
Jonathan: This song cannot be as good as I think it is. It's not possible. I haven't liked a single record this band has produced. I don't like After Laughter. I LOVE it. This is one of my favorite tracks from the record, and with good reason. You'll be hard-pressed to find a catchier summer tune than this one. Unless you're choosing another song from this record, then you may have an argument. The Carly Rae Jepsen vibes flow strong throughout "Rose-Colored Boy", and this is absolutely a good thing. Mostly because Carly Rae is incredible so fight me, non-believers. 80s synths, lyrics about naive dudes, great vocal variety and well-placed guitar work make this one of the best summer jams of 2017 and we aren't even to summer yet. Windows down and volume up for After Laughter, metalheads.
Simon: As I wrote in a recent track premiere, the fact that a band as big as Paramore is hopping onto the 80's revival trend that's becoming a definite thing in music means that it's officially a full-blown phenomenon in its own right and not just a small fad. That should be taken in no way as a condemnation, by the way: I love retrowave and future-funk and all the other 80's revival stuff, so I'm more than ready for this to be a big thing. Everything Jonathan said is pretty much exactly on point so I don't really have anything to add, other than that this song is definitely as good as he thinks it is.
The Ruins of Beverast – Exuvia – "Exuvia"
Jonathan: This track opens like Twin Peaks on hallucinogens in the middle of a damp forest during the dead of night flailing around an enormous bonfire. But there's no cherry pie or damn fine coffee here, just trance-like existential dread. Alexander von Meilenwald unleashes the best with "Exuvia", which roars for fifteen minutes of pure black and doom metal madness. Lots of aggressive guitar work, creepy atmospherics, and generally epic sonic grandeur. It's incredibly busy yet almost soothingly rhythmic, which is what the band does best.
Simon: Another writer for Heavy Blog (Colin) has been asking me to check these guys out for some time and I haven't gotten around to it yet, but this fits what I've heard about The Ruins of Beverast to a T. I wouldn't say this is instantly clicking with me, but I do love this style of avant-garde black metal, so I'm really looking forward to listening to this a lot until it does really worm its way into my head. This is grim and beautiful in its isolation to the maximum extent it can be. Reminds me of Bergtatt-era Ulver if they played a lot slower and decided to write a soundtrack to "The Blair Witch Project," or if Sunn O))) mixed their records Black One and Monoliths & Dimensions into some weird combo.
Perfume Genius – No Shape – "Valley"
Jonathan: There isn't a track that I've listened to more frequently over the past couple of weeks than this one. No Shape is far and away my favorite of the band's records, and this song gets me right in the feels each time I listen. The waltz-like guitar work is complemented perfectly by the plucked strings and full-bodied orchestration that rises to a gorgeous crescendo halfway through the track. It is one of the most perfect songs the band has created, and I am in love with every inch of it.
Simon: This isn't what I was expecting from the name at all – I thought this was gonna be way more bombastic and energetic than it is. That being said, this is a wonderful song in its own right: the ¾ backing guitars and plucked violin really give it a waltzy heave-ho that I'm really loving. Reminds me of the more quieter and reserved tracks from The New Pornographers, and that's always a good thing. And the "drop" of sorts in the latter half of the track hits a great spot in terms of bringing back the track's main motifs. Very well done overall. Gonna have to check this album out.
Simon's Grid and Jonathan's Comments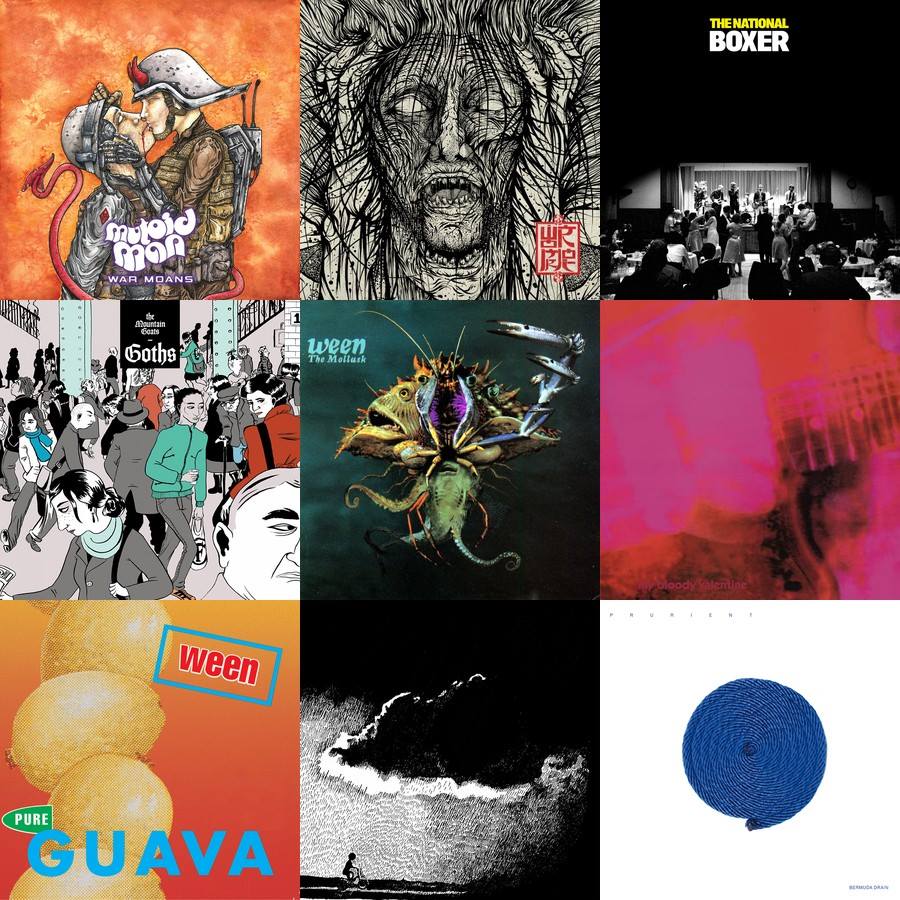 Jonathan: Playlist Swaps are one of my favorite articles to participate in at Heavy Blog. Not only do I get to gush about songs I love from a multitude of genres, but I also get to dive into some great music that I may not have heard before. It's an enlightening experience, and Simon's selection of tracks most certainly did not disappoint. While being a man of excellent taste in general, there were a couple curveballs on here that I was not expecting but definitely thoroughly enjoyed (Ween, especially). This is a great mix of heavy, happy, sappy, sad dad, and rip your face off. Simon has a real knack for finding songs that are thoroughly enjoyable to listen to, regardless of one's musical persuasion. His picks here reflect a very wide range of musical interests, which made my journey through his selections a thoroughly fun one. Loved every second of this, and I wholeheartedly recommend that you give each of these tracks a listen. Also just read everything he writes. I'm not kidding. Dude is an incredibly gifted, witty, and thoughtful writer and his work here at Heavy Blog is absolute tops. I am genuinely thrilled that I get to work and write with a guy as talented as he is.
Mutoid Man – War Moans – "Kiss Of Death"
Simon: Mutoid Man's more recognizable stuff may be their faster and more recognizably punk tracks, but these guys can knock out one hell of a Boris-esque groove when they need to. "Kiss of Death" is a short, chunky track powered by a serious Goliath of a riff. It may not be anything particularly original but I'll be damned if it isn't enjoyable to an extreme.
Jonathan: This is such a great track. I got into Mutoid Man after I heard Bleeder, and I really like the direction the band is taking. I completely agree that the riff work here is absolutely gigantic, and I feel like as the band has progressed their riff writing has only gotten better, and "Kiss of Death" is a prime example of this. Sidenote: I cannot hear these guys without thinking of Two Minutes to Late Night. Which needs to be picked up and funded immediately.
Wormrot – Voices – "Eternal Sunshine of the Spotless Grind"
Simon: I'd be lying if I said that I didn't choose this one primarily for the title. Great track name aside, Wormrot plays pretty standard grindcore, but, like Mutoid Man above them, it's so well-executed that their adherence to the formula is easily excusable. "Eternal Sunshine" is a perfect illustration of this.
Jonathan: Best song title of all time? Possibly, but most assuredly debatable. But song title aside damn is this a killer track. Voices was one of my favorite grind records of 2016, and for all of the reasons you stated above. I personally think there are better tracks on that particular record than "Eternal Sunshine", but it is most certainly emblematic of what the band does well. And what they do well is annihilate faces. More soon, please.
The National – Boxer – "Green Gloves"
Simon: Sometimes, you just gotta be a sad dad. Boxer is one of the most melancholy albums I can think of with its lethargic and depressed take on indie rock, and "Green Gloves" is one of the most melancholy tracks on the album. The vocal work and sparse instrumentation complement one another beautiful as this track builds into some of the best catharsis you'll find this side of shoegaze anthems like "Only Shallow."
Jonathan: True story: No album that I have heard has had a greater impact on me musically or personally than Boxer. To me, it is an absolute masterpiece in every possible way. Sad dad is good dad. "Green Gloves" is just perfect. Matt Berninger's lyrics and delivery are so droll, sad, odd and emotionally obtuse that it's hard not to become transfixed by them. There is a deep well of catharsis in longing and sadness, and The National have found the perfect mix of each here. I love everything about this track.
The Mountain Goats – Goths – "Stench of the Unburied"
Simon: The opening lyric, "incoherent, but functional" is how I describe myself somewhere around 95% of the time. Jokes aside, though, Goths is a great album and this is a very nice, pleasant track from it. To be completely honest, I was going to choose "Andrew Eldritch" as my song from this but Jonathan beat me to it so I went with my second favorite instead. What else is there to say, really? This is as pleasant and nice as it really gets. Sit back, listen, and smile.
Jonathan: While very sorry for stealing "Andrew Eldritch" from you (so so sorry), I agree with everything you wrote here. The first time I heard the first the opening line I laughed out loud. Incredibly relatable. This is a bit more laid back than the above mentioned track, but I think it gives Darnielle's lyrics a greater stage than other tracks on the record. Whether it's being conscious at sunrise (for the third time this week!) or listening to Siouxsie and the Banshees on KROQ, he paints such vivid pictures of scenarios and characters that give the band's music so much extra power and impact. Love it.
Ween – The Mollusk – "Ocean Man"
Simon: Okay, haha, good joke, right? Wrong. "Ocean Man" fucking rules. The Mollusk is a great album and "Ocean Man" is an excellent track that got done dirty by being made a joke song. It's catchy and perfect and if you disagree I'll fight you. It's simple and repetitive, sure, and Dean Ween's vocals are goofy, but try and tell me you don't get hype when that first "Ocean man" comes in.
Jonathan: OH MY GOD I DIE THIS SONG IS THE ABSOLUTE BEST!!! One of my favorite Ween tracks, no question. It rules multiple universes and all who think otherwise are objectively incorrect. Go to a beach and listen to this track and just try to resist running fully clothed straight into the water like a fool. This is two minutes of pure happiness. I played this song for my wife in the car today and she immediately started singing it loudly with a huge smile on her face. It's just grand.
My Bloody Valentine – Loveless – "Only Shallow"
Simon: Man, if you don't lose it to the bombastic riff of this track, I just don't know what to tell you. Although I think a lot of Loveless doesn't really go anywhere, and that it's kind of an overrated album overall, "Only Shallow" might be my favorite opening track to an album ever (the main competitor is "The Saddest Day" from Converge's Petitioning the Empty Sky). The verses are lush and beautiful, and then that vacuum-cleaner-apocalypse chorus comes in and it's impossible not to get lost in the groove. My enjoyment of this track should be pretty clear since I've already mentioned it multiple times in this article.
https://www.youtube.com/watch?v=eP_MG3kaogU
Jonathan: Yup. One of the best tracks to open an album of all time. Talk about a statement of purpose. Four drum strikes, followed by an absolutely glorious wall of noise that stuns and transports immediately. Kevin Shields' guitar work is on incredible display here, and while the rest of the album doesn't always live up to the promise of the opening track (though I still think it's pretty damn good overall), we will always have this nearly perfect example of everything shoegaze can be.
Ween – Pure Guava – "Don't Get 2 Close (2 My Fantasy)"
Simon: After seeing me listening to The Mollusk a lot this week (read: listening to "Ocean Man" on repeat), a friend recommended Pure Guava to me and I've been really loving it. "Don't Get 2 Close" is a really, really weird song, but Ween is definitely at their best when they're doing bizarre for the sake of the bizarre. It's pretty poppy for an experimental rock song, but with such the typical Ween-ish idiosyncrasies that it could never be mistaken for anyone else. Also, that opening chord totally sounds like Cynic. Just that single opening chord, though. Nothing after that. Just wanted to point that out.
Jonathan: The vocals on this track almost remind me of a song you'd here on a musical interlude in South Park. That isn't meant to be an insult, but more to highlight how odd they sound throughout. The music and lyrics here are hazy, obtuse and pretty great. Hadn't heard this track before now, and I'm really digging it. Now I just want to go on a Ween kick for the next few weeks. Damn you, Simon (jk love you)!
Touche Amore – …To the Beat of a Dead Horse – "Nine"
Simon: This is my favorite song that's under a minute long. Like, god damn, that groove is strong. When I talk about bands not doing anything outside of what's absolutely necessary, this is exactly what I'm referring to. Most of Touche Amore's stuff I'm sort of indifferent on but this song just fucking rules. The various takes on the leitmotif at hand segue perfectly into one another, building into this really raucous tension that gets totally released towards the end of the song. It's just this short but extremely powerful explosion of emotion, and I love it a lot.
Jonathan: This track is incredible. Probably one of the tightest songs I've heard in a long time. There isn't a single wasted note or second. It feels full, rich, and varied without sacrificing brevity. So many bands need to listen to this track and take from its example. You don't always need ten-plus minutes to get your point across.
Prurient – Bermuda Drain – "A Meal Can Be Made"
Simon: I needed to throw something weird at Jonathan towards the end, so, uh, sorry but also not sorry. Weirdo power-electronics/death-industrial artist Prurient is a personal favorite when it comes to the electronic stuff I like. This song may not be a great example of why, but it is a really fun song: it sounds like someone screaming over a video game soundtrack (especially when the bells come in) without being Nintendocore and that's a very niche and very appreciable market.
Jonathan: Don't ever be sorry (not sorry) for recommending Prurient. One of the best noise/industrial bands by a good margin. Though I think I prefer Frozen Niagara Falls to this record, this track is exceptionally good. He does propulsive mania unlike anyone else, and the unrelenting and crushing forward motion of this track is a pretty good example of what you're getting yourself into when you start a Prurient record. While the music of Prurient isn't for everyone, those who have a hankering for avant garde noise should give this a listen. It's incredibly intense and up there with contemporary acts like White Suns when it comes to aggressive noise.