During the mid-2000s, the UK hardcore and metal scene underwent a re-energisation of sorts due to the emergence of several bands who have since spearheaded the genres to modern popularity.  Bands like Enter Shikari and Bring Me the Horizon resonated with mainstream crowds since their inceptions and have since established themselves as global institutions.  On the other hand, Architects instantly occupied the forefront of an underground charge and, over the years, have also crossed over into popular realms.  However, bubbling underneath the surface was (and still is) a whole scene of innovative, vital artists whose records define the country's musical output at its finest, with albums that will undoubtedly stand the test of time among aficionados of heavy music.  One such act is Devil Sold His Soul who, in this writer's humble opinion, are one of the best bands the UK has ever birthed.
Formed in 2004, the band would make waves a year later with the release of their debut EP, Darkness Prevails.  Through their incorporation of ambient passages with technically-skilled brutality, it didn't take long for them to win the hearts of fans and critics alike, eventually leading to the release of 2007s masterpiece debut, A Fragile Hope.  Afterward, they would release one of the best albums of all time with 2010s Blessed and Cursed, followed by another triumph with Empire of Light in 2012.  However, founding vocalist, Ed Gibbs, would depart the band after that album, but his replacement, Paul Green, has proven to be a more-than-worthy successor.
But with the anniversary of their full-length debut and a recent tour and album reissue celebrate it, Ed returned to the band temporarily to celebrate their crowning achievement and, along with Green, took to the road to play a few shows.  Recently, I had the opportunity to interview the guitarist, Rick Chapple, about their career so far and the future.
You emerged during a booming period for British hardcore and metal, but your sound stood out as unique from the get go. Was it a conscious decision to ensure your sound was different or did it just naturally turn out that way?
Rick: Without a doubt. We may not have always known exactly what we wanted to sound like but we have always been wary not to sound like anyone else. So when we write music we are quick to judge, and if anything resonates too closely with any other bands then we tend to reassess that part and rework it. We've never been ones to follow trends so our sound has just developed from that viewpoint of almost not wanting to settle for fitting in. As much as it has helped us stand out, it has also meant being booked onto tours with other bands has proved difficult as promoters and booking agents are never sure which bands to put us with. But we have fun no matter who we play with, whether it's with a band as beautiful and atmospheric as Envy or a band as brutal and technical as Gojira. On the whole, people who love heavy music tend to appreciate what we do when they hear us live, even if it's not something they would listen to normally.
Who were some of your main musical influences back then?
Rick: Personally, it was bands like Deftones, Dillinger Escape Plan, Killswitch Engage, Will Haven, Tool, Slipknot and even Creed to name a few.
Revisiting these songs after all these years, how do they hold up for you?  Do you interpret them differently now compared to when you first wrote them?
Rick: It is amazing how fresh they still feel. Playing them all in sequence is something we've never done before and it flows so well, it goes by so quickly even though it is nearly an hour long. And even after all these years they still feel as exciting to play as they did when we first wrote them – we never get bored playing them and long may that last.
You've been through the ups and downs over the past decade, releasing some incredible music throughout it all.  Looking back on your career so far, what have been some of the highlights?
Rick: We've always been really proud of all the music we have released. We have had countless highlights and also many low points, but a few that stand out are headlining a stage at Download Festival, as well as playing shows with countless musical heroes such as Korn, Envy, Norma Jean, Meshuggah, Rage Against The Machine, Underoath and many more. Doing live sessions at BBC Maida Vale Studios, as well as touring throughout Europe. Russia and Siberia and meeting the most amazing people along the way. It has been a wild ride and it's not over yet. We still want to get to America and Australia so the dream is still alive.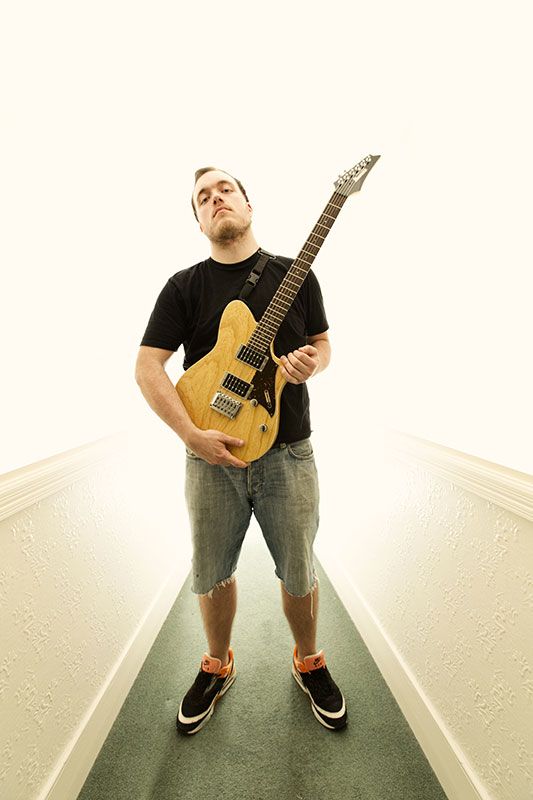 Rick Chapple
How has it been having Ed back in the band for the tour?  Will there be any future collaborations?
Rick: It has been really great. Ed and PG have bonded so well and their vocal deliveries have been unbelievable. But above all, it has been so positive and so much fun that we really are having the best time with these shows. Who knows what the future will hold but for now we will enjoy the ride and make sure we appreciate every moment.
You're reissuing the record on vinyl for Record Store Day.  With vinyl being popular again, is that something you'd like to do more of with future releases?
Rick: Definitely. We've always wanted to reproduce all our records on vinyl and with the backing of the incredible team over at Basick Records, they have made this dream come true for A Fragile Hope. We hope to do more in the future so watch this space.
Speaking of new releases, can we expect a new album in the near future?
Rick: We've always got songs in the pipeline but for now, we are going to enjoy these anniversary shows and hope to take this tour to Europe in the autumn and anywhere else that will have us. We've put a lot of hard work into these shows so it feels right to play it to as many people as possible. It reminds me of a quote from Wayne's World 2: "If you book them, they will come."