Hey, friends. Earlier last month, we decided to discontinue The Brian Shields Memorial Tour Fund as a project due to its overwhelming logistical issues, as well our deep questioning of the viability of the project.
As we decided to lay the project to rest, we wondered what to do with the funds we had collected to help bands tour. We couldn't just let it sit there, so we decided to put it to use at your collective behest. The poll we ran offered you a choice of either giving the money to a music education charity or as a one-time donation to help an independent band pursue their musical career. After nearly a month of voting, the choice has been made apparent.
We couldn't call the number of responses overwhelming, but we feel the results are significant enough to make an informed decision. Here's how you, our community, voted.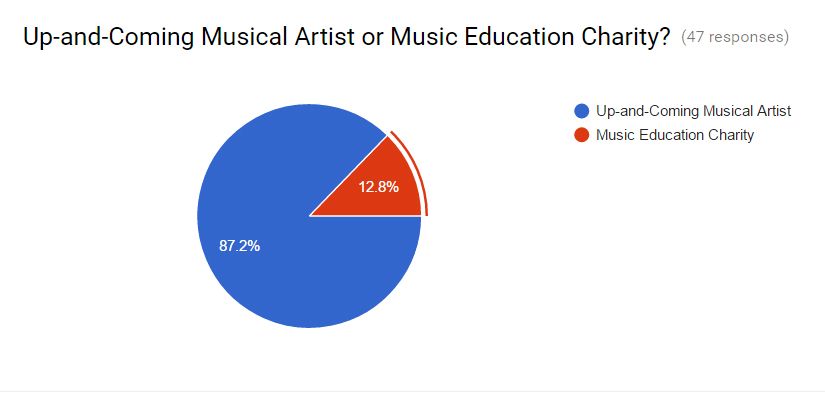 As you can see, the majority of voters (40 of 47) decided that the money was best used for its original intention—to help out independent bands so they may keep creating. While several voted for music education, our userbase saw it best to help an up-and-coming artist.
Who did you vote for?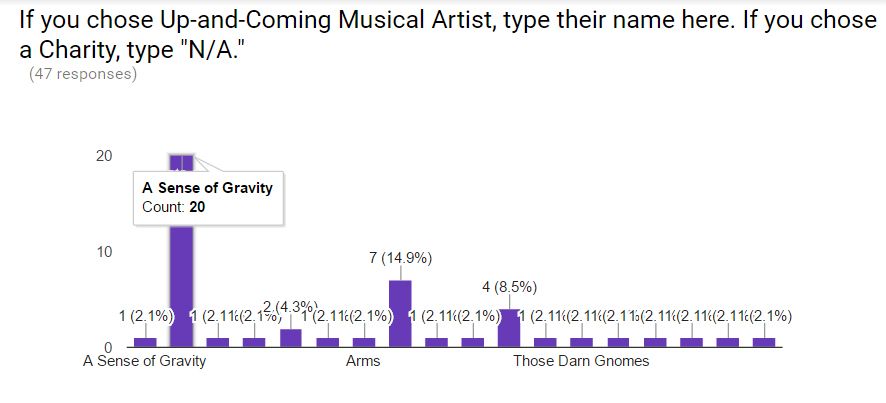 Well, the results don't lie. This is a screenshot straight from our Google Forms results. Of the 47 responses we received, 40 were in favor of sending the funds to a band. And of those 40 responses, 21 of them were for Seattle-based progressive metal rockers A Sense of Gravity. [Editor's Note: We're not sure why there is a column of 20 responses for A Sense of Gravity and then a column of one response for them as well. There may be an errant space within the poll response.]
We were honestly a little surprised to see one band get so many votes and had actually expected the decision to be split more evenly as independent bands disseminated the poll within their circles.
We're deeply grateful that nobody tried to turn this into a competition by posting on social media and encouraging fans to vote for them. While this was a sort of "contest," we feel that that course of action may have been a little mean-spirited. Again, deeply grateful that this matter was treated with the respect it deserves.
To sum, however:
A Sense of Gravity will receive the money from The Brian Shields Memorial Tour Fund!
We'll get in touch with the band to discuss how best to handle the transfer, but having followed the band's endeavors for quite some time and consistently seeing their passionate pursuance of progressive metal—completely independently, with no label or booking agent backing whatsoever—we feel that the funds couldn't have found a better home. We're hopeful to see how the funds get put to use, but we know that A Sense of Gravity's sensitivity to the cause, as well as their dedication to the art form, will make sure this is all respectfully done.
Congratulations, friends. You deserve this.
If you're not familiar with A Sense of Gravity, the band released their sophomore album in Atrament earlier this year, which is available on Bandcamp right now. It's no secret that we loved it. And they did it all by themselves.