Hot dang, it's been a while since we've had one of these, hasn't it? We're usually keen to tell you what we at Heavy Blog is Heavy are listening to, but it's about time we again took the time to clue you in to what some of the artists in our beautiful pantheon are currently jamming.
Today, we have our friends in Atsuko Chiba, the dreamy, poppy post-rock fivesome from Montreal who released their Figure and Ground EP earlier this year and are set to release The Memory Empire EP later this month!
Before we get you a review of that, however, we're gonna give you a peer into what Anthony Piazza, Eric Shafhauser, and David Palumbo of the band are listening to!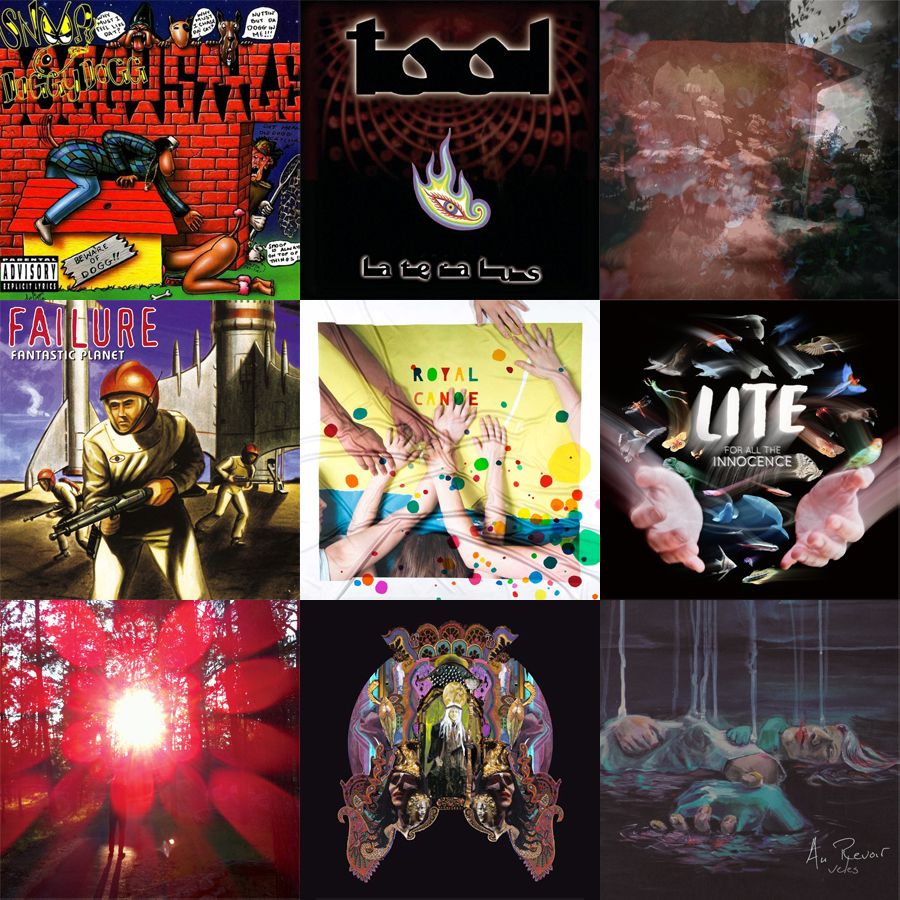 Anthony
Snoop Dogg – Doggystyle
The true spirit and power of a debut solo album, Doggystyle hits hard with tight grooves. The true pinnacle of hip hop and always a solid listen.
https://www.youtube.com/watch?v=J9k_7dklcfg
Tool – Lateralus
A solid listen from start to finish. Always hits home with its progressive and powerful riffs in every song, as well as the monster vocals courtesy of Maynard James Keenan.
https://www.youtube.com/watch?v=_yNAABKD4IA
Lume – Perennial Phase
The Chicago-based three-piece pumps out a fair blend of shoegaze and space rock in Perennial Phase. This debut full-length sets a drone-like mood for a solid listen—a record you can absolutely get lost in.

Eric
Failure – Fantastic Planet
Fantactic Planet has its own unique sound and feel, setting it apart from much of Failure's other work. The album really covers a lot of sonic ground, which is extremely noticeable in all three "Segue" tracks. Near the end of the album, we're given "Heliotropic," and one of the raddest bass tones known to man.

Royal Canoe – Something Got Lost Between Here And The Orbit
Royal Canoe have an amazing sound pallet, with an exciting and enchanting mix between all of the instruments. Lead vocalist/keyboardist Matthew Peters takes point with singing, followed by the choral work of his band mates—extremely well done on record and a must-see live!

Lite – For All The Innocence
Just a ride from start to finish. Lite are masters of the craft.

David
Russian Circles – Empros
Empros is definitely one of my all-time favorites. Russian Circles sound so huge and destructive all while maintaining this beautiful sense of flow and melody. And they somehow achieve this as a three-piece. It's mind-blowing.

USA Out Of Vietnam – Crashing Diseases and Incurable Airplanes
The crushing riffs, massive soundscapes, and epic vocal harmonies of USA Out Of Vietnam come together to form a really dynamic and dense record.

Au Revoir – Veles
Even after having toured with them, the thing about Au Revoir that still manages to blow me away the most is that they can all live in different states and somehow create a solid, cohesive album. Veles is a beautifully heavy record and you owe it to yourself to give it a listen.