Last month, we at the blog had an absolute pleasure to sponsor Telepathy's European jaunt. Hitting five separate dates with their post-metal fury, Telepathy exemplify the DIY tour mentality and thus, offer both staff members and our dear readers a rare glimpse into what actually happens on such tours. Below are the unedited, unabridged thoughts of one Teddy James Driscoll, who plays bass for the band.
The diary speaks for itself, so we'll keep our words to a minimum. Interesting to note however, is the communal aspect of touring; without the sometimes improvised assistance of the individuals around he band, fans, promoters, venue owners and more, the tour itself would be impossible. This fact bears reminding whenever one contemplates the relationship between artist and fans. Especially when you're a starting musician, the lines between band members and audience is often blurry and the toil of many goes into the work of a few.
With that in mind, scroll down below for tale's of Europe's fair fields, fairer venues and fairest people. There are also plenty of bands mentioned and a lot are well worth your time! Thanks again to Telepathy for working with us and especially to Teddy James Driscoll for writing such an amazing diary for us!
Telepathy are:
Albert Turek – Drums
Piotr Turek – Guitar
Teddy James Driscoll – Bass
Richard Powley – Guitar
---
As most tour memoirs will describe, preparation for a tour starts months before you actually get to play your first show. Many a troubadour will tell you that there's the booking, the routing, the finance, the PR, gear maintenance, the rehearsing and all the other behind-the-scenes hurdles to leap before the real work starts. Well, I say 'work'; I never really considered touring as 'work' per se, at least not in the traditional sense anyway. I mean, you get to play shows in a different country every night! As long as I have played an instrument I have wanted to be on the road, so touring always just seemed more like the end game to me rather than the necessary evil that many folks in touring bands make it out to be. Instead, as I sit and reflect on the small trip Telepathy had around Europe, I hark back to the wonderful people who were there to greet us at each show. I remember the unfaltering promoters, the rad venues, the technicolour whirr of chattering friends and the chinking of their beer bottles. I think of the doting hosts with comfy beds for us to sleep in, the mid-transit hijinx and the glistening tears of laughter that touring the world with your friends so naturally begets.
This isn't work. This is a fucking privilege.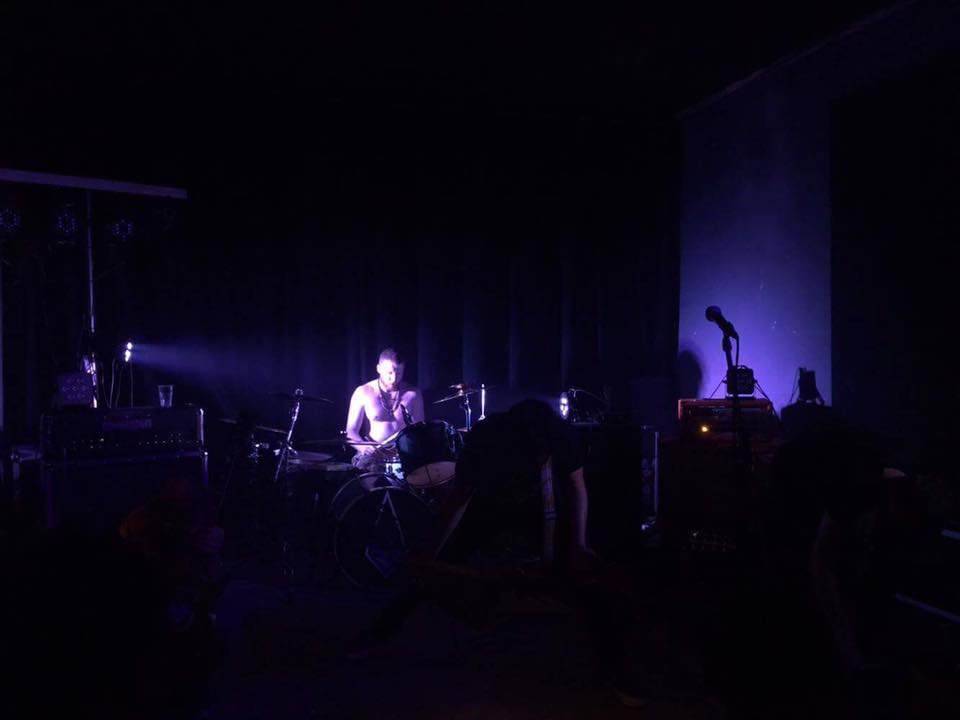 Day 1: The White Cliffs of Dover
Le Garage- Liege, Belgium
The aforementioned preparations for the tour were still well and truly happening in the hours leading up to our departure. Guitars needed to be maintained, drums had to be re-skinned, the van sill needed an MOT and we still had one last rehearsal to get through before we eventually set off from our studio at around midnight. We were booked on the 4am ferry from Dover and, contrary to our hurried approach, our steadfast driver Krzysztof made sure we made it in perfect time. After some early morning beers, breakfast and more Titanic references than I care to mention we arrived in Dunkerque and set off for Liege.
Liege is rather beautiful and fortunately we arrived early enough to spend some time wandering the charming streets before load in. Le Garage is a cool D.I.Y venue and rehearsal room owned by a righteous dude called Mark just a couple of miles from the city centre. It's situated in a massive, well… garage!  As I said, we arrived early so we had the seldom granted luxury of a full sound check before any of the other bands got there. Speaking of the other bands, first on the bill was a cool band from Belgium called Lethum who played a great set and reminded us a lot of equally Belgian heavyweights Amenra. However, more interesting to me was the second act, a guy who goes by the name of Mr Marseille. You may have seen the viral video of him busking in his underwear, shredding a cello and pounding two bass drums, producing a crazy cacophony of avant-garde metal and noise; a sight too bizarre to not be transfixed by.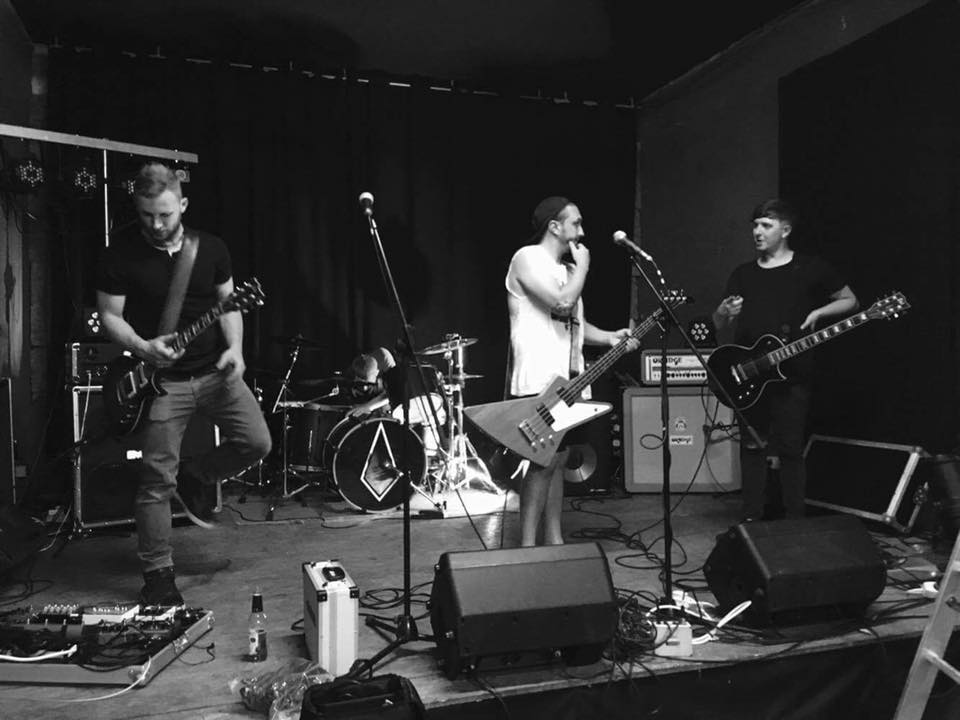 The room was full by the time we took the stage and there was a seriously good vibe in the place. Alas, a little into our 3rd song, technical problems began to plague our set. The power supply to Rich's pedal board kept cutting out during songs and we had to improvise on the spot a few times until things were back up and running again. We powered on and fortunately we got through the last few songs without a hitch and the audience had nothing but nice things to say to us. We partied for a few hours after the show before Piet, the promoter, took us back to this awesome squat to rest our heavy bones. This place was an old bank that closed during the financial crash a few years back and had since been occupied by a nice bunch of left-wing activists. We slept in the actual bank vault that Piet had decked out with a load of super comfortable mattresses. It was a calm end to a chaotic day. I couldn't wait to wake up and do it all again.
Day 2: My Kingdom for a Shower
Music City- Antwerp, Belgium
Much to our good fortune the bank/squat was located just around the corner from the venue and, as Le Garage was a rather large garage, we were able to store our van and gear safely there overnight. After about 5 hours sleep and feeling surprisingly refreshed we eventually headed back to the venue to load out our gear at about 11am. We said our goodbyes to our new friends Mark, Piet and Mr. Marseille and headed for the Dutch half of Belgium for our next show.
As is well scribed in these candid accounts of the touring lifestyle, the opportunities for a good shower can be few and far between. It was a day as hot as any summer day you can think of and the previous show had also been exceptionally sticky, so we spent the duration of the 2 hour trip feverishly looking for a roadside service station with decent shower facilities to wash away our sins from the night before.  We actually found one about an hour out of Antwerp and the conditions were as nice as you could ask for given the circumstances, so we rinsed ourselves like a bunch of teaspoons and hit the road once more.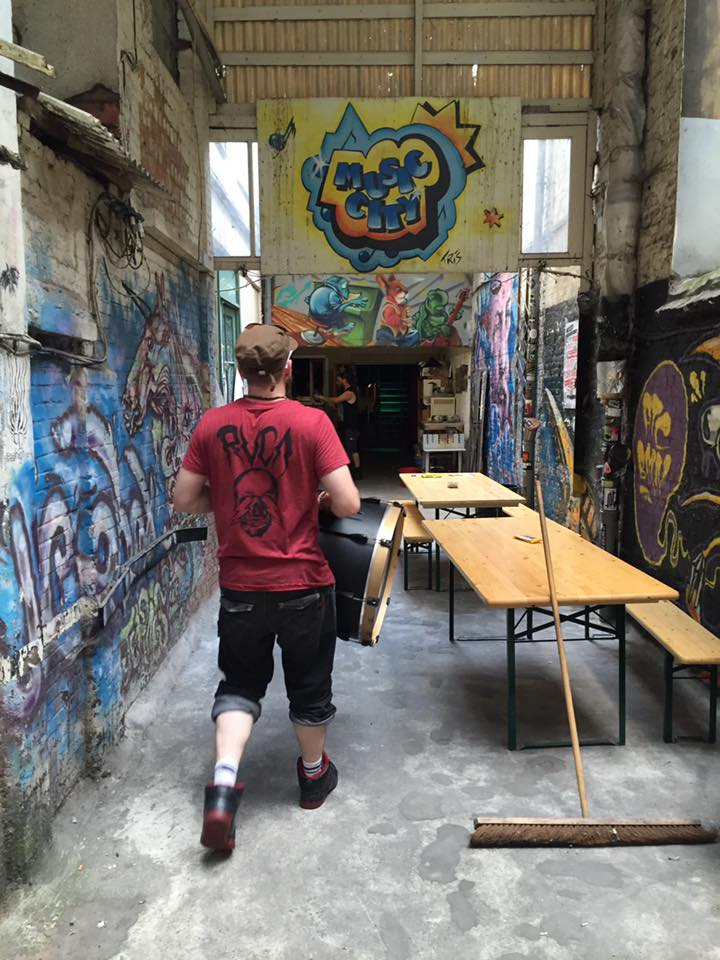 Music City is another D.I.Y cultural space that houses a music venue, bar, recording studio and multiple practice rooms that the bands can rent as their own. It's seriously cool. We were greeted there by our host, Jan, who was busy preparing a delicious stir-fry type meal for us that went down a treat. As tonight was a straight up, no-nonsense, good-old-fashioned floor show we loaded in our gear and stored it out the back while the other two bands- Italy's mighty Lambs and Hungry Like Rakovitz– set up their gear to play. Both bands played killer sets and by now the audience had started building up. The good thing about this venue is that it's so small that you can fit 40 people in there and it feels like you're playing to 400. These intimate shows, are my favourite kind of gig. Other than the fact that Piotr and I were being painfully electrocuted though out the whole show due to an electrical earthing issue, this was by far my favourite show of the tour. Everyone in there, including us, was having a blast. There were people all around us, in front of us, up the stairs, standing on chairs, and a very nice gentleman reviewed the show a couple of days later, even calling our performance 'perfection', which was humbling to hear.
After many beers we headed back to our accommodation for the night, this time it was kind of like a converted meat freezer with awesome custom bunk beds and showers, purpose built for the smaller touring bands that come through Antwerp. Rich, Yvonne and I stayed up for a while swapping drunk stories with our amazing host Jan until we all the beers were gone. We hit the hay around 4am and awaited the 6 hour journey to West Germany that lay ahead of us in the morning.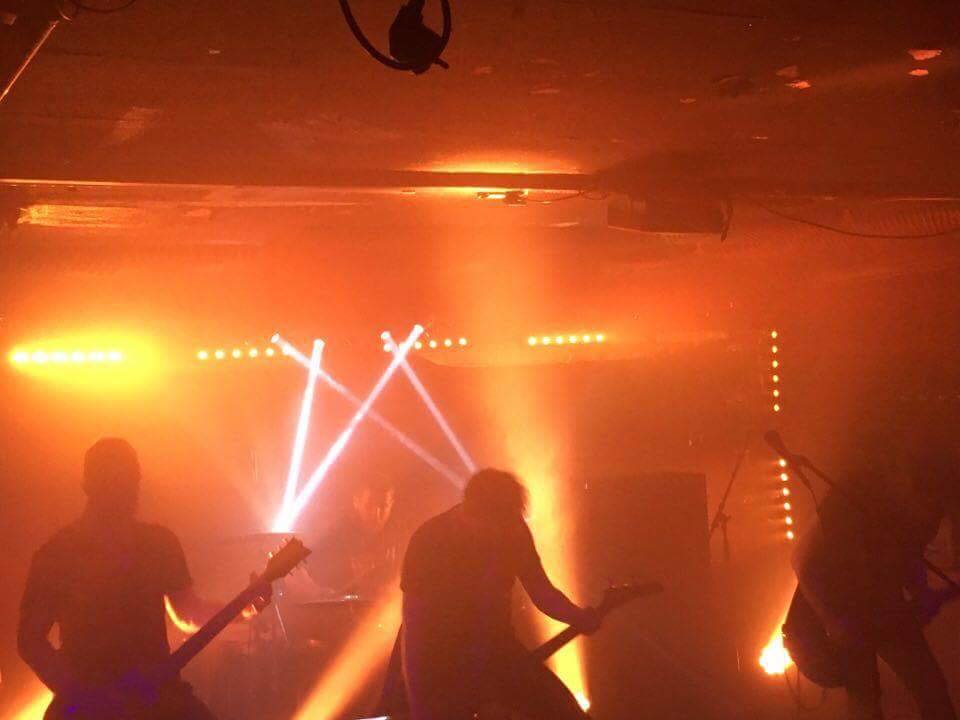 Day 3: The Esophagus Orchestra
Vortex- Siegen, Germany
We actually managed to depart relatively early for this trip and after only a quick stop to get some nibbles (mainly sausage) we were on our way. What was to be the longest drive of the tour in fact felt like the shortest, and yet despite our fervent partying the night before we were all well rested and spirits were fabulously high. I suspect we were probably still running off of the adrenaline from the show in Antwerp and after spending two days in Belgium we were eager to see the tumbling emerald hills of Germany.
We arrived super early this time and we were pleasantly surprised to find that the owner and promoter of Vortex, Phil, was already on site and ready to go. Vortex is a really cool club that puts on some of the best underground rock and roll you can imagine, strange really seeing as one would tend not to think of the city of Siegen as a hotbed of riffery on the underground circuit. Anyhow, Phil broke the news to us that both local support bands had pulled the plug and he was unable to find any replacements. We picked our brains and immediately sent a message to Lambs and Hungry Like Rakovitz from the night before as we had learned that they had a day off. Unfortunately the logistics were a bit too much to negotiate so we settled on playing an extra-long set as the only band on the bill for the night.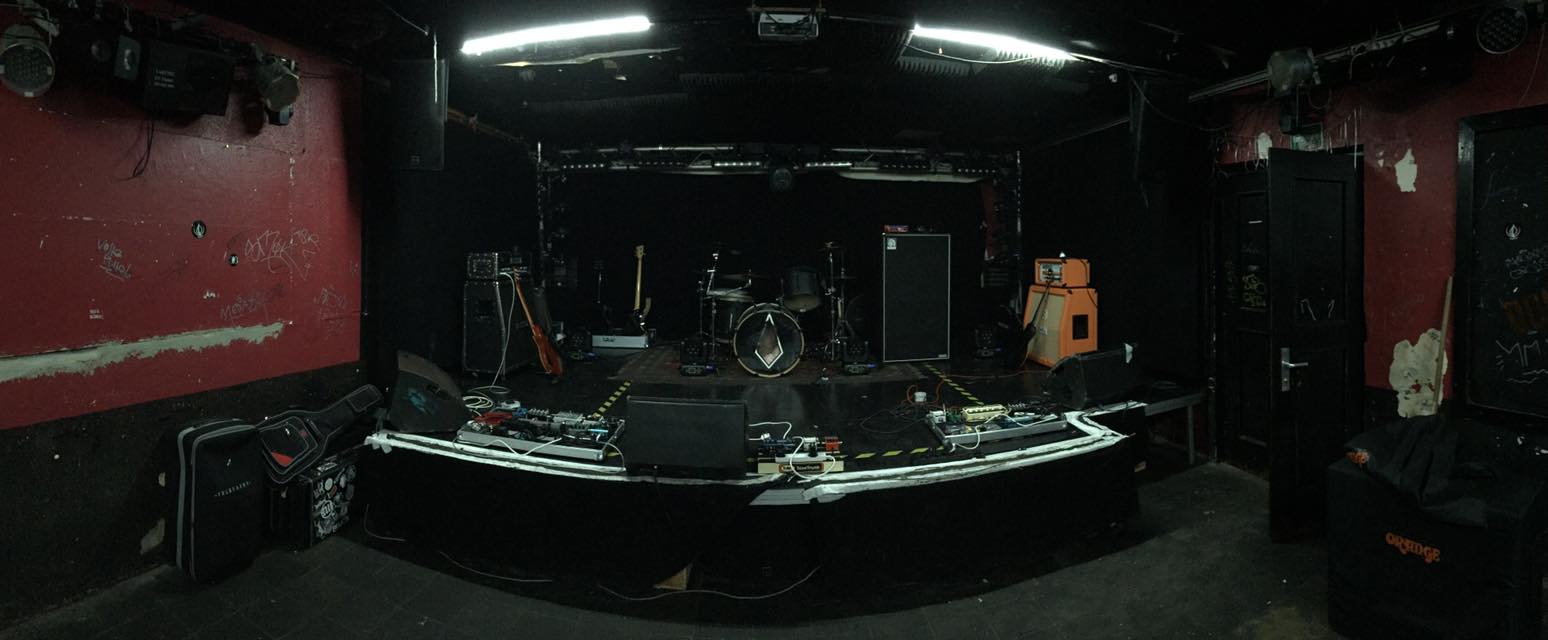 As we were so early we spent most of the day drinking beers in the sun and taking full advantage of the on-site band accommodation that Vortex has to offer. The fact that our beds for the night were a mere 2 metres away from the venue was as close to luxury as you can get on a D.I.Y tour and the fact that we could drink, smoke, nap, unload our gear and sound check completely at our leisure almost felt like were on a proper holiday. We were, however, concerned that due to the local support bands pulling out we would have a significantly diminished audience by show time. We resolved to nervously chatter and wait in the band area while we contemplated what fate lay ahead of us. It turned out there were plenty of faces in the crowd, the sound was great and the light show was amazing. With there being no support acts, the audience felt a bit less warmed up or refreshed than usual, but we played for over an hour whilst never being able to tell how the audience was receiving the show. We found out later that we had sold a tonne of merch and were even asked to sign some records and tapes for people, which is always a flattering experience. The party died down pretty quickly so we sat down to eat the wonderful vegan curry that Phil had made for us before we retired to the comfort of our beds in a relatively sober state of mind. The one good thing about going to bed blind-drunk is that your bandmate's relentless snoring only bothers you for a few minutes before you fall asleep and start snoring yourself. Regrettably, the esophagus orchestra was in full concert that night and I was in the royal circle.
Day 4: Until They Could Chow No More
Incubate Festival-Tilburg, Netherlands
For the second time on our travels we were able to leave our gear in the venue overnight and load out the following morning. After an excellent lay in and a bit of breakfast we bid Phil farewell and embarked on the journey to Tilburg for our penultimate show of the tour. While the others had played there before I joined the band, I hadn't played Incubate Festival before so I was eager to see what the city of Tilburg had to offer. After what seemed like an age we arrived and parked the van a few metres away from the venue to assess our situation. The mood was super calm on the streets and it felt more like a Sunday afternoon in Colchester than a Saturday night at a festival. Perhaps it was because I was expecting it to be more like a Desertfest London kind of vibe as that was my only real frame of reference for a multi-venue city festival. One thing that I was able to deduce from this was that when it comes to street fests, the Dutch are way more sophisticated than the English.
We dropped our stuff off at the hotel that had been booked for us and headed out for something to eat. We had a buy out so we all headed to an amazing Italian restaurant and chowed down on pizza and pasta until we could chow no more. Feeling full and totally sick we hit up the venue to load in our gear. Extase is a slick little rock and roll bar on the main strip in Tilburg with a venue at the back and with it being a festival they were running a tight ship, yet the stage manager was taking it all in her stride and helped in every way she could to get us on stage, on time. It was a relief to play a 45 minute show instead of an hour and it was over all too quickly. As we were a relatively unknown entity at the festival the audience numbers fluctuated somewhat (due to clashing with recently reformed Tilburg techno legends Psychic Warriors of Gaia) but we played one of the most solid sets of the tour.
After another great show it was time to crack on with partying. Load out was fast and easy and it wasn't long before we finished the 30 odd beers that the festival had provided us, much to the horror of the mild mannered bar tender who looked genuinely worried for us. As I said- the Dutch are way more sophisticated than the English. We hung out with a real nice dude called Marvyn who was rocking out throughout our set and later on he escorted us to a local club called The Hall Of Fame for the after party. They were playing some uber minimal dubstep in an impossibly dense cloud of dry ice so thick I found it hard to breath in there. Things get blurry after that. As we'd been drinking all day every day, we built up quite a tolerance for booze and nothing was really touching us until Rich bought a round of 9% Belgian beers called La Chouffe. We had no idea it was so strong until afterwards and being from a country that serves its beer in pints, I almost dismissed the tiny bottle that La Chouffe comes in at first. In hindsight I'm so grateful that it is served so modestly because it totally kicked the shit out of all of us. At around 4am the party was over and we stumbled our way back to the hotel like a bunch of baby giraffes and passed out cold.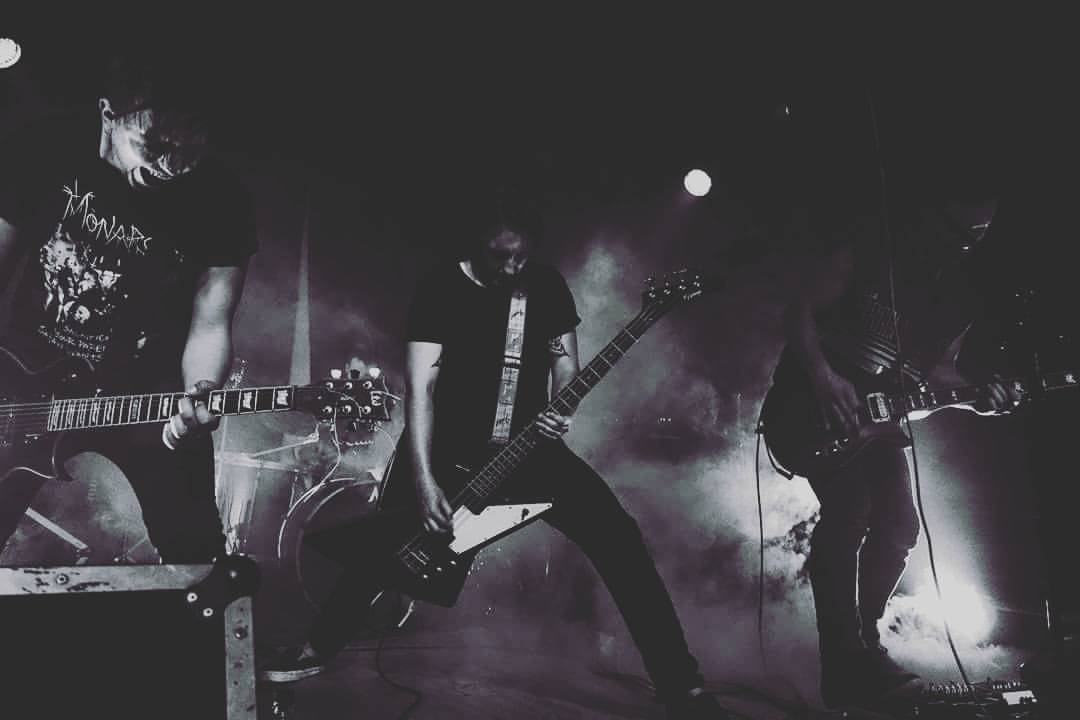 Photo by TSERTZELOS
Day 5: FACK
OCCII- Amsterdam, Netherlands
Amsterdam was to be our final show of the tour and the morning after the heavy night before passed by most uneventfully. We all had hangovers to bear and little sleep so we piled into the van, put on some tunes and went about our business. The mood was subdued and thankfully so was the weather. It had been so hot all week that a day of cool air and clouds was most welcome given our bedraggled state. My brother, who came along with us for the laughs and who turned out to be a quality tour partner, lifted our spirits by putting on a track by Eminem called "FACK". I won't go into detail but I have never heard a more hilarious song in my life and by the end we were all crying with laughter at the sheer vulgarity of it all.
The drive to Amsterdam took around 90 minutes and we arrived in good time. I'd originally heard about the venue 'OCCII' from Svalbard's most recent tour diary and they described it as looking 'like the house from Hansel and Gretel' which is a description as befitting as any other. It has this wonderful Russian exterior and you could easily imagine it being made of gingerbread and strawberry bootlaces if you allowed yourself to. After a wander around Vondelpark and a quick coffee we began the load in effort. The one thing you learn about Amsterdam once you have visited a few times is that cyclists trump everything and everyone. They have no concept that someone may need to borrow their precious path for a few seconds to manoeuvre their own mode of transport.
After dodging the kamikaze cyclists for 10 minutes we had all our gear loaded in and ready to go and it was time for the first act Ghost Years to start sound check. We were all still well and truly in the bin, and even though it was an overcast day it was still humid and stuffy in the venue. To perk ourselves up Albert, my brother and I took a walk into the city centre to have a look around. We took the beautiful walk through Vondelpark once again but no sooner than we arrived in the centre it was time to turn around and come back again. By the time we arrived we were pleasantly surprised to see an audience building up outside the venue. We missed Ghost Years play so we grabbed ourselves some beers and got ready to watch Germany's Kyrest who killed it. Next up were our UK brethren Absolutist who had been billed as 'Absolutist (IRL)', as in Absolutist from Ireland. After the show I made the faux pas of asking them what part of Ireland they were actually from, they all laughed and said that none of them were Irish (they were in fact Scottish) and the IRL suffix had just been a long running joke. Absolutist played an amazing set of crust infused hardcore and set the bar for the evening.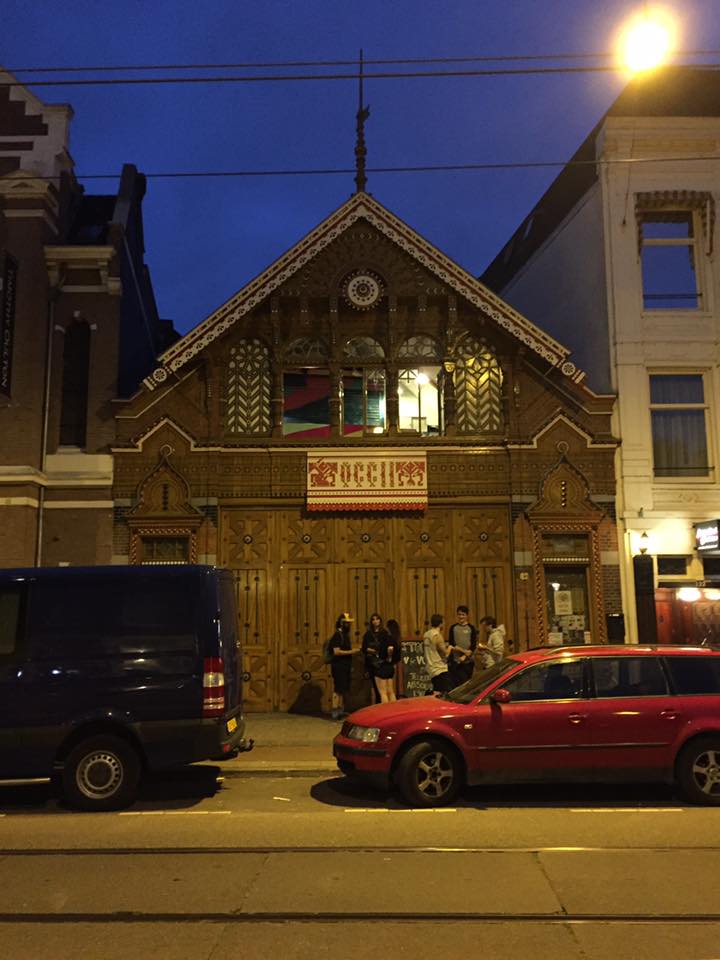 We took to the stage and after a quick line check we started our set. The show was on a Sunday night and a tad quiet, but it was a seriously fun show. Not because the audience was going mad, they weren't, but because after a few days on the road your mind and body starts to only feel normal when you're on stage. The aches of physical exertion leave you and all the tiredness and frustrations you experience in the build up to playing your show that night melt away. In the end, the 30 or 40 or 60 minutes you play wind up being 30 or 40 or 60 minutes of precious, burning liberty within the relative confines of your day's schedule. The show went well; we played fluidly, the sound was great and the audience were impressed. After the show we chatted for a while, sunk a few more beers and the Absolutist guys invited us to party in Amsterdam for the night which we were loath to pass up.
Our bed for the night was a beautiful city apartment in Utrecht with a wonderful Polish lady called Lena and as it was already past midnight we had to get going. We said our good byes to everyone and arrived in Utrecht around 2am to meet our host who was still awake and happy to receive us. We stayed up for a while, chatting drinking tea and complementing Lena on her beautiful abode. After she had set us up for the night everyone went to bed while Albert and I stayed up for a few more hours contemplating our excellent time on the road. Tomorrow was to be another early start and a long journey back to Essex. I'd love to say we longed to click the heels of our ruby slippers, chant "There's no place like home" and wake up in our own beds but in hindsight, we had found our groove and we could have easily carried on for another month or two. Again it felt as if no sooner than we arrived we had to leave and it was not long before were talking about the next one.