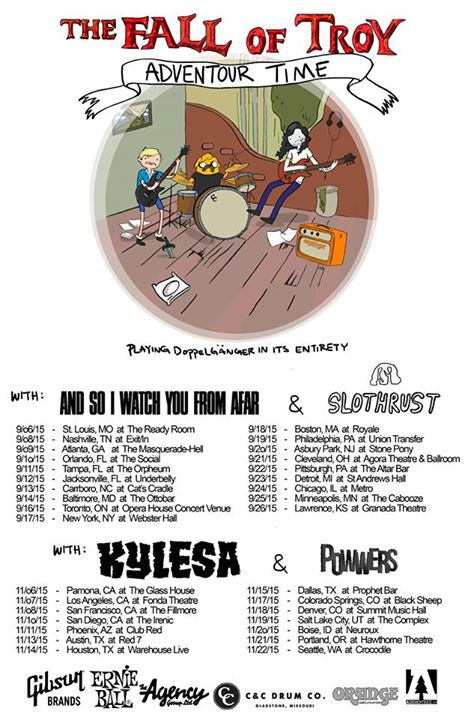 For those of you who missed their very small run of shows in the Fall of 2014, here's your chance to make up for it. The legendary mathcore band The Fall Of Troy announced their first full North American tour since 2010 before disbanding. What's great about this tour is that they're performing their breakthrough album Doppelgänger in full, which came out 10 years ago, along with a second set. This tour is broken up into two legs, one being an east coast run, the other being a west coast run. A two-parter, so to speak. The east coast run will feature And So I Watch You From Afar and Slothrust from September 6th to the 26th, and the west coast run will feature Kylesa and Powwers from November 6th to the 22nd. It seems that 2014 was just a hint of what this year holds for The Fall Of Troy, and we are very excited for it. Check the dates below!
And So I Watch You From Afar, Slothrust
9/6 St. Louis, MO @ The Ready Room
9/8 Nashville, TN @ Exit/In
9/9 Atlanta, GA @ The Masquerade
9/10 Orlando, FL @ The Social
9/11 Tampa, FL @ The Orpheum
9/12 Jacksonville, FL @ Underbelly
9/13 Carrboro, NC @ Cat's Cradle
9/15 Baltimore, MD @ The Ottobar
9/16 Toronto, ON @ Opera House
9/17 New York, NY @ Webster Hall
9/18 Boston, MA @ Royale
9/19 Philadelphia, PA @ Union Transfer
9/20 Asbury Park, NJ @ Stone Pony
9/21 Cleveland OH @ Agora Theatre & Ballroom
9/22 Pittsburgh, PA @ The Altar Bar
9/23 Detroit, MI @ St. Andrews Hall
9/24 Chicago, IL @ Metro
9/25 Minneapolis, MN @ The Cabooze
9/26 Lawrence, KS @ Granada Theatre
Kylesa, Powwers
11/6 Pomona, CA @ The Glass House
11/7 Los Angeles, CA @ Fonda Theatre
11/8 San Francisco, CA @ The Filmore
11/10 San Diego, CA @ The Irenic
11/11 Phoenix, AZ @ Club Red
11/13 Austin, TX @ Red 7
11/14 Houston, TX @ Warehouse Live
11/15 Dallas, TX @ Prophet Bar
11/17 Colorado Springs, CO @ Black Sheep
11/18 Denver, CO @ Summit Music Hall
11/19 Salt Lake City, UT @ The Complex
11/20 Boise, ID @ Neurolux
11/21 Portland, OR @ Hawthorne Theatre
11/22 Seattle, WA @ Crocodile
(Editor's note: all the bands on this bill are amazing, but please do yourself a favor and try and catch And So I Watch You From Afar. And get me a shirt while you're at it. -EK).
-MV