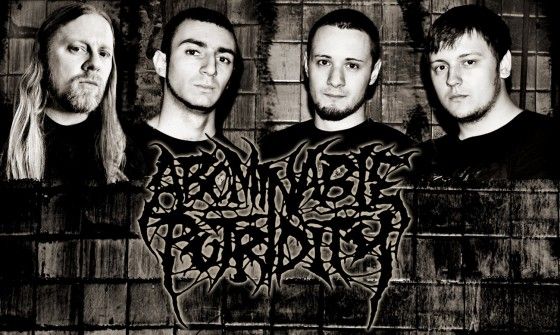 Elusive Russian death metal act Abominable Putridity exploded onto the slam scene in 2012 with the release of their celebrated record The Anomalies of Artificial Origin. Featuring vocals from Pathology's Matti Way, the record was expertly crafted brutal death metal that was strangely catchy, bringing slam to a new audience of listeners. In the years since then, the only thing that has come out of the Abominable Putridity are seemingly annual re-releases. It should come as no surprise that 2015 will see a re-release of Anomalies as well, but there's some good news: the band have signed to Unique Leader records, who will not only host the latest pressing of Anomalies, but will be releasing the band's long-awaited follow-up in 2016.
A press release was sent out late this Tuesday (May 12th) announcing the news:
Now, 2015 sees the ABOMINABLE PUTRIDITY lineup more stable than ever, and ready for the next chapter in their destructive history, having been picked up by Unique Leader Records. The label will begin with the re-release of The Anomalies Of Artificial Origin, later this year, with a solid release date to be confirmed shortly. Additionally, ABOMINABLE PUTRIDITY has begun writing material for their upcoming third full-length album which will be recorded later this year for release through Unique Leader in 2016.
So good news, everyone! More info on the Anomalies re-release (which hopefully will include a reasonably priced vinyl pressing) and the new record when it comes in. In the mean time, revisit Anomalies via the Bandcamp player below.


-JR