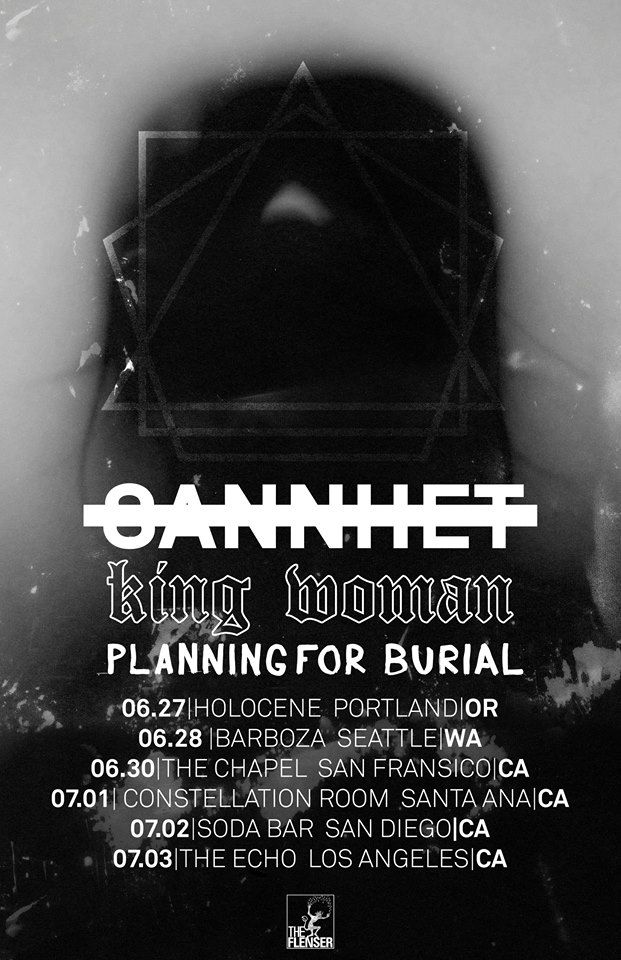 Without question, Flenser Records is one of the best record labels currently operating. Their "dark music" ethos has led them to sign some well-respected underground acts and launch countless promising newbies. This roster has released a handful of HBIH endorsed albums, including Kayo Dot (Coffins on Io; review here), Mastery (Valis; review here) and Sannhet (Revisionist; review here). It has now been announced that the last of these three groups will be headlining a brief West Coast tour with label mates King Woman and Planning for Burial. Head past the jump to check out the tour's dates and venues:
June 27 Portland, OR @ Holocene
June 28 Seattle, WA @ Barboza
June 30 San Francisco, CA @ The Chapel
July 1 Santa Ana, CA @ Constellation at Observatory
July 2 San Diego, CA @ Soda Bar
July 3 Los Angeles, CA @ The Echo
Though this tour is short, this lineup strikes the perfect balance between cohesion and eclecticism. With the instrumental, blackened tinged post metal of Sannhet, dark, soulful doom of King Woman and gloomy shoegaze/drone of Planning for Burial, this package is a must-attend for anyone living on the West Coast. In the mean time, check out HBIH shot concert footage of Sannhet and This Will Destroy You here (Sannhet embedded below), and stream releases from these three bands and more on the Flenser's Bandcamp here.
-SM