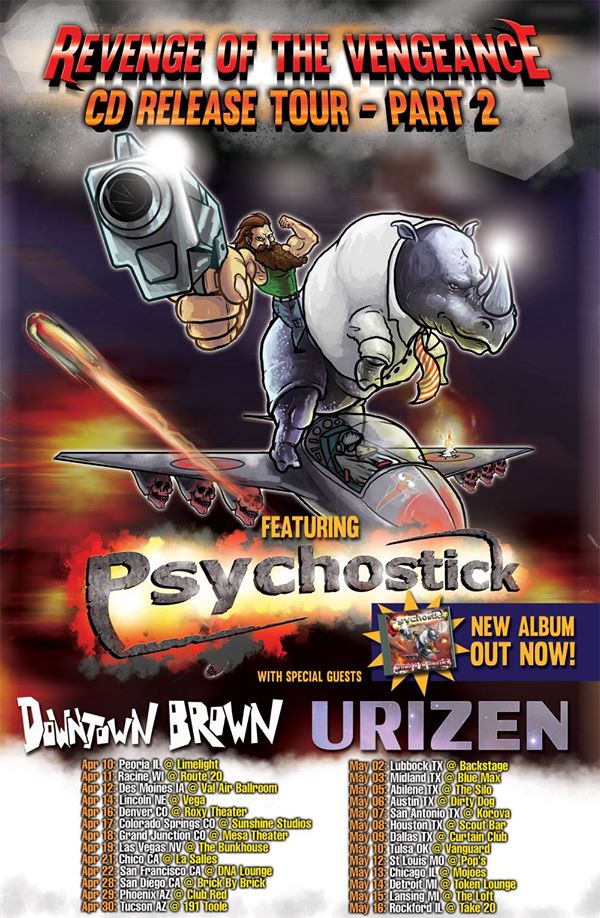 Purveyors of ridiculousness, Psychostick, are embarking on a meaty tour come April! The "Revenge of the Vengeance" Tour (couldn't it have just been the Revengeance Tour?) will be taking the band from the Midwest all the way to the West Coast (best coast) and back again! They will be joined by punk/funk/metal outfit Downtown Brown, and the ever-theatrical Urizen.
You want dates? Yeah, you do. We got 'em!
April 10th – Limelight Eventplex, Peoria, IL
April 11th – Route 20 Outhouse, Milwaukee, WI
April 12th – Val Air Ballroom, Des Moines, IA
April 14th – Vega, Lincoln, NE
April 16th – The Roxy Theatre, Denver, CO
April 17th – Sunshine Studios LiveColorado Springs, CO
April 18th – Mesa Theater, Grand Junction, CO
April 19th – The Bunkhouse, Las Vegas, NV
April 21st – LaSalles, Chico, CA
April 22nd – DNA Lounge, San Francisco, CA
April 28th – Brick By Brick, San Diego, CA
April 29th – Club Red, Phoenix, AZ
April 30th – 191 Toole, Tuscon, AZ
May 2nd – Backstage, Lubbock, TX
May 3rd – Blue Max, Midland, TX
May 5th – The Silo, Abilene, TX
May 6th – Dirty Dog Bar, Austin, TX
May 7th – Korova, San Antonio, TX
May 8th – Scout Bar, Houston, TX
May 9th – Curtain Club, Dallas, TX
May 10th – Vanguard Music Hall, Tulsa, OK
May 12th – Pop's, Sauget, IL
May 13th – Mojoe's, Joliet, IL
May 14th – The Token Lounge, Detroit, MI
May 15th – The Loft, Lansing, MI
May 16th – Take 20, Cherry Valley, IL
Don't miss the fun!
-KG